Irish Blessing
No matter the celebration, If you or the person celebrating is Irish, then an Irish blessing can always be a nice addition to any card, speech or toast, or homemade gift. And even if the person is not Irish these blessings are ones that wish only the best. Hoping one of the following blessings are ones that you will share. YOu may also enjoy these
St. Patrick's Day Blessing
.
Quotes & Sayings
|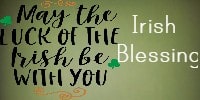 -
For each petal on the shamrock
This brings a wish your way
Good health, good luck, and happiness,
For today and every day.
Poems That Inspire




May God bless you forever and ever
Hereís to you and yours
And to mine and ours.
And if mine and ours
Ever come across to you and yours,
I hope you and yours will do
As much for mine and ours
As mine and ours have done
For you and yours!
Irish Wedding Toasts





May this new path of your life take you to only happiness and fun.
Poems On Life




May your heart be warm and happy
With the lilt of Irish laughter
Every day in every way
And forever and ever after.
Hereís to health and prosperity,
To you and all your posterity.
And them that doesnít drink with sincerity,
That they may be damned for all eternity!
Retirement Poems




May the blessings of light be upon you,
Light without and light within.
And in all your comings and goings,
May you ever have a kindly greeting
From them, you meet along the road.
Happy Poems




May the blessing of light be on youó
Light without and light within.
May the blessed sunlight shine on you and warm your heart
Till it glows like a great peat fire.
Quotes To Make You Think




May the sun bring you new energy by day,
May the moon softly restore you by night,
May the rain wash away your worries
And the breeze blow new strength into your being,
And all the days of your life may you walk
Gently through the world and know its beauty.
Retirement Poems For A Teacher





The warmth of a home and hearth to you
The cheer and goodwill of friends to you
The hope of a childlike heart to you
The joy of a thousand angels to you
The love of the Son and
Godís peace to you
Retirement Poems For Friends




May your mornings bring joy and your evenings bring peace.
May your troubles grow few as your blessings increase.
May the saddest day of your future
Be no worse than the happiest day of your past.
May your hands be forever clasped in friendship
And your hearts joined forever in love.
Your lives are very special,
God has touched you in many ways.
May his blessings rest upon you
Christian Poems




May the road rise to meet you,
May the wind be always at your back.
May the sun shine warm upon your face,
The rains fall soft upon your fields.
May green be the grass you walk on,
May blue be the skies above you,
May pure be the joys that surround you,
May true be the hearts that love you.
And until we meet again,
May God hold you in the palm of his hand.
Quotes To Inspire Graduates





May you always have walls for the winds
a roof for the rain, tea beside the fire laughter to cheer you,
those you love near you and all your heart might desire.
Cheers To Retirement




May the negative clouds in your life move away and may sunshine follow you!
Positive Quotes




May every gathering in your home be one filled with lovely moments and warm memories. Shanna Hatfield
Quotes About Home




May life struggles find you
Moving forward not blue
May you find the silver lining
In each cloud that comes your way.
Quotes About Life Struggles




May winds of adversity
Never blow open your door.
Retirement Poems for Coworkers





May you always have enough happiness to keep you sweet,
Trials to keep you strong,
Success to make you eager,
Friends to give you comfort,
Wealth to meet your needs,
Enthusiasm to look for tomorrow,
And a growing love to make each day better than the day before.
Happy Birthday Brother Poems




Eternal rest grant unto them, O Lord, and let perpetual light shine upon them.
May the souls of all the faithful departed, through the mercy of God, rest in peace.
Quotes about Death




There is but one and only one. On earth there is no other. In heaven a noble work was done, when God gave us a Mother.
Birthday Poems For Mom




May life hardships be few
May happiness be with you
Quotes When Life Is Hard




May your neighbors respect you,
Troubles neglect you,
The angels protect you,
and heaven accepts you.
Quotes That Encourage





Funny Irish Blessing

It is always a good laugh when we are able to share a little joy with some funny Irish Blessings.



May your dreams be filled with dancing leprechauns dancing over your head.
Poems About Getting Older




May the hinges of our friendship never grow rusty.
Quotes That Inspire




You won't learn to swim on the kitchen floor. Irish Proverbs
Quotes About Life That Are Funny




Wherever you go and whatever you do, may the luck of the Irish be there with you.
Funny Retirement Poems




May good luck be with you
Wherever you go,
And your blessing outnumber
The shamrocks that grow.
Funny Retirement Quotes




That horse shoe up your #@%, be the only proof you need that you are Irish.




May you never forget what is worth remembering, nor ever remember what is best forgotten.
Retirement Wishes





Irish Blessing Quotes

If you are looking for Irish blessing quotes or poems we have compiled a few below for you to read through.



May the good Lord bless you with a healthy body that will take you to where he needs you to be.
Birthday Poems for Daughter




The grace and peace of God be with you always.

Quotes about God





May God bless you with everything you need,
Some things that you want and all the people that will support and love you.
Quotes To Inspire Students




May you feel like you are 10 years younger than you are on this birthday.
Quotes That Inspire Change




May your blessings come in multiples and your failings be minimal.
May you strive for greatness and always give thanks for the opportunity.
Retirement Messages





May this year-end on a high note and next year start with excitement.
Retirement Sayings




May the beauty in nature strengthen your faith in the Creator, God.
Quotes about Faith





Irish Wedding Blessing

If you are attending an Irish wedding, attaching Irish blessing quotes to any card or gift is a very nice way to share in their celebration.


For each petal on the shamrock.
This brings a wish your way good health, good luck, and happiness.
For today and every day you are together.
Wedding Poems




May God be with you and bless you.
May you see your children's children.
May you be poor in misfortunes and rich in blessings.
May you know nothing but happiness from this day forward.
Quotes About Life Happiness




May you have a love that never ends,
Lots of money, and lots of friends.
Health be yours, whatever you do,
And may God send many blessings to you!




May God give you...
For every storm, a rainbow,
For every tear, a smile,
For every care, a promise,
And a blessing in each trial.
For every problem life sends,
A faithful friend to share,
For every sigh, a sweet song,
And an answer for each prayer.




May everything from your engagement to your wedding day and throughout your marriage be everything you have ever dreamed of and everything God has intended.
Engagement Wishes




May your mornings be filled with joy in ways you have never imagined and wishing you both find everything you are looking for in each other and in your own lives.
Quotes About Life Inspirational





May we always be there for each other, even when we don't want to.




May the wind in your lives never blow you from each other.




May your memories bring joy,
and your evenings bring peace.
May your worries grow less,
as your blessings increase.





Irish Birthday Blessing

Sending quotes for an Irish birthday blessing is a nice way to share your birthday blessings with the lucky person.


May the mornings rise and the sun go down with you only aging on the outside, staying youthful on the inside.
Happy Birthday Quotes




May the raindrops fall lightly on your brow
May the soft winds freshen your spirit
May the sunshine brighten your heart
May the burdens of the day rest lightly upon you
And may God enfold you in the mantle of His love.
75th Birthday Poems




May you always have work for your hands to do
May your pockets hold always a coin or two
May the sun shine bright on your windowpane
May the rainbow be certain to follow each rain
May the hand of a friend always be near you
And may God fill your heart with gladness to cheer you.
Birthday Poems For Sister




May the road rise to meet you
May the wind be always at your back
May the sun shine warm upon your face and the rain fall soft upon your fields
And until we meet again my friend
May God hold you in the hollow (palm) of his hand.
Birthday Poems For A Friend




May your life be filled with great moments,
May your memory never fail,
May you live to see many wonderful things,
May you stay strong and never frail.
Birthday Greeting Poems




May the long time sun shine on you
All love surround you
And the pure light within you
Guide you on your way
Birthday Poems for Kids




As you slide down the banister of life,
may the splinters never point the wrong way.
Funny Birthday Poems




May the happiest days of your past,
Be the saddest days of your future.
80th Birthday Poems




What is age, but something to count?
Some people fight it, like climbing a mount.
I choose to live, with dignity and grace,
And offer a drink, to all in this place.
Best Poems




May our Irish ancestry be all the blessings you need in days like today and may they remind you of the strong spirit within you.
Best Wishes To You




To my brother, may you be cherished by everyone who crosses your path.
May you see what is in front of you and not take it for granted.
May you live life to the fullest and may you always celebrate your birthday with thankfulness for the life you have been given.
Milestone Birthday Poem




Health and a long life to you.
Land without rent to you.
A child every year to you.
And if you canít go to heaven,
May you at least die in Ireland.
More Quotes & Sayings
We hope you enjoyed these Irish blessings, quotes, poems for all occasions. Blessings in any form are a great way to celebrate birthdays, weddings, retirement, graduations, and more. Feel free to use these however you feel they can be a need to you.
Best Wishes
|
About Us
|
Contact Us