22 Retirement Poems
Finding the right retirement poems to use at a party, in a card or in a speech or toast all comes down to the retiree. You may find one or a few poems below that work perfectly and connects to the honoree correctly, or you may find it helpful to use these poems and create your own. However you find our poems helpful, they are available for you to use.
I love to celebrate a retirement using cheeky or funny retirement poems. They are a super fun way to celebrate a great life change.
Best Wishes | Best Poems | Retirement Poems - related Retirement Messages


May You
Irish Blessing

May you always have work for your hands to do.
May your pockets hold always a coin or two.
May the sun shine bright on your windowpane.
May the rainbow be certain to follow each rain.
May the hand of a friend always be near you.
And may God fill your heart with gladness to cheer you.


Read another Irish Blessing




Your New Life Begins
Poet: Julie Hebert

Today you will retire,
And a new life will begin.
May you have the time to do all you want,
And may you feel the joy within...


Read more of Your New Life Begins




9 to 5
Poet: Samatha C. Ringle

9 to 5, or 8 to 4,
You don't have to do it anymore.
No more time clock
No more late docks.
You get to retire today
You will be missed in every way.
Enjoy your retirement
It is truly an achievement!
Congratulations to you
With work, you are through!


More Retirement Poems for Coworkers




Seek A New World
Poet: Alfred Tennyson

Come, my friends, 'Tis not too late to seek a newer world.
Push off, and sitting well in order smite the sounding furrows;
For my purpose holds to sail beyond the sunset,
And the baths of all the western stars, until I die.
It may be that the gulfs will wash us down:
It may be we shall touch the Happy Isles,
And see the great Achilles, whom we knew.
Tho' much is taken, much abides;
And tho' we are not now that strength which in old days
moved the earth and heaven;
That which we are, we are;
One equal temper of heroic hearts,
Made weak by time and fate,
But strong in will to strive, to seek, to find, and not to yield.





How Did You
Poet: C. A. Lynch

How did you get to retire before me?
Oh, my friend, that can't be!
Oh, how jealous I am of you
You make me feel blue!
But I am happy you get to retire
You always did inspire!


Read more Retirement Poems For Friends




Teacher
Poet: Unknown

Teacher you have done your planting
Seeds of knowledge you have sown
We are already missing you
You deserve the best retirement too!


More Retirement Poems For A Teacher




A Poem Just For You
Poet: Julie Hebert

This poem was written just for you
To wish you a happy retirement,
And happiness in all you now will do
Wishing you lots of contentment
In the coming retirement days
We will miss you in every way!


More poems for the retiree - A Poem For You




Time
Poet: Tom S. Gold

There never seems enough time
To do all the things we want to
But with retirement we have time
To do only the things we want to
Happy Retirement wishes are sent to you
Keep us posted on all you do!


Another poem - Now Is The Time Poem




Words of Wisdom
Poet: Unknown

I have tried for a week, and vainly I seek
Words of wisdom to write to you here;
So, wishing you life free from sorrow and strife,
Nor wanting in friends and good cheer,
With health - perhaps wealth -
Love better than self.
And Truth, far the best, to the end;
Since content it maintains
While existence remains,
I subscribe myself.
Truly, your friend




Retire Means
Poet: C. A. Lynch

R is for
relaxtion, which you can do all day.

E is for
excitement, to do it your way

T is for
tasks, that you no longer have to do

I is for
independence, no bosses to answer to

R is for
road trips, you can take every day

E is for
enjoying the journey and having time to play!



Funny Retirement Poems
If you would prefer to get a few laughs with your retirement poem, then the below poems may be more of what you are looking for.


Today
Poet: Julie Hebert

Today you will retire
But don't you tire
Live life even more
Walk out of here and shut the door
Congrats to you


A collection of Funny Retirement Poems




Challenges
Poet: Julie Hebert

Life brings different challenges to us all
But retirement is a time to have a ball
No more challenges of work for you
Spend your days as you wish to.
Carefree and happy we wish your days
But we will miss you always.


Bring a smile to your face with more poems about Retirement Challenges




Cheers To
Poet: Julie Hebert

Cheers to all the years you have worked
Cheers to the years ahead and what you find
Cheers to the great person you are
Cheers to the sad people you leave behind
Cheers to your retirement this day
Blessings and happiness for you we pray.


More poems on Cheers To Retirement




How You Play The Game
Poet: Unknown

Retirement - It's all in how you play the game, isnít it?
Let's see now. How will I know when I am a senior.
Hmmmmmmm.....
Some places give me a senior's discount at 55, some at 60 and some at 65.
My government pension will be sent to me when I am 65.
My company will arbitrarily retire me at 65.
(I'm going to beat them to the punch and retire at 60.)
So that means that parts of our society think 'senior' begins at 55.
How will I personally know?
Well, with a little bit of luck, I don't think I'll ever know.
It's all in how you play the game, isn't it?




How Many Times
Poet: Julie Hebert

How many times have you retired
Of this we are getting tired.
Nothing can keep you down
Retirement to you is like a clown.
So you're going to retire again
Spend some time with your friends
Oh we will see this time around
If retirement is really found!


Read more poems about Retirement Again?



Short Retirement Poems
If what you are looking for is more of a short but sweet retirement words, then the following poems may be a better choice. Take a read through and see if one of them works for your needs.


An elegant sufficiency, content,
Retirement, rural quiet, friendship, books,
Ease and alternate labour, useful life,
Progressive virtue, and approving Heaven!
James Thomson




Retirement - praise the Frenchman,
His remark was shrewd
How sweet, how passing sweet is solitude!
But grant me still a friend in my retreat,
Whom I may whisper,
Solitude is sweet.
William Cowper




Fear no more the heat o' th' sun,
Nor the furious winter's rages.
Thou thy worldly task hast done,
Home art gone and ta'en thy wages.
William Shakespeare




I have no Yesterdays,
Time took them away;
Tomorrow may not be Ė
But I have Today
Pearl Yeadon McGinnis




Life is a song - sing it.
Life is a game - play it.
Life is a challenge - meet it.
Life is a dream - realize it.
Life is a sacrifice - offer it.
Life is love - enjoy it.
Sai Baba




Life is mostly froth and bubble.
Two things stand like stone:
Dodging duty at the double,
Leaving work alone.
Author Unknown




It's not as bad a world,
As some would like to make it;
But whether it's good or bad,
Depends on how you take it.
Author Unknown
Find more poems at Best Poems for All Occasions
I hope you were able to find the perfect retirement poems for your card, speech or party. Don't forget, allow these poems to inspire you to write your own if you are unable to find some poems that fit your needs.
Related Wishes, Poems, and Quotes: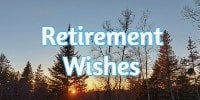 Retirement Wishes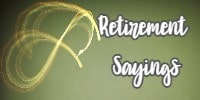 Retirement Sayings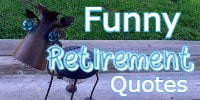 Funny Retirement Quotes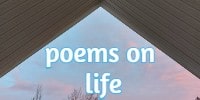 Poems On Life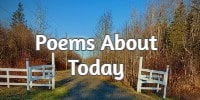 Poems About Today
Best Wishes
|
Best Wishes To You
|
Quotes & Sayings
|
Wedding Toasts, Speeches
|