27 Retirement Poems
Welcome to our collection of retirement poems, where heartfelt sentiments and joyful celebrations come alive through the power of words. Within these poems, you will discover a treasure trove of best wishes, funny anecdotes, and concise verses, all dedicated to honoring the milestone of retirement.
Whether you seek inspiration, laughter, or a touch of nostalgia, our poems aim to uplift and inspire, capturing the essence of this new and exciting chapter in life. Let these retirement poems bring warmth to your heart and a smile to your face, as we embrace the beauty and possibilities that retirement holds. You may also find words in our
retirement messages
to share with the new retiree.
Best Poems |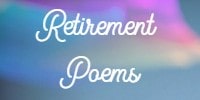 9 to 5
Poet: Samatha C. Ringle

9 to 5, or 8 to 4,
You don't have to do it anymore.
No more time clock
No more late docks.
You get to retire today
You will be missed in every way.
Enjoy your retirement
It is truly an achievement!
Congratulations to you
With work, you are through!


More Retirement Poems for Coworkers




How Did You
Poet: C. A. Lynch

How did you get to retire before me?
Oh, my friend, that can't be!
Oh, how jealous I am of you
You make me feel blue!
But I am happy you get to retire
You always did inspire!


Read more Retirement Poems For Friends




Teacher
Poet: Unknown

Teacher you have done your planting
Seeds of knowledge you have sown
We are already missing you
You deserve the best retirement too!



More Retirement Poems For A Teacher



Dear Nurse
Poet: C. A. Lynch

Your compassion and caring, a guiding light,
Through countless lives, you've made things right.
As retirement beckons, a new chapter unfolds,
Know that your presence will forever be told.

Enjoy this well-deserved rest, dear nurse,
Your impact lingers, your kindness will disperse.
Though you'll be missed, your legacy will thrive,
A shining example, inspiring lives to revive.



More Retirement Poems For Nurses



A Poem Just For You
Poet: Julie Hebert

This poem was written just for you
To wish you a happy retirement,
And happiness in all you now will do
Wishing you lots of contentment
In the coming retirement days
We will miss you in every way!


More poems for the Retiree - A Poem For You




Time
Poet: Tom S. Gold

There never seems enough time
To do all the things we want to
But with retirement we have time
To do only the things we want to
Happy Retirement wishes are sent to you
Keep us posted on all you do!



Another poem - Now Is The Time Poem



We Will Miss You
Poet: C. A. Lynch

Your work has been tried and true,
Rewarded by a retirement for you.
We're happy for you, but we also sigh,
As we will miss you as we say goodbye.



Retirement Verses For Cards



Retire Means
Poet: C. A. Lynch

R is for
relaxation, which you can do all day.

E is for
excitement, to do it your way

T is for
tasks, that you no longer have to do

I is for
independence, no bosses to answer to

R is for
road trips, you can take every day

E is for
enjoying the journey and having time to play!




May You
Irish Blessing

May you always have work for your hands to do.
May your pockets hold always a coin or two.
May the sun shine bright on your windowpane.
May the rainbow be certain to follow each rain.
May the hand of a friend always be near you.
And may God fill your heart with gladness to cheer you.


Read another Irish Blessing




Your New Life Begins
Poet: Julie Hebert

Today you will retire,
And a new life will begin.
May you have the time to do all you want,
And may you feel the joy within...


Read more of Your New Life Begins




Retirement Brings Positive Change
Poet: C. A. Lynch

Retirement brings a change in life,
But not a cause for strife.
Now I can do what I desire,
And set my own schedule to inspire.

Travel, hobbies, and relaxation,
No longer bound by work's fixation.
Excited for this new chapter to begin,
Retirement is a positive win!




Positive Poems



Change Takes Its Course
Poet: C. A. Lynch

With retirement, change takes its course,
A transition to a new chapter, a different source.
No longer bound by the 9 to 5 grind,
Freedom and adventure brilliantly entwined.

I am so excited for these retirement days,
The change and possibilities ignite my soul's blaze.
No more deadlines, no more suits and ties,
I welcome this new beginning I won't lie!




Poems About Change


Funny Retirement Poems
If you would prefer to get a few laughs with your retirement poem, then the below poems may be more of what you are looking for.


Today
Poet: Julie Hebert

Today you will retire
But don't you tire
Live life even more
Walk out of here and shut the door
Congrats to you



A collection of Funny Retirement Poems



Challenges
Poet: Julie Hebert

Life brings different challenges to us all
But retirement is a time to have a ball
No more challenges of work for you
Spend your days as you wish to.
Carefree and happy we wish your days
But we will miss you always.


Bring a smile to your face with more poems about Retirement Challenges




Cheers To
Poet: Julie Hebert

Cheers to all the years you have worked
Cheers to the years ahead and what you find
Cheers to the great person you are
Cheers to the sad people you leave behind
Cheers to your retirement this day
Blessings and happiness for you we pray.


More poems on Cheers To Retirement




How You Play The Game
Poet: Unknown

Retirement - It's all in how you play the game, isnít it?
Let's see now. How will I know when I am a senior?
Hmmmmmmm.....
Some places give me a senior's discount at 55, some at 60 and some at 65.
My government pension will be sent to me when I am 65.
My company will arbitrarily retire me at 65.
(I'm going to beat them to the punch and retire at 60.)
So that means that parts of our society think 'senior' begins at 55.
How will I personally know?
Well, with a little bit of luck, I don't think I'll ever know.
It's all in how you play the game, isn't it?




Funny Retirement Messages



How Many Times
Poet: Julie Hebert

How many times have you retired
Of this, we are getting tired.
Nothing can keep you down
Retirement to you is like a clown.
So you're going to retire again
Spend some time with your friends
Oh we will see this time around
If retirement is really found!



Read more poems about Retirement Again



Finally Retire!
Poet: Julie Hebert

You can finally retire!
It has paid off, all your hard work.
No more long hours and
Tedious tasks you must shirk.

You're ready to kick back,
Relax and enjoy the day,
Say goodbye to the boredom,
No boss keeping you at bay.

We say goodbye with
A smile and a tear,
We celebrate all you've
Accomplished in your career.

No more forcing yourself out of bed
For the nine-to-five grind,
Welcome the freedom to do what you want
When you want 'til you are inclined.




Retirement Wishes




The Day Is Here
Poet: C. A. Lynch

The wait is over, the day is here
For all those years you've held so dear
Now it's time to put up your feet
We're excited for you, this is quite a feat.

No more alarms or early morns
Cheers to days with no formed norms
We wish you all the best, feel free as a dove
May retirement bring freedom and love!




Funny Retirement Quotes




Short Retirement Poems

If what you are looking for is more short but sweet retirement words, then the following poems may be a better choice. Take a read-through and see if one of them works for your needs.


Retirement is a new future, that lies before your feet,
With working days now complete.
Excitement builds as you embark,
On adventures, both wild and stark.
C. A. Lynch




Poems About Work



New roads await your every turn,
Memories will be made, new lessons learned.
Remembered fondly, you will be,
As retirement sets you free.
Julie Hebert




The joy of retirement is hard to explain
A balance of rest and the thrill of freedom attained
Carefree days to fill with your choice activity
Endless possibilities to use your creativity.
C. A. Lynch




Farewell to work, it's time to take flight,
Retirement brings you endless delight.
No more deadlines or stress to bear,
Embrace the freedom, life's joys to share.
C. A. Lynch




May your days be filled with leisure and cheer,
No more worries or deadlines to fear.
We bid you adieu with heartfelt esteem,
In retirement's embrace, live your dream.
C. A. Lynch




The employee life you bid adieu
Retire and be happy, this you will do
No longer stuck in a routine workday
Farewell to deadlines, you can do what you may.
Julie Hebert




Retirement Sayings



Retirement's embrace, a tranquil retreat,
No more rushing, just moments so sweet.
Looking back with a smile, no hint of regret,
Grateful for the memories, the journey you met.
C. A. Lynch




Retirement sees no more paperwork or cubicle walls
Forget what was and look forward with glee
As today the future glows bright it calls
Enjoy this happy freedom you see!
C. A. Lynch
Find more poems at Best Poems for All Occasions
Related Poems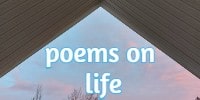 Poems On Life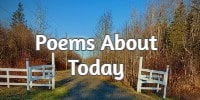 Poems About Today
Related Quotes & Sayings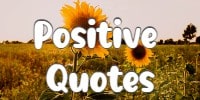 Positive Quotes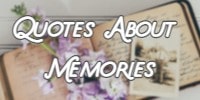 Quotes About Memories
Related Best Wishes To You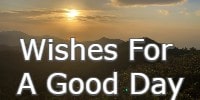 Wishes For A Good Day
I hope you were able to find the perfect retirement poems for your card, speech or party. Also you may be inspired you to write your own retirement poem by reading these ones!
Best Wishes
|
About Us
|
Contact Us