75th Birthday Poems
Share these 75th birthday poems with the one who is turning seventy-five. Congratulations are in order as it is an amazing age to be three-quarters of a century old. As Jules Renard said, "It's not how old you are, it`s how you are old."
Best Wishes | Best Poems | Birthday Poems | 75th Birthday Poems- related: Happy Birthday Quotes
Happy 75th
Poet: C. A. Lynch

Happy 75th Birthday to you
Oh the changes you have been through
You are amazing to see
You are 25 times three!

We hope to be just like you
If our age reaches even seventy-two
The inspiration you give us all
You live life and have a ball.

May your day be filled with love
May God continue to bless you from above
May the coming year see happiness and cheer
We love you so much and think you are dear.


Sounds Old
Poet: Tom S. Gold

The age of 75 sounds so old
But the years fly by we are told.
When I think of 75 years
It could bring me to tears.

But you don't act old
In fact you are still pretty bold
Trying new things, living life to the fullest
And we think you are the coolest!

Happy Birthday to you this day
May the year bring everything your way
May happiness and sunshine
Be your headlines.


The poem, My Seventy-Fifth Birthday, was written back in 1892 on her seventy-fifth birthday.
She describes how wonderful her life has been and how lucky she feels to have lived it.

My Seventy-Fifth Birthday
Poet: Mrs. C. K. Smith (March 13, 1892)

Seventy-five years; and where have they blown?
Tell if you can where the summers are gone;
The wings of Life and the ocean of Time
Have floated them off as a rhythmic rhyme.

I feel not so old as the years would tell,
The days of my youth I remember well;
The charm of living is as great as then,
Old age has no terrors to darken my ken.

The world looks as lovely, belonging to God
The world as His footstool where'er I have trod;
'Tis as well to be old as it is to be young,
As sweet as the sowing is the harvest song sung.

God is the giver of every good thing,
Autumn as bright as the hopefullest spring;
Time is not counted by days and years,
'Tis counted by heart-throbs, by smiles and tears.

Then hail, all the days as they swiftly fly!
We will use them well as they hurry by,
For life does not end with our earthly days,
And God holds the keys to the heavenly way.

I can trust the future as in the past,
All will be well when the end comes at last;
I shall be " satisfied " when I awake
In His dear likeness when the dawn shall break.

Find more Birthday Poems
Related: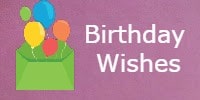 Birthday Wishes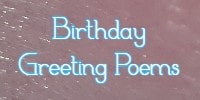 Birthday Greeting Poems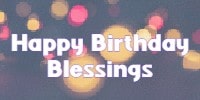 Happy Birthday Blessings
Happy Birthday Messages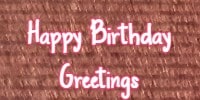 Happy Birthday Greetings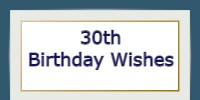 30th Birthday Wishes
Birthday Blessings For A Friend
Here is another poem you may enjoy; written by Edgar A Guest about his Grandma at the age of seventy-two:
Grandma
Poet: Edgar A. Guest
There's a twinkle in her eye,
O, so merry! O, so sly!
That you never see the wrinkles in her face;
She's so full of fun and play
That you never see the gray
In her tresses, and you never see a trace
Of the feebleness of years,
Born of heartaches and of tears;
She's the youngest of the children still today.
All the charm of youth remains,
All her beauty she retains.
O, she's right up to the minute in her way.
Just because she's seventy-two
Any old thing will not do,
She believes that she must always look her best;
Though her gowns are mostly black,
She was never known to lack
A little dash of color at her breast.
'Just because I'm old,' says she,
'Do not think I'm going to be
Out of style and frumpy looking, for I'm not!
And when folks come in to call,
I'm not going to wear a shawl
And cover up the splendid things I've got.'
O, dear grandma, let me say,
As I look at you today,
In your stylish gown of satin with its little touch of blue;
As I see your merry eye,
When the years have wandered by
May I only be as happy and as lovable as you.
May I come from out the gloom
Of my troubles with the bloom
Of a heart that's ever youthful still in view,
With a dash of color gay
To relieve the somber gray,
May I be as young as you at seventy-two.
Read more Best Poems
Best Wishes
|
Best Poems
|
Best Wishes To You
|
Quotes and Sayings
|
Wedding Toasts, Speeches
|