52 Retirement Wishes
When someone retires, retirement wishes are bound to flow in. This is an exciting time for the retiree as this is the time we all have been waiting for. This person will finally become free of early mornings, schedules, routines, and a busy lifestyle. They now get to sit back and relax and do the things they never got a chance to do.
Allow us to help you in finding the perfect retirement wishes to send or relay to the newly retiree. Don't forget to be excited for them, it will be your turn soon enough and if you were lucky enough to retire already, then you will have lots of guidance on the best ways to spend your free time. You may also find a poem that will convey your wishes,
Retirement Poems
.
Best Wishes To You |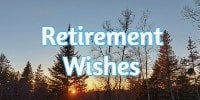 There is one thing I must tell you when it comes to retirement that I never really realized until it was my turn. You will have tons of time on your hands. And the best way I think you should fill that time, is to join me for a round of golf! - Funny Retirement Quotes




Wishing a lot for you, at this amazing time. Hope its everything you imagined, by enjoying your favourite past time. Julie Hebert, A Joyous Time Indeed - Retirement Poems for Coworkers




Work will not be the same without you around who are we to blame. Seriously, my friend, you will be missed. We wish you well with new interests. C. A. Lynch, Forever and A Day - Retirement Poems For Friends




We can't believe you're calling it a day, stepping down and stepping away. We figured we have to carry you out of here, you're like a fixture, even if you are a dear. C. A. Lynch, Calling It A Day - Funny Retirement Poems




As a teacher, we think you are swell, we say so long, but not farewell. We hope retirement treats you well. C. A. Lynch, Happy Retirement To A Great Teacher - Retirement Poems For A Teacher




Congratulations on such a joyful day! May others care for you the way you have cared for people throughout your career! Enjoy your retirement! - Retirement Poems For Nurses




Happy adventures, stay blessed with joy forever in life! We'll miss you sincerely now that you move onwards to new adventures in life! C. A. Lynch, We'll Miss You - Goodbye Poems For Coworker




Retirement should be defined as the beginning of the Time of your Life! So go have the best retirement years possible. - Poems On Life




What a wonderful time in one's life! This is when you get to reinvent yourself into the person you always wanted to be. Retirement is great that way! - Retirement Messages




What can I say, I knew this day would come, the day I could no longer tease you about having to go to work. Well, I must say it's about time you joined me in this fabulous life I call Retirement! - Funny Retirement Messages




Best wishes for your retirement. May these days be in comparison to the best days of your life. - Irish Blessings





We all know life is short, we have experienced this at some point in our lives, so that just shows us we have no time to waste. Take this new part of your life and live it to the fullest! - Retirement Sayings




For years you have not stopped, working to put food on the table, taking care of your children, volunteering...now you are retiring. Its time to allow others to pick up the slack so you can make the most out of your retirement. - Poems That Inspire




Memories to make, and dreams to pursue, retirement holds the promise of something new. C. A. Lynch, Retirement Expectations - Poems About Expectations




Move forward with a smile on your face. We all wish we were in your place. Happy days are ahead for you. Retirement is not an issue! B. R. Clement, Retirement Is Not An Issue - Retirement Challenges




Retirement means many things but to your life may it bring blessings. We offer a cheer to you this day, we love you and will miss you we must say! B. R. Clement, How Lucky You Are - Cheers To Retirement




Wishes for relaxing days, wishes for happiness always, wishes for hobbies to come alive, wishes for you to thrive. Tom S. Gold, As You Retire - A Poem For You





A new journey you now get to take on this road of life we each will eventually get. God bless you on your retirement. - Christian Poems




Though you'll be missed, your legacy remains strong, may your retirement be filled with joy all lifelong. - Retirement Verses For Cards




Retirement is a time for focus and gear, for the chapter of life that's crystal clear with no more rush and demands to steer C. A. Lynch, Retirement Focus - Poems About Focus




Retirement is a time we all strive to get to. Now that you have made it, it's your time to shine! - Now Is The Time Poem




You've tried this before and it never stuck, make sure this retirement is the retirement that ends all ties to the working world and bounds new ties to all things fun. - Retirement Again




Retirement for adults is just as good as Christmas morning for children. We get to celebrate, open gifts and then play and do what we like for days ahead! - Merry Christmas Wishes




I hear best wishes and congratulations are in order, as you are about to embark on a new part of your life. Happy Retirement! - Your New Life Begins




Good morning to your day of freedom, the day you are finally free of routines, offices, and timesheets. Retirement is the start of something great. - Good Morning Wishes




We always think that weddings are the start of our adult lives, but I think that retirement is the start! When else do you get to do only things you want to do with the one you love with no responsibilities tying you down? - Wedding Wishes





We celebrate throughout our lives, birthdays and anniversaries more than once. But sometimes we celebrate things just once in a lifetime, like weddings and retirements. Take the time to celebrate life every chance you get. - Wedding Anniversary Wishes




In retirement there are many people we wish would be here to help us celebrate and watch us succeed. Know even though they are not able to be here, they are sending their wishes spiritually! - Wish You Were Here




A retirement party is the next best thing since your wedding! Make it big, fun and fitting for a new life change to receive all those wishes in style! - Wedding Messages




There are many new starts within our lives, on our own and with those we love. We have always wished you the best in life, from your engagement right to your retirement. Wishing you nothing but the best! - Engagement Wishes





Wishing you a great retirement fitting for a great marriage. Two are always better than one in life, in marriage and retirement! - Marriage Wishes




Love of many things in life makes a great character. It also makes for a good friend, marriage, retirement and many other things that come along in our lives. - Love Quotes




Enjoy every celebration and every minute the good Lord gives you because He also wishes you a great retirement. - Birthday Wishes




Wishing you a retirement filled with so much joy and laughter that you'll have to schedule breaks just to catch your breath. Enjoy the ride! - Quotes About Joy




Many thanks for the wonderful wishes you have bestowed upon me on the day of my retirement. How lucky am I to have someone like you to celebrate with.

-

What To Write In A Thank You Card





Many blessings in the next part of your life. May this point in your life be everything you have dreamed it would be. - Wedding Blessings




Retirement is like the New Year....a time to look ahead and set new goals in the direction you want to go. - New Year Wishes




Retirement will be very different for you, but being able to do what you want when you want to do it, will be right up your alley! - Quotes & Sayings




Today is the start of something great! See it for all that it is and enjoy your retirement party and every moment from this moment on! - Best Poems




I'm sure the question on your mind now is, Now what? But keep in mind, the answer to that question will come in due time. Just try and relax and enjoy your retirement, this is the beginning of something great! - Retirement Verses For Cards




Your day has finally come! But don't forget how much you will be missed! Enjoy your retirement, but don't forget to visit.



Wishing you a wonderful retirement. Retiring is hitting another wonderful milestone. This one will be the best one yet.





I can tell you first hand, retirement definitely has its perks! So enjoy every moment!




It's now time to sleep in every morning, sip your coffee without any rush, stay in your pajamas until lunch and golf all afternoon long! Many wishes for an enjoyable retirement!




Iím sure you are in a bit of shock to know this day has finally found you. When we hear the word retirement we often think, old. But that's not the case at all. 65 is the new 55, so get out there and explore the world!




Allow this great event in your life to be picture perfect! Retirement should be filled with great memories to capture.




A huge congrats on making it this far! Now it's time for you to sit back and enjoy life from a different perspective!




I've got to say from experience, retirement is great! And I know you will love every minute of it. Wishes for a Happy Retirement!




It's time to retreat from working life and find that one thing you love. Congratulations on your retirement. Enjoy every moment of it.





Retirement is the one thing we couldn't wait to reach. The one good thing about getting older. Now that you're here you must be very excited about starting this new chapter in your life. Many blessings and wishes come true for the years to come. - Quotes About Blessings




Sending wishes to be extra good to yourself like the Queen/King we all know you will be during your retirement!




You are now commencing on the vacation of your life. And the best part is, you can do or go anywhere you would like! Sending you retirement wishes from all of us.
More Best Wishes To You To Share For All Occasions
Best Wishes
|
About Us
|
Contact Us