40 Retirement Messages
There are so many different ways to share your congratulations to a newly retiring person, but sending happy retirement messages is definitely one way to do it. Here you will find many retirement messages for cards, for coworkers, bosses, and friends, and a few funny retirement messages. Feel free to use them in your cards, speeches, or gifts. You may also want to include a
retirement poems
in your message.
Quotes & Sayings |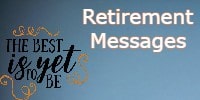 You now have unlimited time to enjoy everything you choose to do with this newfound retirement. Enjoy every moment, even the ones you choose to sleep away!
Poems That Inspire




You have so much ahead of you, so take what life is throwing at you and use them all up however you want. Congrats on this next chapter.
Poems On Life




May joy and peace surround you, contentment latch your door, and happiness be with you now and bless you evermore!
Irish Blessing




As you retire remember that God is not done with you yet, He has a purpose for the new phase of your life. Enjoy!
Christian Poems




May you live your retreat from work in good health, great company and happy days.
Happy Poems




Cheers to you as you retire. To all of us, you have inspired. We wish you sunny days ahead C. A. Lynch, Cheers To You
Cheers To Retirement




There's never enough time to do all the nothing you want. Bill Watterson
Time Poems




The best thing about retirement is every day being a weekend. No more Mondays! Enjoy your unlimited weekends!
Monday Quotes




Well no more complaining about not having time to do the things you love any more! Seize the day and enjoy every second of this worthy gift.
Quotes That Inspire Change




You will receive no greater gift than the one you choose to make for yourself and those should be plans to do only the things that make you happy!
Quotes That Inspire




There is nothing left for you to do now but unwind, relax and enjoy all the happiness that is in store for you. May retirement be your biggest blessing yet!
Quotes That Encourage





It's time to take your vacation time to a new level and retire to your permanent vacation. Make sure it's a relaxing permanent vacation though, not one of those crazy, go, go, go vacations!




If I could give you one message to help you do the most with your retirement, it would be to give yourself time to take it all in, unwind and get yourself excited for a never ending weekend!
Quotes To Make You Think




May you now have the time to indulge in interesting and satisfying activities that will allow you to spend your days happy.
Time Quotes




Your life has been filled with joyful events but this one will be unlike any others. Let this retirement be everything it is and go with the flow!



Retirement Card Messages
Retirement card messages are such a nice idea when creating a card for someone who is retiring.


May your retirement be more than just excess time and less money,
May it be everything you expected and more,
May you find the time to relax and just chill,
May you also find time for things you love and adore.
Julie Hebert




Move forward with a smile on your face - we all wish we were in your place. Happy days are ahead for you B. R. Clement, Retirement Is Not An Issue
Retirement Challenges





Your journey has found a new road and you are finally about to see where it takes you. Happy retirement to someone who loves new adventures.
Your New Life Begins




May retirement be all that you dreamed of. Many wishes for a wonderful retirement.



Retirement Message For Coworker
We have all worked with coworkers we hate to see leave and some we are relieved to see go but they all deserve a wonderful send off. Use a retirement message for coworkers in a card, gift or speech to give them the best send off possible.


You've always been a hard worker, and I don't expect that to stop just because you are retiring, but I do expect you to be only working hard at the things you love! Happy retirement!
Retirement Poems For Coworkers




So when you have retired we will recall your smile as we walk down the hall. We will miss you so C. A. Lynch, Happy Retirement To A Great Teacher
Retirement Poems For A Teacher





Retirement is when you stop living at work and begin working at living. Author Unknown
Retirement Again?




Congratulations to you - retirement you are due. You have worked hard and met the demands Tom S. Gold, As You Retire
A Poem For You




You have worked, day in and day out, to you, we want to give a shout. C. A. Lynch, Retirement For You
Now Is The Time Poem




Happy retirement to someone who deserves it and so much more. Can't thank you enough for helping make this place a little better with your positivity and sense of humor. You will be missed and we will be left with happy memories of such an awesome colleague.
Quotes About Life Happiness




For years of putting up with this place and all who work here, you are finally being rewarded! Happy retirement and please take us with you!
Best Wishes To You




No more paycheck for you, but amble time. Don't spend it all in one place! Allow yourself to venture beyond your normal routes.
Best Poems




So, the alarm clock can go, along with the fancy clothes and uncomfortable shoes. No need to set the timer on your coffee maker or warm up your car this winter. Instead, take it easy, read a good book and miss us, because we will be missing you like crazy!




Congrats on making it this far. May you look back at your time with us and see only the good times. You will be missed.
All Occasions



Retirement Message For Boss
Whether you had a great boss or maybe a not so great boss, sending them off with a wonderful retirement message for a boss is a nice way to congratulate them and wish them the best.


Good bosses are hard to come by, and you were one of the good ones. We will be sad to see you go but so happy to see someone so deserving receive so much happiness. Happy retirement boss!




I've got to be honest, I'll enjoy seeing you outside of work more than being my boss inside of work. Hope your retirement is much less stressful than your working life and may you not have to be anyone elses boss again!




Thanks for being the type of boss everyone could come to and be honest with. We hope your retirement has fewer people coming to you with their problems and more people just wanting to hang out!



Retirement Message To A Friend
Being there for our friends during retirement, whether it be around the same time as we are retiring or a friend from work who is retiring is super important. Retirement is a big step for some and a very exciting step for most. Be there by sending a retirement message to a friend so share in their great news.


Finally, we can just go for coffee without having to run back to work. No more de-stressing coffee breaks, now on to relaxing coffee time whenever we want for as long as we want! Happy retirement friend!
Retirement Poems for Friends




We have some major celebrating to do and we will do that with good friends, great drinks and lots of music. Let this party begin and never end! We have no place to be!




The excitement over your retirement is wonderful and full of enthusiasm. May it be a long and healthy retirement filled with laughter and love.
Quotes About Life Inspirational



Funny Retirement Messages
Sometimes what's required in retirement is funny retirement messages for the honoree. These can be used in cases when we need to lighten the mood, or sometimes when laughter is better than mushy!


Retirement has finally answered your work lifelong question of why you put up with all this crazy work stuff, bosses, and clients. May retirement remind you, it was all worth it!
Funny Retirement Poems




Remember when you graduated - no more school, well now you have graduated again - no more work! C. A. Lynch
Graduation Poems




The word unlimited is not used enough when it comes to retirement, but that is exactly what retirement is about, unlimited anything and everything you want... except money. Sorry, can't have it all!




Have you ever compared your life to a 3 course meal? Maybe you should because you have made it to an endless dessert! Enjoy!!!




I know you can see the irony in retirement as this is probably the first time in your life that you have all the time in the world, yet no money and an aging body! Never mind that, you're young a heart and that's what matters!
More Quotes & Sayings
Best Wishes plus Poems and Quotes
|
Wedding Toasts, Speeches