Birthday Poems for Kids
Use our birthday poems for kids for the special children in your life that are celebrating a birthday. A day of excitement, a day to send cheer and wish them Happy Birthday and a good upcoming year.
Best Wishes
|
Best Poems
|
Birthday Poems
| Birthday Poems for Kids -
Happy Birthday Quotes
Time To Have Fun
Poet: C. A. Lynch

Happy Birthday little one
Time to have lots of fun
With candles on your cake
And cupcakes that we baked.

A day to celebrate you
With presents and lots to do
We wish you a Happy Birthday
This is your special day.




Let The Party Begin
Poet: Samatha C. Ringle

Let the party begin
So we can sing
Happy Birthday to you
We love you that is so true.

We celebrate your special day
Wish you happiness in every way
Presents and surprises for you
A birthday that shows how much we love you.





Blow Out The Candles
Poet: Tom S. Gold

Blow out the candles and make a wish
But we hope you don't wish for fish.
A birthday celebration just for you
A day to do what you want to

We all gather here and sing
May this birthday bring
Sunshine and rainbows just for you
And lots of presents too!




Happy 1st Birthday
Poet: B. R. Clement

You are number 1 in our books
You're sweet and cuddly and full of looks
You are so happy with the attention
And all the loving affection
We wish you many more
Birthdays to explore.




Happy 2nd Birthday
Poet: B. R. Clement

Two years old with smiles galore
You, little one, we do adore
May the day be filled with joy
And may you get lots of toys.

Happy birthday to you this day
We just want to say
Have a Happy Birthday
And lots of play!



At some point in our lives, we have witnessed a child turn three years old. We have watched them grow and prayed for their well being and happy lives ahead. This poem speaks to those truths. The innocence and happiness in a three-year-old is a beautiful thing. If you have a child in your life turning three, may this poem be what you are looking for to include in a card or as part of a gift. This is a precious time for a child turning three!


Three Years Old
Poet: Jennie Harrison

Three little paces traveled, all on the grass of life.
Pure from dust of the highway, safe from the heat of strife; —
Oh, for the feet unwearied, — oh, for the unknown way. —
Pause we amid our gladness, lifting our hearts to pray!

Three little glances taken, all through the sunlit air.
Free from the shades of sorrow, clear from the mists of care;
Oh, for the eyes unclouded, — oh, for the unseen way, —
Cease we amid our smiling, — bending our lips to pray!

Three little blossoms gathered all in the dewy morn.
Safe from the blight of noonday, free from the wounding thorn; —
Oh, for the eager fingers, — oh, for the barren way, —
Rest we our glad embraces, folding our hands to pray!

Three little crowns worn lightly, — all of life-jewels rare;
Pure from the worthless metal, free from the weight of care; —
Oh, for the brow unaching, — oh, for the Cross-marked way, —
Cease we our proud rejoicing, bowing our heads to pray!

Three little pages numbered, all with their story bright,
Clear from the blot of trouble, pure from the stain of blight; —
Oh, for the heart unknowing, — oh, for the untold way, —
Pause we amid our singing, hushing our tones to pray!

Three little years! — oh, heavenly, threefold cord of Love, —
Father and Son and Spirit, — reach from the throne above,
Wind round our darling closely, — guide her through all the way! —
Be this the birthday gift that shall answer us while we pray!




Turning Four
Poet: C. A. Lynch

We can't believe your turning four
It was only yesterday you crawled on the floor
Now look at you four years old
You are no longer a baby we can hold.

We will sing you a song
Happy Birthday but not too long
As presents, you want to open them now
We wish you a day filled with WOW!




And Now Your Five
Poet: Tom S. Gold

Five years old where did the time go
You are growing up that we know
We hope the day is a special one
Full of laughter and lots of fun.

And may the coming year bring
Lots of happiness and good things.
We send you lots of birthday love
Of you we are very fond of!
Find more Birthday Poems
Related: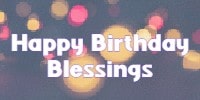 Happy Birthday Blessings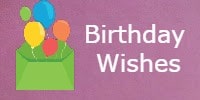 Birthday Wishes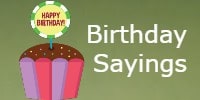 Birthday Sayings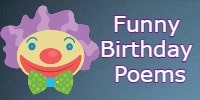 Funny Birthday Poems
Best Wishes
|
Best Poems
|
Best Wishes To You
|
Quotes and Sayings
|
Wedding Toasts, Speeches
|