10 Poems About Today
Be inspired to live today by the positive verses in these poems. This day is the only day we are guaranteed. No one knows what tomorrow will bring. And, no one can change what happened yesterday. We all have today, do not waste it! You may also want to consider the thoughts in these
quotes about today
.
Best Poems |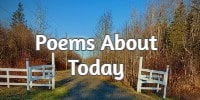 Today
Poet: Thomas Carlyle

So here hath been dawning another blue day;
Think, wilt thou let it slip useless away?

Out of eternity this new day is born;
Into eternity at night will return.

Behold it aforetime no eye ever did;
So soon it forever from all eyes is hid.

Here hath been dawning another blue day;
Think, wilt thou let it slip useless away?




Today Is Yours
Poet: Julie Hebert

Today is yours to own and shape,
Be the one that leads and helps,
This day brings opportunity,
If you lend your hand with grace and glee,

Others will be uplifted too,
So show some kindness through what you do.
Smile and love will surely spread,
Bringing a great day in store for you!




Encouraging Poems



The Water That Has Passed
Poet: Sarah Doudney

Listen to the water-mill,
Through the live-long day;
How the clanking of the wheels
Wears the hours away!
Languidly the autumn wind
Stirs the greenwood leaves;
From the fields the reapers sing,
Binding up the sheaves;
And a proverb haunts my mind,
As a spell is cast:
"The mill will never grind
With the water that has passed."

Take the lesson to thyself,
Living heart and true;
Golden years are fleeting by,
Youth is passing too;
Learn to make the most of life,
Lose no happy day;
Time will never bring thee back
Chances swept away.
Leave no tender word unsaid;
Love while life shall last.
"The mill will never grind
With the water that has passed."

Work while yet the daylight shines,
Man of strength and will;
Never does the streamlet glide
Useless by the mill.
Wait not until tomorrow's sun
Beams upon the way;
All that thou canst call thy own
Lies in thy today.
Power, intellect, and health,
May not, can not last;
"The mill will never grind
With the water that has passed."

Oh! the wasted hours of life
That have drifted by;
Oh! the good we might have done,
Lost without a sigh;
Love that we might once have saved
By a single word;
Thoughts conceived, but never penned,
Perishing unheard.
Take the proverb to thine heart,
Take, oh, hold it fast! -
"The mill will never grind
With the water that has passed."




Poems On Life



You And To-Day
Poet: Ella Wheeler Wilcox

With every rising of the sun
Think of your life as just begun.

The past has shrived and buried deep
All yesterdays— there let them sleep.

Nor seek to summon back one ghost
Of that innumerable host.

Concern yourself with but to-day.
Woo it and teach it to obey,

Your wish and will. Since time began
To-day has been the friend of man.

But in his blindness and his sorrow
He looks to yesterday and to-morrow.

You and to-day! a soul sublime
And the great pregnant hour of time.

With God between to bind the train-
Go forth I say— attain— attain.




Good Morning Wishes



Lessons For Today
Poet: Adelaide A. Procter

Rise! if the Past detains you,
Her sunshine and storms forget:
No chains so unworthy to hold you
As those of a vain regret.
Sad or bright, she is lifeless ever;
Cast her phantom arms away,
Nor look back, save to learn the lesson
Of a nobler strife — to-day.




The Duties Of Today
Poet: Fred Husted

Oft we ponder, looking yonder,
At a duty far ahead;
Often fretting, and forgetting
Those about us where we tread.

The duties nearest are the dearest;
They are not so far away:
Sweetest flowers, they are ours,
Growing at our feet today.

Be possessing present blessing,
Wait not for tomorrow's shower;
There's a beauty in each duty,
Bringing payment every hour.

Look not backward, live not forward,
Grand and glorious is today;
Let us give it while we live it
All the honor that we may.

Pastures greenest, waters cleanest,
Where the Shepherd leads today;
Of tomorrow need we borrow
While he feeds us on the way?




Help Today
Poet: C. W. Naylor

I need thee, Lord; I need thy help today
To guide me onward in my pilgrim way.
My vision far too narrow is to see
The rugged path of duty leading up to thee.

I need thee, Lord; I need thy strong right hand
To lead me upward to that brighter land.
Alone I feebly falter on my way;
I can not do without thee, Lord, even one short day.

I need thee when the waking sun doth rise,
And till its last beams die in western skies;
Still in the darkness would I have thee near
To hold my hand, to keep my soul, to calm each fear.




Christian Poems



A Road Tune
Poet: Josephine Preston Peabody

Oh, there is morning yonder.
And night and noon again;
And I must up and wander
Away against the rain.

The forests would delay me
With a thousand little leaves;
The hilltops seek to stay me.
And valleys dim with eves.

The mist denies the mountains,
The wind forbids the sea;
But, mist or wind, I go to find
The day that calls to me.

For there are mornings yonder,
And noons that call and call;
And there's a day, with arms outheld,
That waits beyond them all.




My Wish Today
Poet: Mrs. Butts

Little one, little one.
They say life is hard:
Thou wilt hear this old story
From preacher and bard:
Little one, listen,
My wish is to-day
To make thy life easy -
And this is the way.

Little one, little one,
Down in thy heart.
Is a voice true and earnest,
Unspoiled and apart;
It speaks to thee always;
Always obey:
Then life will be easy
Through night and through day.




Poems That Inspire



One Guarantee
Poet: C. A. Lynch

We have one guarantee
And that is today
No one knows for sure
If we will see another day.

Enjoy each moment
That the day does bring
Be happy and
Let your voice sing.

On this day
Brighten other people's day
By assisting them and
Helping them in every way.

On this day
Give a smile
To someone you don't know
It will go many miles.

On this day
Share your love
Give others grace
As God gives you from above.

Today is yours
To do with it as you choose
Loving and helping others
Means you have nothing to lose.
Best Poems - find poems by subject
Related Poems
Kindness Poems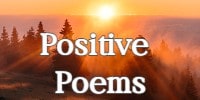 Positive Poems
Related Quotes & Sayings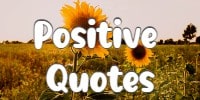 Positive Quotes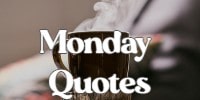 Monday Quotes
Tuesday Quotes
Related Best Wishes To You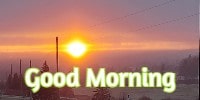 Good Morning Wishes
Best Wishes
|
About Us
|
Contact Us