98 Good Morning Wishes
Mornings are so important to each and every day. Be a smile on someone's face by sending them good morning wishes to start their day. It will brighten their morning and start their day off on the right foot. You may also want to share one of our
Good Morning Poems
.
Best Wishes To You |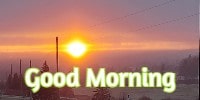 A wonderful morning to you! May your time be filled with wishes that come true. - Birthday Wishes




Mornings can be daunting, but not at a time like today! Welcome to the best morning of your life on the day you stop waking up for only yourself. - Wedding Wishes




For no one loves me like you, you show it in everything you do. Like comforting words with a hug, your love radiates like a morning sun. C. A. Lynch, Thankful For You - Birthday Poems For Mom





Morning blessings are the best! For if you didnít wake up to find this morning waiting for you, where would you be? Happy morning to you. - Wedding Blessings




Monday morning, full of promise, a new week, a fresh start we harness. C. A. Lynch, Monday Morning - Poems About Monday




It's a happy St. Patrick's Day, so exciting and so gay, full of luck, love, and laughter too, good fortune is wished for you! - Julie Hebert, Happy St. Patrick's Day - Poems For St. Patrick's Day




Iíve always wondered why more weddings donít happen in the mornings. To me, mornings remind me of a fresh start. Birds singing remind me of a first dance and the sun rising symbolizes the beauty of a new commitment to each other. To me, a good morning wedding sounds like a perfect fit. - Wedding Phrases




Look to the skies and embrace the sun rising new. Your day is so full of potential, see it come into view. Julie Hebert, Don't Lose Hope - Poems About Hope




A good morning, a blank canvas so pure, a lump of clay with endless design I'm sure. C. A. Lynch, Boundless Potential - Opportunity Poems




Joining together as one symbolizes the way the morning sun rises along with the moon. Coming together to work in perfect harmony. - Wedding Card Messages




From the moment we wake up each day show kindness along the way. -C. A. Lynch, Given From The Heart - Kindness Poems




Itís not what you do once in a while itís what you do day in and day out that makes the difference. - Jenny Craig - Positive Quotes




Each dawn we rise, with choices clear, to chase the smiles or shed a tear. - C. A. Lynch, Smiles Or Tears - Poems About Choices




Marriage is the best when we get to wake up in the morning next to the person we love most in this world. Wishing you good mornings every moment of your marriage. - Marriage Wishes




The morning you wake up and realize today is the day you will be wed, is one of the most exciting days of your life. - Wedding Quotes




Let the first words that come out of your mouth each morning to your spouse be, Good Morning Love! - Marriage Quotes




For every morning I miss you, I'm wishing all your mornings be good and that your day will be filled with well-wishers along your path. - I Miss You Quotes





I love good mornings because most of the time, they are great mornings. I have woken in my own bed with the one I love, safe and sound and ready to start the day! - Love Sayings




Youíre the first one I think of when I wake up and last one I think of before I go to sleep. Author Unknown - How Do I Love You Poems




In the sweetness of friendship let there be laughter, for in the dew of little things the heart finds its morning and is refreshed. Khalil Gibran - Quotes About Friends




Wishing you both the best good mornings any couple could have and may they last your entire marriage. - Wedding Toasts




Good morning to you, your first day of retirement we wish you a great day. We are thinking of you! Julie Hebert - Retirement Poems for Coworkers




May your wedding and marriage be blessed every morning you wake up next to each other. - Irish Wedding Toasts




In hearts divided, choice is held, each dawn a canvas for hope to unfold. - C. A. Lynch, Decide What Attitude - Attitude Poems




May your mornings be filled with joy in ways you have never imagined and may you both find everything you are looking for in each other and in your own lives. - Irish Blessing




Today I awake amazed by the thought, I am marrying the man of my dreams. I am ready at last with a spring in my step, How the joy in my heart beams. - Wedding Poems





A happy life begins with a happy day which starts with a happy morning. Make your morning be the happiest! - Happy Poems




Today a commitment will be made, One so precious and inspired by love. Well, wishes and tears of joy will be shed, And many blessings from the man up above. - Marriage Poems




May every morning give you the same feeling as a child feels on Christmas day. - Merry Christmas Wishes




I never want to stop making memories with you. Pierre Jeanty - Love Poems For Her




Your eyes will open and excitement will fill your lungs. A good morning is on the horizon for you. Many wishes for your wedding to come. - Bridal Shower Poems




A gift from God, this blessed day is for you. Receive it with thanksgiving. - Thanksgiving Blessing




This morning you may wonder why God has given it to you, But it may not be for you, this day with you in it maybe for someone else. Be a blessing this morning! - Christian Poems




Rise and shine on this beautiful sunny morning. Say a thank you that you awoke this day. Wishing you a light and spiritual day ahead! - Thank You Quotes




Hello and good morning! Time to start this blessed day as you move closer to another birthday! - Birthday Poems




Each morning I am with you I feel your love and want nothing more than to be with you even longer. - Love Sayings





Another wonderful morning to begin this great day with. Let the day commence! - Graduation Poems




Today when you finally decide to start your day, do it humbly, be kind to everybody and be thankful for it! - Thankful For Poems




As I wake in the morning, I am thankful for you my love. May you have a great day knowing how much I love you. - Love Poems For Him




Mornings arenít for everyone, but I know that for you, this morning is a grateful one. I hope your day continues much the same. - Best Poems




Now that you're retired you can have morning strolls in your robe and slippers, and you donít need to use any brain flippers! Julie Hebert, So Sweet - Funny Retirement Poems




God blesses us each and every day, just waking up is a blessing in every way! C. A. Lynch, God's Blessings - Poems About Blessings




Get up and get moving, donít waste another moment of your day! Quotes & Sayings




Some people wake up every morning and groan, "Oh, no, it's morning again," Other people say, "Good morning, Lord, I know something good is going to happen today!" Either way, that's your forecast. Ron Craycraft - Poems About Today




Cultivating gratitude every morning when you wake up refreshed can help your day start off on a good note. Rocco Cozza - Quotes About Gratitude




Nothing is worth more than this day. Johann Wolfgang - Wednesday Quotes




The future starts today, not tomorrow. Pope John Paul II - Quotes About Today





Good morning! No matter the day of the week, wishes for peace, happiness and love to fill your day. Tom S. Gold - Tuesday Quotes




Yesterday was yesterday and tomorrow will be tomorrow, but today is today and the start of a brand new day! Be blessed this day and enjoy every moment. - Quotes About Blessings




I have always known what to write to you on every other card. Birthdays, holidays, graduation and now I am here this morning writing on your wedding card! How proud I am of you! Congrats! - What To Write In A Wedding Card




Good morning, greet the day with gratitude. Embrace life's small wonders and appreciate every moment this day. - Author Unknown - Appreciation Quotes




Rise and shine, for each morning brings a fresh canvas to paint your potential upon. Author Unknown - Quotes About Potential




Hugs and kisses for you and only you to kick start this magical of days.




Time to share all of your sweetness with the world. Good morning to a wonderful and kind person.




Life is a gift, and so is each morning we get to wake up! Be thankful and not wasteful for we do not know what tomorrow brings!




Good morning, Good morning love, Itís my favourite love song, I waited all night long. "Good Morning" by John Legend




Good morning to you, the sun is up and so should you. Get up and ready for a wonderful day.




Your morning has begun, just look out at that marvelous sun. Get up and enjoy the day, it's time to make your way!




A fresh morning for a fresh start. Forget the faults of yesterday and look forward to the successes of today.




Our plans have been made and now it is time to put them into action. So rise and shine to this exciting day!




You are special, you are different because you are unique. Be you today, no one else!




This morning, stay in bed, relax and dream. Let yourself rejuvenate and rest up. You deserve it.




Today is your clean slate, your time to write again. Today will be different from tomorrow.




The great thing about mornings is each is a new stepping stone to bigger and better decisions. Make this morning greater than the last.




Be lazy this morn if you need, but use it wisely as this morning is the only one for today.




Push through today knowing that tomorrow will bring another morning for you to start again. Donít worry about things that will be history tomorrow.




Make this morning be a great one filled with creativity and imagination. This world could use all it can get!




How amazing is it to be given a gift every morning that allows us to wake up and enjoy another beautiful day with your loved ones.




Every time you think youíve run out of time, allow mornings to remind you that you still have time to change.




Life is how we make a difference and today, this morning, you get to start yours!




Start your day off with a good and healthy breakfast so you can make the rest of your day tasteful!




Time to accomplish great things and new opportunities. Time to start your day! Good Morning!




A morning filled with love, energy and happiness is a morning to remember!




We always expect mornings to arrive, but this isnít the case for everyone. So be thankful and enjoy each and every morning.




Sending the happiest of morning vibes to you this morning. Wishing you a wonderfully happy day!




May every morning be a reason to smile and keep smiling as the day continues.




A new day for a new start and a way to correct any wrongs or make better decisions.




Sometimes it seems like the most difficult task of our day is getting up in the morning! You can change that, it's all in how you look at it!




Trust that each morning you choose to be here is a morning that is worth making a difference!




Welcome to your new day, your clean slate and your happy choices giving you a great end of day results.




Each morning is a chance to learn from our mistakes and another chance to help change this world.




Wake up with a smile and an inspiration to create a day and world worth living in.




Mornings are no mistake, they remind us that we are not out of time. We still have time to become better people and make a difference.




Tell yourself this morning that you can do anything your mind can think of. You are amazing!




Start each morning with a positive thought for your day. As you walk through your day remember to make that positive thought reality.




Mornings make my lips form into a smile each and every time I roll over and find you lying beside me. Your embrace is all it takes to excite me for the day ahead.




Every morning I wake up I feel lucky to have you in my life. Good morning to my lucky charm.




Donít be afraid this morning of things that happened in the past. More forward with a brave heart today as today is a new day!




This morning is the morning you should forgive yourself for any misdoings and start to believe in yourself that you are good and can be good.




Some mornings are much more difficult to get up with a smile on your face than others, so look for the good, happy and exciting things to make those mornings a little bit easier.




A marvelous morning to you! May this morning be incredible, full of life and best of all, full of love!




Happy morning for the happiest day filled with lifeís little things. The little things in life can be better than any big things! So enjoy the little things life has to give you.




This morning and today arenít going to be perfect, but if you can re-frame from complaining, youíll see your day may just be a little bit better. Donít dwell on things that donít make you smile.




My prayer for you today was for your day to be filled with many blessings and many smiles.




Start each day off with a smile that brightens all who cross your path.




Happy thoughts this morning for you. I wish your day be filled with positivity!




Each day is a precious gift, and this morning is no different. Remember to treat is as such!




Donít allow yourself to cringe at the sound of your alarm. Good mornings start with a lovely way to wake up.
More Best Wishes To You To Share For All Occasions
Best Wishes
|
About Us
|
Contact Us