47 Wedding Blessings
Wedding blessings are a nice way to share your hopes and dreams for the newlyweds. They can be used in cards or speeches or even just to share your love and best wishes with the couple. You can take a look at ours or write your own using these as inspiration. You may also want to share our
Wedding Blessing Poems
.
Quotes & Sayings |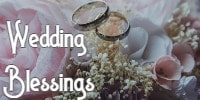 Be blessed on this your wedding day. We wish nothing but happiness and joy for you both. May God be with you in your married life as you enter this journey together.
Wedding Wishes




Seal this blessed day in your hearts,
May you never grow apart.
As you commence this new chapter of life.
May you be blessed as husband and wife.
Lift each other up when faced with adversity
A wedding blessing for contentment until eternity!
Wedding Poems




I wish you many blessings, in marriage, life, and love.
Julie Hebert, Soon To Be Mrs. Right
Bridal Shower Poems




The Lord bless you and keep you;
the Lord make his face shine on you and be gracious to you;
the Lord turn his face toward you and give you peace.
Numbers 6:24-26 (NIV)
Christian Poems




May the blessing of God be upon thee,
May the Sun of Glory shine íround thy.
May the gates of plenty, honor and happiness be open to thee.
May no sorrow distress thy days.
May no griefs disturb thy nights;
May the pillow of peace kiss thy cheek,
And the pleasure of realization attend thy beautiful dreams.
J. S. Ogilvie
Christian Wedding Poems





Marriages are not just a commitment of love, but of companionship. Friendship is the key to a long and healthy marriage. May your marriage always be blessed by the friendship you share this wedding day.
Marriage Quotes




In a wedding celebrating your love we ask blessings from God above.
C. A. Lynch, The Day Will Soon Be Here
Getting Married Poems




May the Lord bless you both as you say your wedding vow; as you pledge your lives to one another.
How To Write Marriage Vows




Health and prosperity
Your lives together to cheer,
With every blessing
For many happy years.
Irish Wedding Toasts




Let your blessing of love be your rock and let this day be a reminder of where it all began.
Wedding Phrases




Blessed is the home where each puts the other's happiness first.
Quotes About Home




I wish thee every blessing
For you both, remember this day here;
And may each future anniversary prove
My wish to be sincere.
Anniversary Poems





If you had asked me back at your graduation if I thought you could be happier, I would have said no. You never know where life is going to take you, but I'm sure happy it brought you to together!
Poems On Life




If words could all my wishes say,
Oh ! how my tongue would talk away.
I wish this day and many more
Might on dear blessings pour,
May health, wealth, love, and peace
With each succeeding year increase;
And oh! the last, come when it may,
Be unto thee a happy day.
J. S. Ogilvie
Happy Poems




May Heaven on you, both, its choicest blessings shower
May your love continue to bloom like a beautiful flower.
Heaven Poems




May your day be filled with family and friends
May your happiness know no end
Give thanks to God above
For all His blessings and His love.
Quotes about Life Happiness




May God shower you both with blessings; a union blessed by His grace.
C. A. Lynch,Shower You Both In Blessings
Bridal Shower Poems Wishing Well




May you be filled with many blessings inside and out and may you be thankful for every one of them.
Thankful For Poems





Sending you many sweet blessings on your wedding day which will follow you through all the days of your marriage.
Advice For A Marriage




Mayíst thou live in joy forever,
Naught from thee true pleasure sever;
From thy heart arise no sigh.
And no tear bedew thine eye:
Joys be many, cares be few,
Smoothe the path thou shalt pursue,
And heavenís richest blessings shine
Ever on both thee and thine.
Author Unknown
Wedding Poems for The Bride and Groom




As we wed, I vow to be a blessing in your life, not a burden. I vow to be your equal, not your dependent and I vow to love you for who you are, always and forever.
Wedding Vows




Gladly now it is my pleasure,
Joys to wish you, without measure.
Happiness and peace attending.
With pure heavenly blessings blending.
What To Write In A Thank You Card




Our marriage will be strong because we will both work to make it strong. It will be blessed because we will both pray over it every night. It will be filled with love because we will both continue to remind each other of our love for the other with simple gestures. And we will be happy because we will be together.
All Occasions





There are so many things I could write in this card as I think about the two of you. But one thing I do know is that I admire you both and wish you all the best with your marriage.
What To Write In A Wedding Card




May you feel no rain, for each of you will be a shelter to the other.
Unknown, May Your Days Be Good
Engagement Poems




Finally, your wedding day is here,
With all that can delight and cheer;
Oh! may you nothing lack each day.
But find fresh blessings strew your way.
Wedding Messages




Throughout our lives, we are given many blessings. The day we find our true love, we are given one of the biggest blessings of all. Treasure this blessing in all circumstances and don't take it for granted
Wedding Poems About Love




The union of two special people can't be just a coincidence but a push from a much more powerful place. May your lives together be filled with blessings in many different ways.
Wedding Wishes Messages




Many blessings for your wedding day, but even more for your marriage. Work hard to keep your love sparked. Marriage can be tough sometimes, but its nothing you can't handle if you are willing to put in the time.
Marriage Poems





Blessings come in many forms, but we all know one of the biggest blessings a person can find in their life is to find someone to share it with.
Poems That Inspire




My thoughts and prayers are with you as you embark on this new journey in your life. No longer walking this earth on your own, but with someone who loves and respects you. I thank God for bringing you together every day.
Prayer Poems




God, the best maker of all marriages, combine your hearts in one, your realms in one.
Shakespeare
Wedding Toasts




When two people are one in their inmost hearts,
They shatter even the strength of iron or of bronze.
And when two people understand each other in their inmost hearts,
Their words are sweet and strong, like the fragrance of orchids.
I Ching
Wedding Quotes





Enjoy the simplest of things on your wedding day. For they are what make up an entire day of blessings. Who needs a big meal you can eat your cake first!
Best Wishes To You




Heaven give you many, many merry days!
Shakespeare
Marriage Wishes




You shall be together when white wings of death scatter your days.
Ay, you shall be together even in the silent memory of God.
But let there be spaces in your togetherness,
And let winds of the heavens dance between you.
Love one another, but make not a bond of love:
Let it rather be a moving sea between the shores of your souls.
Kahlil Gibran
Best Poems





Two souls with but a single thought,
Two hearts that beat as one.
Friedrich Halm
Cute Love Quotes




Love is like a rose, the joy of all the earth... Love is like a lovely rose, the world's delight.
Christina Rossetti
Love Saying




In as much as love grows in you, so in you, beauty grows. For love is the beauty of the soul.
St. Augustine
Quotes That Inspire




A thing of beauty is a joy forever: its loveliness increases; it will never pass into nothingness; but still will keep bower quiet for us, and a sleep full of sweet dreams.
John Keats
Quotes That Encourage





One word frees us of all the weight and pain of life;
That word is love.
Sophocles
Quotes To Make You Think




My bounty is as boundless as the sea,
My love as deep; the more I give to thee,
The more I have, for both are infinite.
William Shakespeare
Poems For Wedding Reading




Many blessings for a long and strong marriage. May God keep your bond safe and secure within his hands.
Irish Blessing





Godís love is never-ending and filled with love and happiness when two souls such as yourselves come together to celebrate such a beautiful union.
Poems About God




One day long from now you will be able to look back on this day at pictures of your wedding and remember the moments. Most will be good, some will make you laugh, some may make you sad, but all will be blessings.





Gifts can be blessings if the need is there, but the biggest blessing you can give is your presence on their wedding day.





Your wedding album will be a time machine back to this day. It will remind you of all the blessings this day endured. So even in stressful times, donít forget to smile.
Find more Quotes & Sayings to encourage


There is nothing better to receive on your wedding day than blessings from people who you consider blessings in your life. We hope you were able to find blessings that suit your needs or find some examples to help you as you write blessings for others on your own.
Best Wishes
|
About Us
|
Contact Us