41 Wedding Blessings
Wedding blessings are a nice way to share your hopes and dreams for the newlweds. They can be used in cards or speeches or even just to share your love and best wishes with the couple. You can take a look at ours or write your own using these as inspiration.
Best Wishes | Quotes & Sayings |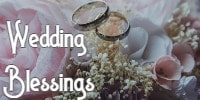 - related: Wedding Blessing Poems


































































































































Find more Quotes & Sayings to encourage


There is nothing better to receive on your wedding day than blessings from people who you consider blessings in your life. We hope you were able to find blessings that suit your needs or find some examples to help you as you write blessings for others on your own.
Best Wishes plus Poems and Quotes
|
Best Wishes To You
|
Best Poems
|
All Occasions
|