Wedding Blessing Poems
Share our wedding blessing poems with the newlyweds. Guests and family who are about to witness a marriage with nothing but many blessings for the new couple, leading up to the wedding, during the wedding, and for their marriage afterward. These poems offer blessings for the bride and groom and for many years of marriage.

A blessing is our wish for them, but it is also a prayer asking for God's favor and protection for this couple and all that they do. Throughout our lives, we receive many blessings but a marriage blessing is one that we pray will remain with the newlyweds for years to come.


Best Wishes    |   Poems    |   Wedding Poems    |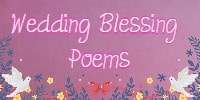 -  related: Wedding Blessings
Blessings to Come
Poet: Julie Hebert

I feel excitement in the air tonight,
For what will be quite soon.
An evening not too far away,
You'll be married under the moon.

Everything you've ever dreamed,
Will come true on that starry night.
And you'll be dancing with the man you chose,
Dressed beautifully all in white.

May your future right in front of you,
Be filled with wonderous things.
But nothing will beat the moment when,
You chose to exchange wedding rings.

Surrounded by all those you love,
Many wishes will come your way.
May you receive many blessings and feel all the love,
On this marvelously special day.

Wedding blessings to come for you and your groom,
A day this will be to remember.
Marriage blessing to come from that moment on,
All your January's through to December's.

And if God wills it, the years will pass,
And some day you will look back with love.
Many wonderful memories made hand in hand,
A good life together blessed by God above.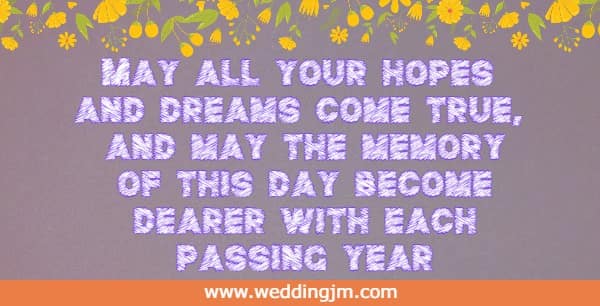 We Pray A Blessing
Poet: Catherine Pulsifer

We pray a blessing over you both
As you say your wedding oath
A blessing of much happiness
A love that carries on regardless
Of issues faced.

A blessing of continued love
A blessing from God above
To give you both a love so strong
Together you both belong.

May you always remember this day
And may you take great memories away
No matter what challenges you face
Together you will win the race.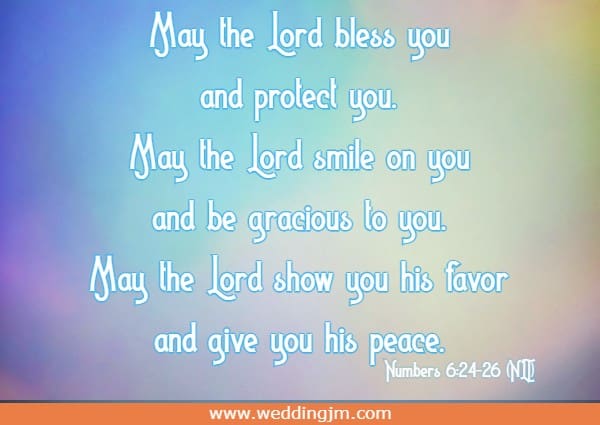 This Marriage
Poet: Tom S. Gold

God bless this marriage
On this day
Give them love and courage
To love each and every day.

May their home be filled with peace
May their love continue to grow
And may their happiness only increase
And always kindness they show.

May their motto be: Together, forever
May strength and support always show
May they make memories to remember
And may they follow their rainbow.


An Apache Blessing
Poet: Unknown

May the sun bring you new energy by day,
May the moon softly restore you by night,
May the rain wash away your worries
And the breeze blow new strength into your being,
And all the days of your life may you walk
Gently through the world and know its beauty.
Soon they'll be married, their commitment expressed,
living and loving in their very own nest.
True, it may not be Paris or Rome,
but come: let's help make their new house, a home!

More Wedding Poems
Related Wishes, Poems & Quotes: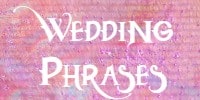 Wedding Phrases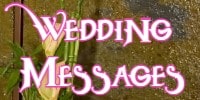 Wedding Messages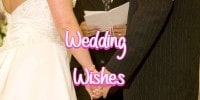 Wedding Wishes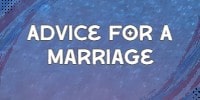 Advice For A Marriage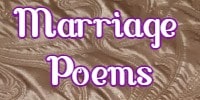 Marriage Poems




Best Wishes   |   Best Poems    |   Best Wishes To You   |   Quotes & Sayings   |    Wedding Toasts, Speeches   |