Wedding Poems For Ceremony
Feel free to use these wedding poems at the ceremony of your union as husband and wife. Poetry can add a flaire to any wedding and the words express love, hope and honor.

Best Wishes   |   Best Poems  |   Wedding Poems  |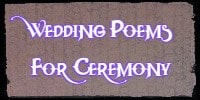 - related: Wedding Wishes Messages




That One Person
Poet: Julie Hebert

You are the one person,
Of which most I love.
The one person,
I hold high above.

You are the one person,
I care to see.
The one person,
Who sets me free.

You are the one person,
I'd take by the hand.
The one person,
I'd walk with through rocks and sand.

You are the one person,
Who's true and pure.
The one and only person,
I know for sure.




How Do I Love Thee?
Poet: Elizabeth Barrett Browning

How do I love thee? Let me count the ways.
I love thee to the depth and breadth and height
My soul can reach, when feeling out of sight
For the ends of being and ideal grace.
I love thee to the level of every day's
Most quiet need, by sun and candle-light.
I love thee freely, as men strive for right.
I love thee purely, as they turn from praise.
I love thee with the passion put to use
In my old griefs, and with my childhood's faith.
I love thee with a love I seemed to lose
With my lost saints. I love thee with the breath,
Smiles, tears, of all my life; and, if God choose,
I shall but love thee better after death.




Life's Happy Morning
Poet: Wolfgang Muller

O life's ringing morning! O season divine!
What though thou art vanished, we shall not repine;
We yesterday loved, and to-day 'tis the same -
And to-morrow we'll love with unchangeable flame.

O life's happy morning! O time of delight!
Thou art with us, since love doth our bosoms unite;
We loved one another, we still love the same.
And we ever shall love with unchangeable flame!




Born To Bless Me With Thy Love
Poet: Canning

Hence, every gloomy care away!
Hence, every secret fear!
With joy I see the approaching day
Which gives me all that's dear.

What though no jewels grace my bride
(She owes no charms to them),
Yet virtue in her bosom dwells -
There glows the brightest gem.

There white-robed innocence appears;
Fair peace in smiles array'd,
And sweet content in humble guise,
Adorn the lovely maid.

Oh! born to bless me with thy love,
My dear, my joy, my life -
Soon will those tender names unite
In that dear name of wife.

Thee meek-eyed gentleness adorns.
With modest virtue join'd,
Thy decent form and humble men
Bespeak a spotless mind.

On these I build my hopes of peace, -
On these bright charms of thine:
How shall I bless that happy hour
That makes thee ever mine!

More Wedding Poems
Related Wishes, Poems, Quotes: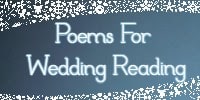 Poems For Wedding Reading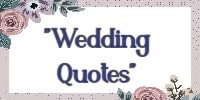 Wedding Quotes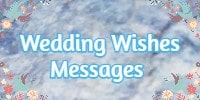 Wedding Wishes Messages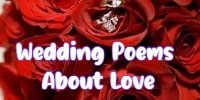 Wedding Poems About Love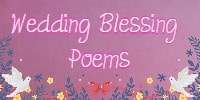 Wedding Blessing Poems


Best Wishes   |   Best Wishes To You   |   Quotes & Sayings   |    Wedding Toasts, Speeches   |