Engagement Poems
Send an engagement poem to extend your best wishes to the newly engaged couple. An engagement is an exciting and happy time for the couple. Let our poems help you express your happiness and best wishes for them.
Best Wishes | Best Poems |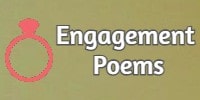 - related Engagement Wishes

Share Your Life
Poet: Unknown

When the one whom you believe in
puts their faith and trust in you,
You've found the one and only love
You'll share your whole life through.




God Bless
Poet: Julie Hebert

Relationships sometimes come and go,
But sometimes two people fall in love.
Hold on tight and enjoy the ride,
May God bless you from above.




Splendid Life
Poet: Julie Hebert

How splendid life can be,
When your future is there to see
May engagement life glow and your relationship expand,
May your marriage be filled with glee!




A Question
Poet: Julie Hebert

On one knee to ask a question,
From this, an engagement arises.
Planning begins and many comments flow in.
Seems like everyone has something to say,
Your wedding doesn't feel your way,
But in the end, the day will finish with a grin.




May Your Days Be Good
Poet: Unknown

May the gentle breeze bear witness to this union and carry its message to all lands.
May the sun warm their hearts and its ever-burning fire fuel their desire for each other.
May the sea provide for them from its bounty and comfort their souls with her sounds.
May the earth lend its strength, and reveal its mysteries.
May you feel no rain, for each of you will be a shelter to the other.
May you feel no cold, for each of you will be warmth to the other.
May there be no loneliness for you;
Though you are two persons, there is one life before you.
May you go to your dwelling place to enter into the days of your togetherness.
And may your days be good and long together.




Happy For You
Poet: C. A. Lynch

May the feeling you experience be with you for the rest of your love.
May your love grow stronger with each passing day.
May happiness surround you both as you plan for the upcoming wedding.
Congratulations on your engagement, we are happy for you both.




You'll Find Your Way
Poet: Julie Hebert

On the day of your engagement, you start to imagine,
After the wedding what will our marriage look like?
Of course, life is never easy, so working hard at it will be necessary.

But with that each day your love should spike.
You won't be able, to take it for granted,
Those who do will typically fail.
Never stop showing your love to the one you love,
Because love is very frail.

There will be times that you feel, "this is easy!"
Then something won't go your way.
You'll find yourself unsure of what to do,
Feeling this is no ordinary day.

But with compromise and a want to move on,
Life will get back on track.
You'll find marriage is a rollercoaster of love,
But with love and determination, you'll find your way back.


Before we ask someones hand in marriage we are often thinking about all the ways we love them. This poem describes all the ways the author loved his Annie. With a few small changes to this poem, it could be used in many different ways. It could also be used as part of an engagment proposal!


A Walk By Moonlight
Poet: Crocket McElroy

The moon is sweetly shining,
And the stars are entwining,
A wreath for my dear Annie,
Who is all the world to me.

While all the world lies dreaming,
My heart with joy is beaming,
I'm happy with my Annie,
Who is all the world to me.

All nature now is sleeping,
No living thing is creeping,
I'm all alone with Annie,
Who is all the world to me.

The silent trees look neater,
The flowers, too, are sweeter,
But naught's so sweet as Annie,
Who is all the world to me.

My head with thought is turning,
My heart with love is burning,
I'm so happy with Annie,
Who is all the world to me.

Sweet nature is insisting,
I must not be resisting,
I'll ask the hand of Annie,
Who is all the world to me.

Find more poems at Best Poems for All Occasions
Related Wishes, Poems & Quotes: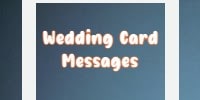 Wedding Card Messsages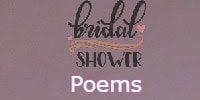 Bridal Shower Poems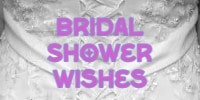 Bridal Shower Wishes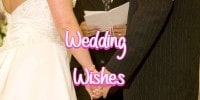 Wedding Wishes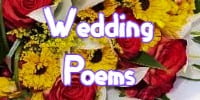 Wedding Poems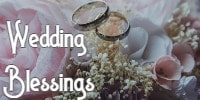 Wedding Blessings
Best Wishes
|
Best Wishes To You
|
Quotes and Sayings
|
Wedding Toasts, Speeches
|