41 Wedding Messages
If you are looking for wedding messages for a card, gift or toast, you'll find many examples here. Feel free to use these messages of congratulations however you see fit.
Quotes & Sayings |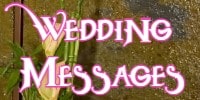 With the very best wishes for your happiness together as husband and wife.
Wedding Poems




Allow me to congratulate you both on taking the next great step in your lives.
Quotes That Encourage




If we could wish for just one thing for you both, it would be for peace and happiness from now until forever.
Poems That Inspire




Today, tomorrow and always you are loved and wished the best the future brings.
Quotes That Inspire




Remember your wedding is only the beginning. You'll have the rest of your lives to share and confide your love for each other.
Quotes To Make You Think




Forever is a measure of time used by people who share an ordinary love. Our extraordinary love is immeasurable … for us, forever just won't do. Steve Maraboli Anniversary Quotes




May everything beautiful and best be condensed in this card to show my sincerity in wishing you both happiness and love.




I love Christmas time, its a time when even the unfriendliest of people find the true meaning of Christmas.




We wish you a picture perfect union together forever and always.




How great it is to be able to celebrate this special day with you. And I plan to see you celebrate many more.
Quotes About Celebrations




When wealth weds wealth in the game of life, by cynics it is stated, tis not for love, but man and wife each wish to be cheque-mated.





Love is a beautiful thing, you are both lucky to have found each other. We wish your love will last a lifetime.




Weddings are filled with love and laughter. Your wedding shouldn't be any different!




Wishing you every happiness as you begin your life together. Best wishes on your wedding day.




Today your lives become one. Congrats!




On this day, of all days I wish you were here. And I know if you could be, you would be. I know in spirit you are right by my side, as I pledge my life to the one I love.




I've always wondered why more weddings don't happen in the mornings. To me, mornings remind me of a fresh start. Birds singing remind me of a first dance and the sun rising symbolize beauty of a new commitment to each other. To me, a good morning wedding sounds like a perfect fit.




For each petal on the shamrock. This brings a wish your way good health, good luck, and happiness. For today and every day you are together.




Wish the bride and groom a lifetime of wedded bliss with the following wedding greetings.




I stand here today, faced with my greatest decision and am proud of the one I made. I promise to be by your side from this day on, and love you for who you are





There is no gift that I could possibly give you that would be more special than the gift you are giving each other on this special day.




Best wishes in your new lives together.




Our marriage will be strong, it will not wither. But if it starts to sag I give you my word that I will do everything I can to strengthen it again!




Congratulations! Wishing you both a wonderful beginning, and love to last a lifetime!




Without you this day would be just an ordinary day. Let your blessing of love be your rock and let this day be a reminder of where it all began.




A world of good luck and happiness in your lives together.




A love so strong as yours, Should never go away. You bind yourselves together in marriage, and promise to never stray away.




Don't let anyone tell you that a ring holds your marriage together. The ring is a symbol of how the two of you will hold your marriage together, together!




A wish to you both that everyday will be happy from the start and may you always have good luck.




The day you wed the man of your dreams, changes nothing yet everything. See you'll still be you in every way, but from now on you'll be accompanied by a ring!





Today is your special day, filled with love and emotion. From today on your lives will be intertwined, blessed with love and devotion.




We wish nothing but a lifetime of beautiful tomorrows.




The years you've put into this marriage of yours, shows and is seen with envy. You were the few that did things write and never took your marriage for granted.




My love for you both is enormous and I couldn't be happier to celebrate your tying the knot! Congrats!
What To Write In A Wedding Card




Celebrations are so amazing on their own, but when people like you join us and celebrate with us, the joy becomes so much more.




Your day is finally here and we couldn't be any happier for you if we tried!




A retirement party is the next best thing since your wedding! Make it big, fun and fitting for a new life change.




Without you I fall apart. On our wedding day, I knew in that moment that we would hold each other together. We've been doing it and will continue to do it for as long as we are together. Happy Valentines Day!




How great it is to be able to celebrate this special day with you. And I plan to see you celebrate many more.
Best Poems




When wealth weds wealth in the game of life, by cynics it is stated, tis not for love, but man and wife each wish to be cheque-mated.
Best Wishes To You




The day two people make the decision to spend the rest of their lives together is a time for everyone they know to celebrate them.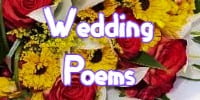 Wedding Poems
More Quotes & Sayings
Best Wishes
|
About Us
|
Contact Us