4 Poems On Faith
Christian poems on faith that can uplift and inspire you to keep your faith strong. You can sense the Poets faith as you read the verses. Share these poems with others to give them words to reflect on.

The best description of faith can be found in 2 Corinthians 4:18: "So we fix our eyes not on what is seen, but on what is unseen, since what is seen is temporary, but what is unseen is eternal."

Best Wishes   |   Best Poems   |   Christian Poems   |   Poems On Faith - related: Christian Quotes


Faith Shall Come
Poet: Ella Wheeler Wilcox

Talk happiness. The world is sad enough.
Without your woe. No path is wholly rough.
Look for the places that are smooth and clear,
And speak of them to rest the weary ear
Of earth; so hurt by one continuous strain
Of mortal discontent and grief and pain.

Talk faith. The world is better off without
Your uttered ignorance and morbid doubt.
If you have faith in God, or man, or self,
Say so; if not, push back upon the shelf
Of silence, all your thoughts till faith shall come.
No one will grieve because your lips are dumb.

Talk health. The dreary, never-ending tale
Of mortal maladies is worn and stale;
You cannot charm or interest or please
By harping on that minor chord, disease.
Say you are well, or all is well with you,
And God shall hear your words and make them true.




Simple Faith
by Chauncey M. Depew

The simple gospel of the humble carpenter,
Preached by twelve fishermen,
Has survived the centuries,
And outlives all other philosophies
Of eighteen hundred years.

I am not versed in the terminology of philosophies.
I believe them to be of little use to reach the hearts,
And to influence the action of simple men.

The simple faith of my mother is good enough for me.
If we believe this faith, what harm?
If we disbelieve it, and thereby do wrong,
What of our future?




God's Will
Poet: Jean Sophia Pigott

Take thine own way with me, dear Lord,
Thou canst not otherwise than bless.
I launch me forth upon a sea
Of boundless love and tenderness.

I could not choose a larger bliss
Than to be wholly thine; and mine
A will whose highest joy is this,
To ceaselessly unclasp in thine.

I will not fear thee, O my God!
The days to come can only bring
Their perfect sequences of love,
Thy larger, deeper comforting.

Within the shadow of this love,
Loss doth transmute itself to gain;
Faith veils earth's sorrow in its light,
And straightway lives above her pain.

We are not losers thus; we share
The perfect gladness of the Son,
Not conquered--for, behold, we reign;
Conquered and Conqueror are one.

Thy wonderful, grand will, my God,
Triumphantly I make it mine;
And faith shall breathe her glad "Amen"
To every dear command of thine.

Beneath the splendor of thy choice,
Thy perfect choice for me, I rest;
Outside it now I dare not live,
Within it I must needs be blest.

Meanwhile my spirit anchors calm
In grander regions still than this;
The fair, far-shining latitudes
Of that yet unexplored bliss.

Then may thy perfect glorious will
Be evermore fulfilled in me,
And make my life an answering chord
Of glad, responsive harmony.

Oh! it is life indeed to live
Within this kingdom strangely sweet;
And yet we fear to enter in,
And linger with unwilling feet.

We fear this wondrous will of thine
Because we have not reached thy heart.
Not venturing our all on thee
We may not know how good thou art.




With Faith
Poet: Wesley K. Burr

When Fate her gloomy mantle spreads
O'er future prospects bright,
'Tis then I feel like one who dreads
The ocean gale at night.

But with one ray of light to shine,
My drooping heart to cheer,
With Faith, that always brings success,
I'll hope and persevere.
More Christian Poems
Related Wishes, Poems, Quotes:
Prayer Poems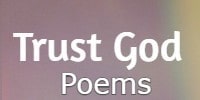 Trust God Poems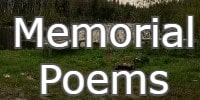 Memorial Poems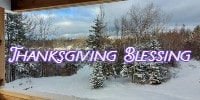 Thanksgiving Blessing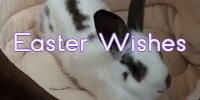 Easter Wishes


Best Wishes   |   Best Wishes To You   |   Best Poems    |   All Occasions    |   Quotes & Sayings   |    Wedding Toasts, Speeches   |