Getting Married Poems
Share these getting married poems at a bridal shower or in a wedding card to wish the bride and groom all the best as they start their new life together. Getting married is a major milestone in life and prayers and well wishes for the couple are always a blessing.
Best Wishes | Poems | Bridal Shower Poems |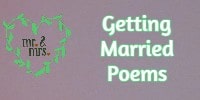 - related: Wedding Card Messages
When we get married some of us are worried about losing ourselves in our partners. This poem discusses how getting married doesn't mean that we stop living our lives but add to our lives with this new love. Help the bride in your life remember that they are still themselves and that marriage doesn't take that over completely.

A Little Extra Sugar
Poet: Julie Hebert

The day you wed the man of your dreams,
Changes nothing, yet everything.
See you'll still be you in every way,
But from now on you'll be accompanied by a ring!

Okay, okay, that's not quite true,
A ring you'll have but more.
You'll have a companion for life you see,
Someone to love you and adore.

Though being married isn't an end all,
For your life as you know it.
It just means you'll have someone else,
Who'll be with you to walk it.

No more going to parties or weddings alone,
You'll always have someone at your side.
Mom and dad are not needed as much anymore,
Now you'll have someone to give you a ride.

This person you'll marry will come into your life,
Not to take it over but make it fuller.
You still get to be everything you are,
Just now with a little extra sugar.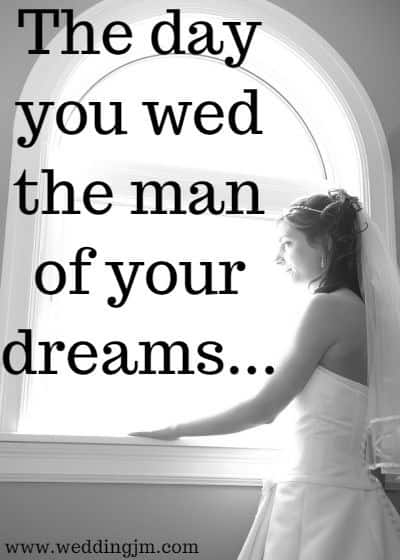 The Day Will Soon Be Here
Poet: C. A. Lynch

The day is soon to be here
When you will marry your dear
In a wedding celebrating your love
We ask blessings from God above.

The excitement is seen on your face
And love is felt when you embrace
The thoughts of your wedding day
We know it will all be okay.

The planning you have done
Will result in lots of fun
And well wishes will be sent to you
Wishing you both happiness the years through.

Getting married is a big step
But you have had lots of prep
Together you both will be
In love and so very happy!


Getting Married
Poet: Samatha C. Ringle

In life we have our milestones
Graduation when we are followed by chaperones
And then there are birthdays
Each year we celebrate always.

But getting married is a major one
With all the planning that is done.
It is a day to remember
A memory that is forever.

So as you do the last minute details
We want to wish you happy trails
May this coming day
Be happy in every way!
More Bridal Shower Poems
Related Wishes, Poems & Quotes: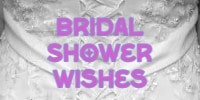 Bridal Shower Wishes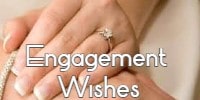 Engagement Wishes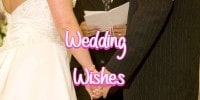 Wedding Wishes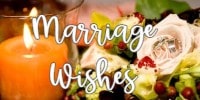 Marriage Wishes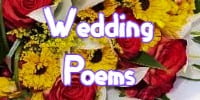 Wedding Poems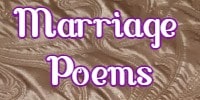 Marriage Poems
Best Wishes
|
Best Poems
|
Best Wishes To You
|
Quotes & Sayings
|
Wedding Toasts, Speeches
|