Wedding Card Messages
Everyone is in need of a wedding card messages when they are sending congratulations to newlyweds. But finding the right words doesnít always come easy. So what are our choices if we are unable to write them ourselves? We find other pre-written messages and make then our own.
We have provided you with some examples of messages for your convenience. Read through these and pick out one that suits your need for messages. When youíve selected one you can then start to make the changes that could be necessary.
The messages you see below have been written in such a way that they are ready for any card. This could be a blank card or a homemade card.
Best Wishes | Quotes & Sayings |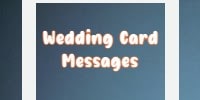 - related: Wedding Blessing Poems






























































































Find more Quotes & Sayings to encourage


If you have a card that has a picture on the front, then you could write the whole message inside the card instead of breaking it up. Make any changes necessary to make this your own and to personalize it. You may even find it useful to take parts from a few different sayings to make one more specific to your needs.

We just hope we have been of some assistance while you are searching for the perfect wish to put in your card or letter. Feel free to use what you find helpful and make it your own. Good luck and I hope you found exactly what you were looking for.
Best Wishes
|
Best Wishes To You
|
Best Poems
|
All Occasions
|