4 Wedding Poems For The Bride and Groom
Use these wedding poems for the bride and groom in your wedding card or messages to wish them happiness and all the best.

Best Wishes   |   Best Poems  |   Wedding Poems  |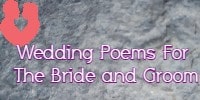 - related: Wedding Wishes Messages




For The Blushing Bride, The Glowing Groom
Poet: Julie Hebert

To the blushing bride,
And the glowing groom,
May this marriage be a match made in heaven,
And continue to blossom and bloom.

Once the wedding bells ring,
May you find marital bliss.
It will all happen so quickly,
As soon as your vows are sealed with a kiss.

And then they all will cheer,
You have finally tied the knot.
Your loved ones are there to celebrate,
So much love and joy they've brought.

And to top it all off good,
Just like a cherry on top.
You literally have the cake of your dreams,
And get to eat it, as it's no prop.

The speeches will commence,
Many guests will have their say.
The best marriage advice to come will be,
Happy wife, happy life the whole way.

May your hands be intertwined,
And fill your heart with love.
We all know you belong together,
May God bless your marriage from up above.




Two Persons
by Addison

Two persons who have chosen each other out of all the species,
With a design to be each other's mutual comfort and entertainment,
Have, in that action, bound themselves to be good-humoured,
Affable, discreet, forgiving, patient, and joyful,
With respect to each other's frailties and perfections,
To the end of their natural lives.




Hand In Hand They Swear
Poet: T. S. Arthur

A gathering of fond friends,
Brief, solemn words, and prayer,
A trembling to the fingers' ends,
As, hand in hand, they swear.

Sweet cake, sweet wine, sweet kisses.
And so the deed is done;
Now for life's waves and blisses
The wedded two are one.

And down the shining stream
They launch their buoyant skiff,
Bless'd, if they may but trust Hope's dream.
But ah! Truth echoes -"If! "

If health be firm, if friends be true,
If self be well controlled;
If tastes be pure, if wants be few,
And not too often told;

If reason always rule the heart,
If passion own its sway,
If love for aye to life impart
The zest it does to-day;

If Providence, with parent care,
Mete out the varying lot,
While meek contentment bows to share
The palace or the cot;

And oh! if faith, sublime and clear,
The spirit upwards guide,
Then bless'd indeed, and bless'd for e'er.
The bridegroom and the bride.




Eat The Cake
Poet: Julie Hebert

Later we will have a slice of cake,
To celebrate a wonderful day.
Who says you can't have your cake and eat it too?
You sure keep things going that way.

When you weren't together you had good lives,
But together, good doesn't even start to describe it.
A life made of wondrous, adventurous things,
And a relationship with a fighting spirit.

No, this marriage isn't any shotgun wedding,
Many months and years in the making.
A beautiful wedding to keep them talking for years,
Is definitely no easy undertaking.

But here it is now and in sickness and health,
You both will be tied in marital bliss.
You won't just be there but live every moment,
And seal each night with a kiss.

Congrats to you both on such a phenomenal day,
May your love always be your keepsake.
Your friendship is strong which will keep your marriage where it belongs,
The only thing left to say is, let them eat cake!
More Wedding Poems
Related Wishes, Poems, Quotes: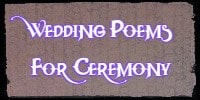 Wedding Poems For Ceremony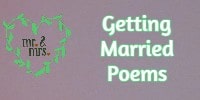 Getting Married Poems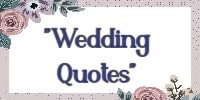 Wedding Quotes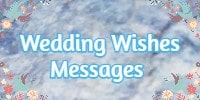 Wedding Wishes Messages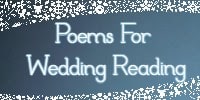 Poems For Wedding Reading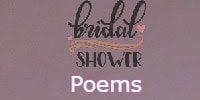 Bridal Shower Poems


Best Wishes   |   Best Wishes To You   |   Quotes & Sayings   |    Wedding Toasts, Speeches   |