53 Wedding Wishes
Share our wedding wishes with the happy couple. Sending wishes to someone on their wedding day is a happy and joyful event. Sometimes though, the words aren't easy to find. Allow us to help make this step a little easier with our assortment of wedding wishes.
If you are finding that one of these just isn't enough for what you want to say, no problem! Take two or three of them and rewrite them to suit your needs better.
Best Wishes To You |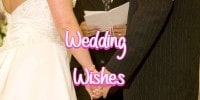 I have always wondered what a loving relationship would look like, that is until I met the two of you. Celebrating your wedding has given me a newfound understanding of what I hope one day I will have! - Wedding Poems




We hope your wedding day will see you are as happy as can be. Wishes of happiness and love with angels around you from high above. Julie Hebert, We Wish - Bridal Shower Poems




Wishing you both happiness but moreso love that will just keep growing as each year passes. - Poems About Love





Mornings can be daunting, but not at a time like today! Welcome to the best morning of your life on the day you stop waking up for only yourself. Wishes for a great day to come. - Good Morning Wishes




Love is what you make it. If you treat each other as if you just met, your lives together will be something of a romance novel and your wedding will be as special as you make it. - Love Sayings





We congratulation people on many different occasions, weddings, birthdays, anniversaries, graduation, for example. You are leaving one good thing to go on to another. Your wedding is a day that symbolizes a new beginning. - Graduation Wishes




I can understand at a time like this you feel as though celebrating your wedding is just too much. But know that the person you have loved and lost would want nothing less than to see you happy and joyful on such a special event. - Condolence Message





Sending you loving wishes. Your sweet Valentine will now be a partner for life. May your passion continue to grow with each coming year. - Happy Valentines Day Messages




We always think that weddings are the start of our adult lives, but I think that retirement is the start! When else do you get to do only things you want to do with the one you love with no responsibilities tying you down? - Retirement Wishes




If I could send you one wish it would be for lifetime of happiness. . . full of sunshine and loving rays. C. A. Lynch, Lifetime Happiness - Bridal Shower Poems Wishing Well




When we choose to wed someone, it's not even close to the faith we would have to have in the other person that Jesus had in God on that Easter weekend long, long ago. - Easter Wishes





It took me a while to decide what to write in this card. So hard to know how to express your feelings clearly. But one thing I do know is that I admire you both and wish you all the best with your marriage. - What To Write In A Wedding Card




Wishing you happiness, love, and peace that we all feel at Christmas. May those feelings be with you today and for the many years that the two of you will be together. - Merry Christmas Wishes




May your marriage be a tapestry of delight, with shared dreams and laughter, day and night. C. A. Lynch, As You Walk Down The Aisle - Poems About Daughter




Allow me to share with you how blessed we feel you are to have found each other. Wishing you many more blessings within your marriage. - Wedding Blessings




Hey brother, I adore being able to celebrate milestones in your life. Your wedding was my favourite thus far, but knowing what birthday you are about to celebrate, Iím thinking this year I will have a new favourite! - Happy Birthday Brother





Together you are one, I cannot imagine a life where the two of you are not together. You are a necessity for both of you and for those who are around you. - Monday Quotes




I love that we are all here to celebrate the two of you. How wonderful it has been to have this experience. Thank you for including us in your day. - What To Write In A Wedding Card




If I can give you one piece of advice, it would be to always remember to show your affection and say I love you every single chance you get. Even on the busiest of days, like your wedding, which is usually the most important time. - Advice For A Marriage




If this wedding is just a taste of the affection you will feel toward each other during your marriage, you two are in for a terrific life! - Best Poems




Dance, sing and live life as though no one is watching. Because now that you've had your wedding its the two of you for the rest of your life. So make the most of it! - Quotes and Sayings




You are surrounded by much love today...But most of all may its bliss never stray, may all your hopes and dreams come true, starting today! Julie Hebert, Marriage Hopes And Dreams - Poems About Hope




The fondness I feel for the two of you gives me so much joy! I can only hope your devotion to each other gives you as much joy! Wishing you a wonderful wedding! - Celebration Poems




Who among us thought that you would be getting married first. I guess fate has a way of rewarding the most deserving people. Happy wedding and sending hopeful wishes for a great future together. - Getting Married Poems





Your relationship has gone from together to forever! What an amazing adventure you are about to embark on. Enjoy every part of your wedding.




Your wedding is the first day of the rest of your lives as husband and wife. Wishes for you to enjoy every moment of it; life goes by way too fast!




We always knew you two were made for each other, but something we didn't know is how deep your passion ran for one another. Hold on to that, and don't let any circumstance take that away from you, especially at your wedding!! Sending loving wishes your way.




Here at your wedding, we feel the need to tell you that loving you has always been easy for us. We always knew you'd find someone who would love you just as much. Wishes for many more loving wishes to come.




Your relationship is a true example that true love still exists! May your true love live on forever and may your wedding live on in your hearts.




Today a promise was made during your wedding. And we couldn't be happier to share in your joy. Congrats and don't ever forget the promise you made to each other today.




Love comes and goes in life, but when you finally find the right person, it comes and stays. You found love, and I couldn't be any happier for you. Wishing you both a lifetime of happiness!




You will be congratulated with wishes over and over today and will probably be so bored by the end that I thought I would do something different, a bit of advice for the happy bride and groom: Don't lie to one another, realize it takes more than love to make a marriage work, and always remember why you fell in love in the first place! Congrats!




Today will revolve around the two of you, but after today it will be up to you to make sure you revolve around each other. So never forget that you married each other and that choice was the best decision you've ever made.





Life from this moment on won't seem much different, but it is. The commitment you made in front of all your family and friends has bound you together in a bond that, if you help it, will keep your marriage strong and full of love. Wishing you a long and loving marriage.




It's hard to believe the two of you are grown up and now have had your own wedding. I can't tell you I'm surprised you ended up together, but I can tell you how proud I am of who you both have become.




It's finally time for your relationship to take center stage. It's always been a large part of your lives, but never out there for all to see. Finally, we get a chance to celebrate such an amazing couple during your wedding celebration! - Quotes About Celebrations




There is so much in this world that doesn't make any sense. But one thing that makes a whole lot of sense is the two of you together and now (finally!) after your wedding, married. Congrats you two!




We give thanks to God for His perfect plan for your lives. May His love continue to guide you on our journey together. - Christian Wedding Poems





On this day, you will receive many wishes of congratulations. From past experience, you will only hear half of them as your excitement for the day will cloud your ability to hear them all. But that's okay, Take in everything you can from this day, make wonderful memories. It's your wonderful life together that this ability will be needed. Marriage needs love, and you have that in spades. But make sure you listen to each other to keep that love strong!! - Quotes About Memories




I sincerely hope this wedding is everything you ever imagined! Love each other, work hard for each other and your marriage will certainly be just that!




I love the fact that not only do I get to be here to witness such an amazing event, but I also get to be part of it. Thank you for allowing me to share in your love during your wedding.





Congratulations on this wonderful day. May your lives together be full of love and happiness, and your wedding be everything you imagined.




I knew this day would finally come. It took many years in the making but here it is and here you are, married! Yeah! What can I say, I'm so happy that the two of you are happy, together! Wishing you many years of happiness.




There are special moments in everyone's life, but one's wedding day is at the top of the list! Enjoy your special moment! Allow your wedding day to stay warm in your heart for a very long time.




You did it, you made your promise to each other and now you are married! Congrats and enjoy a wonderful life together after your wedding!




Today is a blessed day, one filled with love, laughter and most of all the two of you. Never forget how powerful the two of you are when you are in love! Allow this love to continue forth after your wedding day.




Best wishes and may all the days of your marriage be that of happy times together.




To my two favorite people in the whole wide world! I can't even express how happy I am for you two. You not only belong to one another but I know your lives together will be a life alternating experience for not only you but for those around you. Best wishes for your wedding.




Best wishes on this joyous day! Spend each day together as if it were your last and you will never regret a day of it!




Love is in the air! We sure saw that tonight with the two of you. Best wishes and keep that love in the air.




Don't do it!!!! Just kidding! You made a great choice in each other! Congrats and best wishes.




Best wishes on this wonderful union of two families! The love you had apart for your families will now be so great it will be overflowing in your home.




Together you both deserve nothing but the best! Best wishes in everything you do as a team!
More Best Wishes To You To Share For All Occasions
Best Wishes
|
About Us
|
Contact Us