Bridal Shower Poems Wishing Well
During a bridal shower, it is common to not only congratulate the bride but also wish her marriage well. These poems offer life blessings and well wishes to the bride and the groom for their new life together.
Best Wishes | Poems | Bridal Shower Poems |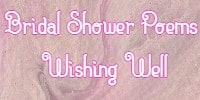 - related: Wedding Card Messages
Wishes For Life Long Love
Poet: Julie Hebert

You met the one you'd been waiting for,
He returned your love in full,
A wedding is next in your future,
May your happiness come by the bagful.

If you want children, may you have them.
As many as you want.
If you don't, may you not have any,
May you be the greatest aunt.

May your riches extend to more than money,
But may you always have what you need.
May you both contribute to your family,
And never find yourselves close to greed.

May you grow old with one another,
Still in love then, as you are now.
May you have trusted in each other,
And stayed true to your spoken vows.

Many wishes for a great life to come,
Many who know you wish nothing less.
May your marriage be one of fairytales,
And may God always be near to bless.


Lifetime Happiness
Poet: C. A. Lynch

If I could send you one wish
It would be for lifetime of happiness
We wish your upcoming wedding day
To be full of sunshine and loving rays.

May the following years
Be full of smiles not tears
And together may you find
A love that grows strong and binds.

Wedding wishes of peace and love
And blessings from God above
We send to you both today
Well wishes to send you on your way.


Bridal Wishes
Poet: Harriet Farley

Heaven bless thy gentle bride,
Bless the husband at her side —
May your paths through life be free
Prom all that's woe to her and thee.
The joys to others ye bestow,
In thine own home may ye ever know;
Such pleasures in your bosoms live.
As ye to others often give.
Trials meet with chastened grace;
Look them calmly in the face;
Angels' wings you'll see unfurled,
They are from that better world;
On their pinions, far away.
To the realms of nightless day.
They will bear your souls away.
Oft, at nightfall, angels come
To the still, secluded home.
Clad in human wanderers' guise.
Blessing with a glad surprise.
When the morrow's sun shall rise,
And the heart that's open e'er
To the passing traveller,
Welcoming the wronged and lone,
Taking in the sorrowing one,
Giving hope and sympathy
With its boimdless charity.
Oft will find good angels stay,
Guard them to the coming day
Watching through each dangerous night.
Till the morrow dawneth bright.
To such angels, now, my friends.
Thee and thine my heart commends.
More Bridal Shower Poems
Related Wishes, Poems & Quotes: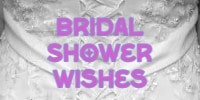 Bridal Shower Wishes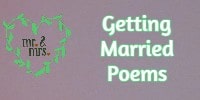 Getting Married Poems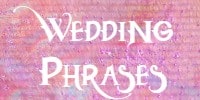 Wedding Phrases
Bridal Shower Games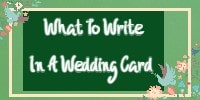 What To Write In A Wedding Card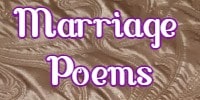 Marriage Poems
Best Wishes
|
Best Poems
|
Best Wishes To You
|
Quotes & Sayings
|
Wedding Toasts, Speeches
|