42 Thank You Quotes
When people have been treated well, thank you quotes may be a helpful resource for you when it comes time to say your thanks. We have compiled some thank you quotes and sayings of gratitude for you to hopefully help with your search. Feel free to use any of these for whatever you feel they will be useful for.
Best Wishes | Quotes & Sayings |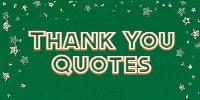 - related: Thankful For Poems
Saying "thank you" creates love. Daphne Rose Kingma
Marriage Poems




Thank you for your birthday wishes my age I wish I could forget
But you have made me feel special and that I don't regret. Thank you! C. A. Lynch
Birthday Poems




I thank you very much. It was a great experience for me to see and feel your sensitivity in caring for others. Mrs. Merolla




No duty is more urgent than that of returning thanks. Author Unknown
Quotes To Inspire Students




Gratitude is something of which none of us can give too much. For on the smiles, the thanks we give, our little gestures of appreciation, our neighbors build their philosophy of life. A. J. Cronin
Poems On Life





Give thanks for a little and you will find a lot. Hausa of Nigeria
Quotes To Inspire Graduates




Gratitude unlocks the fullness of life. It turns what we have into enough, and more. It turns denial into acceptance, chaos to order, confusion to clarity. It can turn a meal into a feast, a house into a home, a stranger into a friend. Gratitude makes sense of our past, brings peace for today, and creates a vision for tomorrow. Melody Beattie
Poems About Today




Saying thank you is more than good manners. It is good spirituality. Alfred Painter
Thanksgiving Blessings




God loves a thankful heart. Am thankful that I now see more reasons to be thankful in life…For everything in life. Thank you Lord. Longrangty
Christian Poems




Every time we remember to say "thank you", we experience nothing less than heaven on earth. Sarah Ban Breathnach
Thanksgiving Quotes




A thankful heart is not only the greatest virtue, but the parent of all other virtues. Cicero
Quotes To Make You Think




Blessed are those that can give without remembering and receive without forgetting. Author Unknown




Feeling grateful or appreciative of someone or something in your life actually attracts more of the things that you appreciate and value into your life. Christiane Northrup




Gratitude helps you to grow and expand; gratitude brings joy and laughter into your life and into the lives of all those around you. Eileen Caddy
Thanksgiving Poems




If the only prayer you ever say in your entire life is 'thank you', it will be enough. Meister Eckhart
Quotes That Encourage




I would thank you from the bottom of my heart, but for you my heart has no bottom. Author Unknown




Unselfish and noble actions are the most radiant pages in the biography of souls. David Thomas
Quotes That Inspire




I would maintain that thanks are the highest form of thought, and that gratitude is happiness doubled by wonder. G.K. Chesterton
Quotes About Life Happiness





Hem your blessings with thankfulness so they don't unravel. Author Unknown




You are a gift from God, so loyal and caring. I could not ask for a better friend. Julie Hebert
Christian Quotes





Thank You Messages:

You inspire me to be a better person. Thank you for that!
Poems That Inspire




I could never have asked for a better Mother. Thank you Mom for all you have done for me. Love you more!
Love For Mom Poems




I love you so much. You are a breath of kind hearted inspiration. Thank you.
I Love You So Much Quotes




I certainly owe you one! This is my I owe you thank you message filled with love and sincerity!
Quotes About Being A Dad




Thank you for believing in me. Thank you for the years of encouragement and support.
Graduation Poems




Not only are you such a delight, but the gifts you give are so delightful as well. Thank you!




I am so grateful for everything you have done for me and my family. We are lucky to have a friend like you.




You have no idea what your gift has done for me. I will forever be indebted to you!
Quotes That Inspire Change




Who could ask for a more loyal friend than you. Many gratitudes flowing your way from us to you.




There aren't too many people I feel indebted to, but you are definitely one of them during this difficult time in my life. Many thanks!
Quotes When Life Is Hard




Thank you so much for thinking of us. We are so grateful to you for taking the time to visit.




I have three simple words for you, I...APPRECIATE...YOU!




You are truly a blessing sent to me from a higher power. Thank you for coming to my rescue!
Happy Poems




This is great and so are you for doing it. Anytime you feel the need, we are always happy to receive your good will! Happy and very thankful!




Only a true friend would make such a commitment to another friend. I am lucky to have you as my true friend. Thanks again!




Have I ever told you how much you light up my life. Just having you close by I feel happier and everything seems so much brighter! Thanks for being you!




You are one of the most helpful people I know out there and I want to make sure you know how much you are appreciated, not just by us, by many others you've helped out!





My heart is full of thanks for your thoughtfulness!




Did you know you are probably one of the most generous people out there that I know! There are no limits to the generous things that you do!




Life can be so busy for so many of us, but the ones who stop to care for others is the one who will be in our hearts forever
Quotes About Life Inspirational




My mind is blown at your everlasting love for your neighbours. Your gift means so much!




I wish you could see the smile on my face! All you would see is an overwhelming look of gratitude!
Other Ways To Say Thank You:
No matter the reason for needing to say thank you to someone, there are many ways you can reach out and do so. Besides sending a quote or saying you may find these suggestions helpful:


- A simple phone call can say so much

- Taking someone out to dinner or even a simple coffee break

- Baking for a snack is a nice gesture to say thank you

- Sending a thank you card or an email/text




12 ways to say thank you in other languages than English

Honestly, taking the time to acknowledge their thoughtfulness is all it really takes to feel appreciative. And don't ever think that too much time has passed for you to share your thanks! There is never a bad time to say "thank you" to someone special! Sometimes a nice gesture when saying thanks is to do so in their native tongue if it is different from yours.
Thank You In Spanish:

Gracias
Muchas Gracias (thank you very much)


Thank You In Italian:

Grazie


Thank You In Russian:

Благодарю вас


Thank You In Portuguese:

Obrigado


Thank You In Arabic:

(Arabic is written right to left) شكرا جزيلا


Thank You In French:

Merci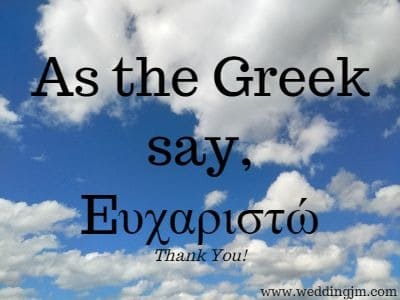 Thank You In Greek:

Eυχαριστώ


Thank You In Hawaiian:

Mahalo


Thank You In Japanese:

ありがとうございました


Thank You In Veitnamese:

Cảm ơn bạn


Thank You In Chinese:

謝謝


Thank You In Dutch:

Dank je
Find Quotes & Sayings to share with others
Best Wishes
|
Best Wishes To You
|
Best Poems
|
All Occasions
|
Wedding Toasts, Speeches
|