27 Quotes About Being A Dad
One of the greatest purposes in life is being a Dad. Let these quotes remind you how important Dads are. Many of the quotes are from people who are Dads or people who have a Father who supports and encourages them.
A Father's role in raising their children is one that can not be overstated. Fathers are a child's hero and no matter how children are most look up to their Dads!
Best Wishes | Quotes & Sayings |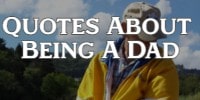 - related: Fathers Day Poems


















































































Find more Quotes & Sayings for All Occasions
Best Wishes
|
Best Wishes To You
|
Best Poems
|
Wedding Toasts, Speeches
|