Mother Poems from Daughter
Mothers and daughters have a unique and special relationship. Let these Mother poems from Daughter remind you of the feelings of love and respect that a daughter has for her Mom. Many times we find a love that is so strong you can't imagine the bond being broken, but then the teenage years come, however, daughters grow into young women and we often find the best of friends between mother and daughter!

Best Wishes   |   Best Poems   |   Mom Poems   |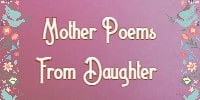 - related: Quotes About Mom
My Biggest Blessing
Poet: Julie Hebert

I am thankful for many things in my life,
One of which is my mother.
She gives me everything that I need and more,
I would never choose another.

She has always taught me how to be thankful,
For all blessings, not one or the other.
I know what my biggest blessing is though,
Its my family, my father and my mother.

My mother, she is my strength,
The one I look up to the most.
She taught me how to be a good person,
I know we will always be close.

I have so many other blessings,
Many more within my family alone.
But my Mom, will always be with me,
Especially when I create a family of my own.




Where Can We Go
Poet: Johanna Baillie

When we are sick, where can we turn for succor;
And when the world looks cold and surly on us,
Where can we go to meet a warmer eye
With such sure confidence as to mother?




Mother's Heritage
Poet: Helen C. Smith

My mother's voice ! Fond memory can no richer treasure bring,
No songs are half so sweet to me as those she used to sing.
No tales so well remembered are as those rehearsed to me,
A happy, trusting little child, beside my mother's knee.

My mother, when I think of all thy self-forgetting zeal,
That sought another's grief to share, another's woes to heal;
The little shining deeds of love the world not often sees,
Ah me! I cannot count the worth of blessings such as these!

But still in fadeless memories they are treasured every one.
Those little golden threads of life her hands so deftly spun;
And often as in revery they come again to mind,
I would that I might leave as rich a heritage behind.




A Mother As Wonderful As Mine
Poet: Julie Hebert

I've seen the mothers of many,
Some who should never have been.
But a child innocent and wishful,
Does not get to choose a motherly queen.

Instead, they are given the mother God chooses.
Reasons never addressed.
Why do some kids get heavenly mothers,
While others are given much less.

Without sounding ungrateful or unappreciative,
To the blessing bestowed upon me.
I'm sad that everyone doesn't get a mother,
as wonderful as mine is to me.

God may choose your mother, that is true,
But your mother chooses who she will be.
Thank you to my wonderful mother,
Your good choices mean everything to me.
Read more Mom Poems
Related Wishes, Poems & Quotes: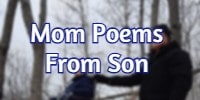 Mom Poems From Son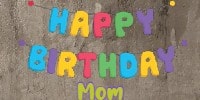 Birthday Poems For Mom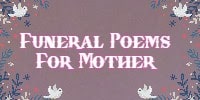 Funeral Poems For Mother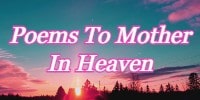 Poems To Mother In Heaven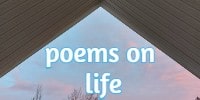 Poems On Life


Best Wishes   |   Best Wishes To You   |   Quotes and Sayings   |    Wedding Toasts, Speeches   |