Grandfather Poems
Let these Grandfather poems remind you how special Granddads are. They always have time for you and no matter what the situation they always seem to know what to do. We hope you see reflections of your Grandfather in these poems.

As the saying goes, "Grandpa has ears that truly listen, arms that always hold, love thatís never-ending, and a heart thatís made of gold."


Best Wishes   |   Best Poems  |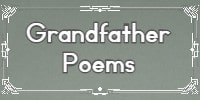 Wisdom and Wit
Poet: C. A. Lynch

Grandfathers are known for their wisdom and wit
He does a lot but also takes many a sit.
He always has time to sit and chat
He smiles at me when he puts on his hat.

My granddad is a man who I love so much
And when he speaks everyone is hush
You see the words he speaks are always so true
And no matter the problem he knows what to do.

He shows me how to fix many things
If anything is broken to him I do bring.
He seems to have knowledge about everything
To our family, he is truly a blessing.

When I get older I hope to be
Just like Grandfather happy and free
He always has a smile and a wink
And he always makes me stop and think.



"Grandpas bring a little wisdom, happiness, warmth,
and love to every life they touch.
Author Unknown



Granddad's Good Old Days
Poet: Tom S. Gold

Granddad said he use to have a full head of hair
But now Granddad's head is bare.
Granddad said he use to work long hours
But now he just tends to his flowers.

Granddad said back in the good old days
Things were different in many ways.
He said he walked for miles to get to school
He said it was okay, it was cool.

Granddad said you would have to eat what's on your plate
If you didn't no more would come, and you would be in a state.
Things were different TV in black and white
And no email, letters you would write.

Granddad said the internet - well, there was no such thing
Gaming meant playing board games the family would bring.
Things sure were different in Granddad's day
I am glad he can see things now in our way.



"A grandfather has the wisdom of long experience
and the love of an understanding heart."
Author Unknown



Love My Grandpa
Poet: Samatha C. Ringle

I love my Grandpa he is the best
I think he's better than all the rest.
You see my Grandpa understands
All of life's many demands.

He is quick to help me when he can
In my books, he is a great man.
I know that he loves me too
He is the best Grandfather that's so true.
Find more poems at Best Poems for All Occasions
Related Wishes, Poems & Quotes: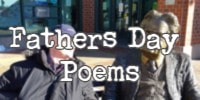 Fathers Day Poems


   Fathers Day Messages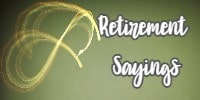 Retirement Sayings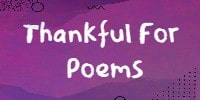 Thankful For Poems


Best Wishes   |   Best Wishes To You   |   Quotes & Sayings   |    Wedding Toasts, Speeches   |