66 Happy Birthday Messages
Receiving Happy Birthday messages is one of the perks of it being your birthday. Find many examples of messages, both funny and sincere as well as messages for a friend.
Best Wishes | Quotes & Sayings |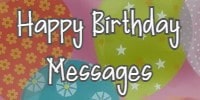 - related Birthday Poems
We can only hope that this day will be as special as you!
Graduation Wishes




The day you were born gave hope to us all, that our lives will always be brighter with you in it!
Happy Birthday Blessings




Getting older only means you are getting better.
Retirement Sayings




Experience comes with time, and time makes you older. Therefore if you didn't get older, you couldn't be the person you are today
Happy Birthday Quotes




You deserve to have all your wishes come true.
Birthday Wishes




May the best times of your past be the worst times of your future.
Retirement Wishes




Hope today will only be the start of the happiness this year will bring.
New Year Wishes




May the happiness you bring to others be doubled for you in the coming years ahead.
Irish Blessing Quotes




No one deserves a happier birthday than you do.
Happy Birthday Brother Quotes




Sit back, relax and enjoy this wonderful day that is tributed to you.
Wedding Wishes




Love every birthday not just because it may be your last, but because you are worth every amount of attention bestowed upon you!
Cute Love Quotes




You deserve wonderful poetic words of wisdom on your birthday and so much more!
Funny Birthday Poems




Birthdays should be celebrated not mourned, so turn that frown upside down and celebrate all the days of our life. And how lucky you are to have each and every one of them.
80th Birthday Poems




Once a year we do agree, that birthdays are meant to be fun - we eat your favourite food and dance to your favourite song Julie Hebert, Once A Year
Happy Birthday Brother Poems





So on this birthday be happy - don't let your age make you snappy. Celebrate and be thankful that you are at the age that you're at! Samatha C. Ringle, Be Thankful
Poems About Getting Older




We hope this day is filled with many greetings and birthday wishes!
75th Birthday Poems




We aren't playing any games when we discussed your birthday! Lets party!
Birthday Poems for Kids




By noting, what today has wrought, perceive with what the morrow's fraught. So would I thus return to thee good wishes now expressed for me Mrs. C. K. Smith, Response
Birthday Greeting Poems




Presents and surprises for you a birthday that shows how much we love you. Samatha C. Ringle, Let The Party Begin
Birthday Poems for Kids




Here's to you, my friend, on a day to celebrate...wishes to you for great things to come, with candles, presents, and friends. Julie Hebert, Until Then My Friend
Birthday Poems For A Friend




But in truth I do wish thee, sincerely, believe me, a path strewed with roses, and free from a thorn. M. E. B., Happy Birthday Sister
Birthday Poems For Sister




May your days be filled with joy and happiness, and may you have many, many more. Julie Hebert, Happy Birthday Mother
Birthday Poems For Mom




Today is your day to shine and let everyone else be dull! Take advantage as tomorrow will be very different!




You can lie about your age - you can pretend you're at a different stage - but hey Sister, I know the truth - we are no longer in our youth! C. A. Lynch, Another Birthday
Funny Birthday Poems For Sister




Birthdays come and go, what matters is if you are enjoy those years in between.
Milestone Birthday Poem




As you turn a year older may your dreams come true - may life's journey be one that is good to you. B. R. Clement, The Impact Of You
Birthday Poems for Daughter




How can anyone think that getting older is a bad thing? The wisdom we gain with every year we live is worth much more than turning one year older!
Quotes To Make You Think




We hope you will enjoy your birthday as much as we enjoy you every day of our lives.
Quotes To Inspire Students




Don't let convention dictate how old you are. If you feel 43 on your birthday, then that's how old you are!
Quotes That Encourage




Here is a birthday message filled with love and happiness for the next year of your life.




I am a true believer that the wishes we make on our birthday can come true. We just sometimes have to be patient. So go ahead and blow out those candles!
Poems That Inspire




All celebrations are awesome! Filled with fun and amusement.
Quotes About Life Happiness




Celebrate your birthday always! You were born for this very important role.




A wish for you is what I hope you get when you blow out those candles on your birthday. Make it a wish for a wonderful year ahead.
Quotes That Inspire




I am so happy you are here with us on your birthday and can hardly wait to spend another year in celebration with you.




Life is sometimes too short, but my wish for you is it is long enough for you to see and experience all this world had to offer.




Don't get caught up in the day to day stuff life throws at you, enjoy every moment, every day and every birthday you get to celebrate another glorious year.




Can hardly believe you are the age you are, feels like just the other day you were a baby! We are so proud of everything you have become and can't wait to celebrate so many more!
Age Quotes




Birthdays are a wonderful thing, we all need to remove the number from the occasion and celebrate our life!




I am a strong believer that birthdays are for the strong minded. Just because we are counting up doesn't mean we are losing time. We are actually gaining memories, experiences and many years with the ones we love.



Funny Happy Birthday Messages


You're one of the wisest people I know! (with age comes wisdom)
Funny Retirement Quotes




Here's to another year at the same age!




Cry if you really want to, but I think laughing on your birthday seems like a much better thing to do!
Quotes About Life Struggles




Gotta love birthdays! Wishes galore and attention is all yours!




Statistics show that people who have the most birthdays, live longer! See birthdays are good for you!




All your other birthdays were just samples compared to this one!




Here's to the forest fire we call, your birthday cake! Let eat!




When you start asking not to be reminded of your birthday, that's how we know, you're getting old!




Getting older is like becoming a classic! Classic's are always the nicest




You know, if everyone brought you one gift for each birthday you've had, wow that would be a lot of presents!




There are many things out there that are better with age, wine for example. Now you can be added to that list as well!!




You only get one day that is your own and everyone has to be nice to you. So make sure you make it worth it, cause tomorrow is just another day!




Birthdays are just another way nature is telling us to eat more cake! So eat away!




We have no control over growing old, but how old you act, that is your choice!




Fun birthdays are worth every bit of the hangover!




Don't be one of those people that can't handle an extra candle on their cake, unless of course, the cake starts to look like a forest fire!




So what if you're not as young as you use to be, you're just as smart, that's why you've been using wrinkle cream for years! Knowledge is power!




Grey hair and wrinkles are a part of life, for instance, if you never had them, everyone would still think you were in your forties, seeing that you always lie about your age.




Oh so now you'll fess up to your true age, only because you'll start being paid for it!




Birthdays can be hard, but always focus on the good parts of birthdays: fun, friends, presents and cake! Did I mention cake?



Birthday Message For Friend


Happy Birthday my friend. May this day be the best in your last year and the first in a wonderful year to come.




I am so excited to be able to wish another Happy Birthday to a lifelong friend. May we continue to grow old together in the years to come.




To the best and sweetest person I know, I wish you a sweet and wonderful birthday.




We aren't given very many people in this world that we truly and deeply care about. I'm sure glad you are one of those people for me. Happy Birthday to my soul mate, my best friend.




Extraordinary people require extraordinary birthdays! I hope you have an extraordinary day!




We've been saying the same thing to each other on birthdays for many many years now. No more words needed! Have a great Birthday.
More Quotes & Sayings
Best Wishes
|
Best Wishes To You
|
Best Poems
|
All Occasions
|
Wedding Toasts, Speeches
|