32 Happy Birthday Brother Quotes
When searching for happy birthday brother sayings, wishes, and quotes, you may find finding the right words to describe your specific feelings difficult. Each sibling relationship is different in many ways so finding a message written by someone else that reflects the same feelings may not be possible. But by reading through our collection you may find a few that you like that you could use to help you write your own. Or maybe they will just inspire you.
Best Wishes | Quotes and Sayings |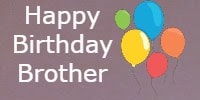 - related Happy Birthday Brother Poems


































































































More Quotes & Sayings
We hope you have found the inspiration you were looking for, or at the least found a verse that is right for your brothers birthday card. We know that not all brothers are the same. Some people get along great with their brothers and some don't. But regardless of the situation, sending your birthday wishes is a nice gesture.
Best Wishes
|
Best Wishes To You
|
Best Poems
|
All Occasions
|
Wedding Toasts, Speeches
|