72 Condolence Messages
No matter if its a funeral for a close relative or a friend of a friend, funerals are not the easiest thing to attend and neither is writing thoughtful condolence messages to the family.
Allow us to help by giving you many suggestions of messages and phrases that you would want to receive if things were reversed.
Best Wishes | Quotes & Sayings |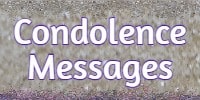 - related Condolence Poems
At this time I would like to express my deepest condolences. We, your Christian brothers and sisters are here to help in any way we can. And never forget that God is with you in this time of sorrow.
Christian Poems




Please accept our heartfelt sympathy for your loss.
Sympathy Quotes




We can't even pretend to know how you feel, but we can tell you that God is with you, lean on Him for support and comfort.
Poems About God




I never thought this day would come. 'He'll live forever', we use to say. But I suppose that is not true. Not on this earth anyway. But up in Heaven, he is living! He is happy, he is calm and he is with God. Please allow this condolence message to bring you a happy thought.
Heaven Poems





Not a shred of death or disease will enter heaven with us. David Jeremiah
Memorial Poems




May the Lord bless you and protect you.
May the Lord smile on you and be gracious to you.
May the Lord show you his favor and give you his peace.
Numbers 6:24-26 (NLT)
Christian Quotes




There are far, far better things ahead than any we leave behind.
C.S. Lewis
Quotes about Death




We wish we could be right beside you, holding your hand while you deal with your loss. Please know our thoughts and prayers are with you. We pray that God will help you with the pain you are feeling. We love you and care for you.
Prayer Poems




It is unfortunate that we all must part ways before we meet again. But let your faith remind you of the good news - we will all meet again someday!
Poems on Faith




My condolences on this hard day that's upon us, a time we have to say goodbye. But never forget we are only really saying, see you later. Trust in God's plan to reunite you with your loved one.
Trust God Poems





Pets leave footprints in our hearts and memories in our thoughts that last forever. Julie Hebert
Pet Loss Quotes




The love that surrounded the two of you could be felt from across the room. If I have only one wish for you it would be, even though he/she is gone, may that love still radiate in every room you walk into so that memory never fades from the minds of those who felt it in the past.
Love Quotes




Life is filled with ups and downs and when we lose someone, its hard to see what will ever bring us up again. Thankfully we know that our unhappiness would not bring any joy to the one we lost.
Quotes About Life Happiness




This is a sad day for many people. Condolences to all. But knowing that they are in heaven givens me some comfort. I just hope you also feel this comfort. We are so very sorry for your loss.
Christmas In Heaven Poems




Good morning my friend. I'm sorry this day is not a better one, but I'm glad we are here together to celebrate this wonderful life. We know their life in heaven is beyond anything we can imagine.
Good Morning Wishes





Easter reminds us that life can be taken away tragically and sometimes quicker than we'd have every expected. But it also reminds us that thanks for Jesus Christ, we can continue our lives in heaven. Let this holiday remind you of what is to come for those who have passed on.
Easter Wishes



Sorry to hear of your loss. Thankfully they lived a good long life filled with everything one would celebrate in their retirement years. Their life was good and heaven will be even better. Until we see them again.
Retirement Wishes




We celebrated many birthdays together and now that we have celebrated our last, I have to say I feel a sense of sadness. May his/her birthdays continue in the heaven. Imagine the party in heaven!
Birthday Wishes




Wishing you many moments filled with happy memories of your departed and loving friend.
Loss Of A Pet Poem




Goodbyes are not forever. Goodbyes are not the end.
We grieve for the time in between when we will see them again.
Funeral Poems




Suffering is a horrible thing, this is why we share comfort in knowing that your loved one is no longer suffering. Although now we see you are suffering with grief. We know there is nothing we can say to bring them back, but at least let it be your comfort that they are in a good place now - where there is no pain and suffering.
Quotes That Encourage




No words can express our sorrow for your loss. We love you, if there is anything we can do, don't hestitate to call us.




We send our condolences to you and your family for the loss of someone who has touched so many wonderful lives.




I do wish things could have turned out differently for you and your family. But knowing that your loved one is at peace does give us some comfort. I hope you also can find comfort in knowing this. Condolences on your loss.
Quotes That Inspire




Saying goodbye has got to be the hardest thing to do in this world. But at least we know its not forever. We will meet again soon. Sending our deepest condolences.
Quotes When Life Is Hard




I wish I had the exact words that would take all your pain away, but I don't. Hopefully knowing that there are people in your life that wish they could do the impossible to remove your pain is a comfort, if nothing else. Our deepest condolences.
Quotes About Life Struggles




In times like these I always find it difficult to express my condolences in a meaningful phrase. At the same time, I realize what I say really doesn't make much of a difference. Being there for you does. So please allow me to be there for you, in any way that I can. I can only hope my presence brings you comfort.




Lost from this lifetime, but not lost forever. Our hearts are full of wonderful memories that would keep anyone alive for years to come. Please accept our condolences for your loss.
Quotes To Make You Think




It is always harder to celebrate holidays such as Christmas when we are missing someone we love. May your holiday be filled with special memories from past holidays.
Merry Christmas Wishes




Sending you our condolences. The imprint that they have left on our hearts just shows their memory will never fade.




I never know what to say in times like these. It then hit me, I need not say anything at all. What is important is that you know I am here for you if you need me. For anything. My condolences.




Condolences on your loss, which is not an easy one. But know that the place they now resides is a much better place than here. Let that give you comfort.




Sending you our sincere condolences. A loss like yours is something no one should have to live through. Please know that we are all here for you and want to do anything we can to help you through this trying time.




This is a time to be surrounded by those that love you, allow us to be here for you during this strenuous time and please accept our condolences.





Sending all of our love to you and your family. Please accept our condolences.




Saying goodbye is never easy to do, but what is easy is to tell you how loved you are, and how incredibly happy we are that you are here for us to tell you how much we love you. With loving condolences.




A sad day is upon us, and letting go is one of the hardest things we have to do in our lives. But knowing your loved one is in a place free from hurt and pain makes letting go a little bit easier. Please accept our deepest condolences.




May I express our families sincerely condolences for your loss. They will be greatly missed and not just my family. They were a big part of many peoples lives.




The love and kindness that your loved one shared with so many people during her time on earth with us is something that will not be forgotten. Their body may not roam the streets anymore but their spirit will always be with us and you. Sending condolences and a whole lot of love your way.




Many condolences on the loss of someone so dear to so many of us. Please remember they are in a much better place now and let that be your comfort.




Our heart weigh very heavily on this day of mourning. And we cannot express enough condolences for your loss. If there is anything that we can do for you, please let us know.




This community will feel this great loss. If we pull together, we can all lean on each other for support. Please allow your community to be there for you and know that every condolence phrase you hear comes straight from the heart.




I am very sorry for your loss and everything this means for you and your family. You have a strong and loving family who will help you through this trying time, but remember, you have friends too who want to be there for you as well. So every time you hear someone give their condolences, please know that it is more than words they are giving, there is a ton of love being sent as well.




You lost someone you love, and we all send loving condolences to you. But please, don't push us away, we don't want to lose someone we love too.





Loss of this magnitude would seem catastrophic to just about anyone. We see what you are going through and aren't really sure what we can do to help and send our loving condolences. But keep in mind, we are here, we will not leave you. One day you will feel just a little bit less of the hurt and want to talk. We will still be here, waiting, for that day.




The hurt you are feeling today may seem incurable. But each week, each month, each year, the hurt will fade. You will then start to feel yourself again, and at that time you will appreciate all the loving words of condolence that may seem overwhelming on this particular day.




We are so sorry you are having to go through such a horrible ordeal. We wish there was more we could do to relieve you of this pain. Whenever, however, with whoever you feel most comfortable with, talk, cry and allow yourself to grieve.




We love you so much. At a time like this, we figured that is all you need to hear. So please, allow this condolence phrase to find it's way to your heart.




Please accept our love and condolences. She was a great woman. No one will ever fill her shoes.




The memories will be everlasting. May you always remember that love. And remember one thing if nothing else, you are never alone, the number of condolences you've received in these past few days prove that!




There is simply not enough words to tell you how sorry I am for your loss. He/she was a good man/woman and will be dearly missed.





This loss is so unfortunate and nobody should have to endure the pain you and your family are going through. May you feel our love and know we are praying for you.




I can't even imagine what you are going through. But please know that I am here for you. Even if its just to talk, I am a good listener.




We hope you know that you are not alone in this. There are many people who cared for your loved one and will miss them so much. They are all wanting to be there for you to help support you through this traumatic event.




Our thoughts and prayers are with you during this tough time. Please keep in mind we are here for you if you need us for anything.




We want you to know that your loved one's memory will always be with you and all the lives they have touched. A memory like that can never be forgotten.




A grief like yours can be unbearable and we wish so much for you not to have to endure this pain. With God's help this pain will pass and you will focus on the good memories.




Please accept our heartfelt condolences for your loss. We are thinking of you and pray that your mind will be filled with all the great memories of such a wonderful person.




Deepest sympathies during this time.





Keep in mind we are there for you, if you need anything during this devastating time.




We are so sorry for your loss and know that our thoughts and prayers are with you and your family.




Our hearts go out to you during this time of sorrow.




We are so deeply saddened when we hear of this great loss.




Although I know that no words can ease the loss you feel, just know that you are in our thoughts and prayers.




Words can't say how sad we feel. We are thinking of you during this time.




So sorry for your loss and any way we can help, we'd like to be there for you.




It is so hard to say goodbye, but know that your love is felt and your words are heard. So take time to say goodbye in your own way.




In a time of loss like this, all I can say is how sorry we are and how much we love you.




Our sympathies during this time of loss.




I wish I could take the pain you are feeling away. May you know we are thinking of you and hope that brings you some comfort.




Thank you for your thoughtful words of sympathy for the loss we have suffered. I am grateful to know we are not alone in our sorrow and he/she was greatly loved.




His/her life had so many blessing in it, the most important one was her family. May their spirit live within you for many years to come.
More Quotes & Sayings
We hope these condolence messages has made it a little easier for you to write your condolence message. Feel free to use any of these messages where you see fit.
Best Wishes
|
Best Wishes To You
|
Best Poems
|
All Occasions
|
Wedding Toasts, Speeches
|