8 Poems About God
If anyone needed a description of what God is, these Christian poems about God are exactly what they are looking for. God is so many things to each and every one of us and the poems describe that so well. He is greater than anyone can even imagine, but the poems do their very best to explain all the things God is.
Best Wishes | Best Poems | Christian Poems | Poems About God - related: Christian Quotes
Personally I love this poem. It all boils down to the very last sentence, "God is Love". How true is that. God is many many things, for sure,
but ultimately He is and always will be summed up in one amazing word - Love. So if you are looking for a poem to describe God, this would be a great one!

God Is
Poet: George W. Seevers

God is Love and God is Wisdom,
God is Life and God is Light;
God is Knowledge, God is Goodness,
Motion, Matter, Mind and Might.

God is raining, God is snowing,
God is here and God is there;
God is every breeze thatís blowing,
Everything and everywhere.

God is Future, Past and Present,
Sphered in one eternal Now;
God is Natureís Base and Apex,
Mindís great Why and Matterís How.

God is Truthís eternal Progress,
God is Instinct, God is Art;
God is Father, God is Mother,
God is Head and God is Heart.

God is Time and Change eternal,
God is Heat and God is Cold;
God is Sovereignty supernal,
God is more than can be told.

God is Lightning, God is Thunder,
God is Sense and God is Sound;
God is manís eternal Wonder,
Wheresoever man is found.

God is Spirit and Creation
Is His form and outward part;
Countless worlds in their rotation,
Are pulsations of His heart.

God is, then, the great Allbeing,
In whom all things live and move;
All uniting and agreeing,
In declaring ďGod is Love."




What God Created
Poet: Unknown

"See, the stars are coming
In the far blue skies;
Mother, look! they brighten;
Are they angels' eyes?"

"No, my child; the lustre
Of the stars is given,
Like the hues of flowers,
By the God of heaven."

"Mother, if I study,
Sure He'll make me know
Why the stars He kindled,
O'er our earth to glow?"
"Child! what God created,
Has a glorious aim;
Thine it is to worship,--
Thine to love His name."




God's Love
Poet: Lucy Larcom

Love of every kind is God's love.
In knowing that it is such, human love becomes
most sacred and solemn.

It is God's heart that throbs in ours when it leaps up
within us at a sound of a beloved name,
at the pressure of a hand, a glance, a voice,
a presence which is like music felt along all the chords of our being.

In His own glorious way, through His own holy inspiration,
we know what it is to love one another.

Like His, our love, when it is true, is no self-seeking, but a perpetual giving.
And the desire to bear a blessing to any soul must sooner or
later bring us near that soul.




There Is A God
Poet: R. L. Austin

Is there no God? Who, then, unrolled the blue,
And placed upon its frontispiece the clouds of golden hue?
Who made the sun a dazzling orb and marked its changeless way?
Who brings it from its gilded gates at the dawning of each day?

Who fashioned this green earth of ours and made its rippling rills?
Who laid the strong foundation of the everlasting hills?
Who paved the heavens with clouds of storm and made the thunder boom?
Unchained the lightning in the sky and flashed it in the gloom?

Who made the days and weeks and months, the seasons of the year?
Who caused the tiny seed to sprout? Who formed the growing ear?
Who sends the cool refreshing rain and decks the earth with flowers?
Who paints the lovely autumn tints within the leafy bowers?

Who made the eagles everywhere, the tempests swell and beat?
Who chose the dove a calm repose and guarded her retreat?
Who taught the birds to nest in spring and soar on tireless wing?
Who dressed them in their downy coats and taught them how to sing?

Who made the range of planets, suns, and adamantine spheres,
Which wheel unshaken in their course through all succeeding years?
Who keeps the water in its bounds? Who made the deep blue sea?
"Thou fool" who says there is no God, let nature answer thee.

Who made the lofty rocky spires and covered them with snow?
Who made the mighty ocean's tide, each day to ebb and flow?
Who made Niagara's torrent thunder o'er its chasm deep?
Who made the downy meads and glens where rippling rivulets creep?

There is a God! He sits above the water-floods of earth;
'Twas he who gave the tiny blade and lofty fir-tree birth;
His voice is heard in whispering breeze and in the howling gale;
The fountains of the deep are his, whose waters never fail.

There is a God, O faithless man! He made thee as thou art;
He formed thee in thy shapeliness and fashioned every part;
He made the blood course through thy veins and gave thy breath to thee;
He made each tendon, socket, joint, work in its symmetry.

There is a God! Within thy heart he seeks a royal throne;
He longs to fill it with his love, though now 'tis hard as stone;
Though lost and far from God and hope in saddest exile driven,
His power can cleanse thy deepest stains and fit thy soul for heaven.

There is a God! And he whose tongue would dare blaspheme his power,
Casts off his hope and blindly meets the coming judgment-hour:
The stars that shine above his head reproach his darkened brain;
The wind bewails his hopelessness and echoes his disdain.




The Goodness Of God
Poet: Jennie Mast

We sometimes look with grateful heart
Over widening fields and leafy wood;
The babbling brooks kind thoughts impart
And seem to tell us "God is good."
Upon the righteous and unjust
He sendeth oft refreshing rain;
The pure in heart, the sin-accursed,
All gather in the ripened grain.

The heart of man by sin accursed
Sees naught but gall and bitterness.
The cooling brooks oft quench their thirst;
Their lips no grateful words confess.
While bound in heart by sinful chains,
They can not sound one note of praise;
Their heart a desert waste remains,
While care and trouble crown their days.

The secrets of a Father's love
He gives to those who fear his name
In trials sore we look above
And prove his grace in furnace flame.
'Tis safe to trust in his strong arm,
And hymn his grace that can not fail;
The trusting- heart feels no alarm,
But sings his grace when storms prevail.

The glorious sun sheds forth his rays
And gladdens every child of earth,
The while our hearts are filled with praise
For him who gave us heavenly birth.
He lifts us from the depth of sin,
And makes our hearts as white as snow;
We're drinking at that crystal stream
Where life and peace and glory flow.




God, The Maker
Poet: Katharine Tynan

God made the country,
Man made the town.
God clad the country
In a green gown...
Continue reading God, The Maker




Blaming God
Poet: Julie Hebert

Whenever bad things happen,
And you donít know what to do,
You may find yourself angry,
And feeling pretty blue....
Continue reading Blaming God




Friendship Enters Into God
by Phillips Brooks

One of the most valuable changes
which comes to a human friendship when it is
deepened into a communion of the Holy Ghost is
the assurance of permanence which it requires.

When friendship enters into God,
and we are bound together through our common union with Him,
all the strength of that higher union authenticates and
assures the faithfulness of the love that is bound up with it.

The souls that meet in God may well
believe that they shall hold each other as
eternally as He holds each and each holds Him.


More Christian Poems to uplift and inspire
Related Wishes, Poems, Quotes: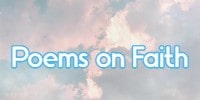 Poems On Faith
Prayer Poems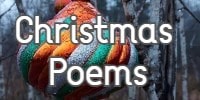 Christmas Poems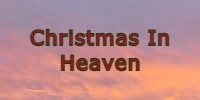 Christmas In Heaven Poems
Best Wishes
|
Best Wishes To You
|
Best Poems
|
All Occasions
|
Quotes & Sayings
|
Wedding Toasts, Speeches
|