94 Birthday Sayings
We have complied some birthday sayings for your convenience. We also have sayings for 40th, 50th and 60th bdays. If you are looking for ways to say Happy Birthday in different languages, we have that too.
So take some time to go through these birthday sayings and if you find one that works, feel free to use it in a card, gift or even a toast. B'day sayings are a nice way to share your feelings with the guest of honor!
Best Wishes | Quotes & Sayings |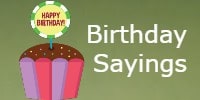 - related Birthday Poems
Every birthday should be thought of as not turning yet another year older, but turning another year better.
Happy Birthday Quotes




Birthdays are a blast from the past. A place where memories are made, and friends become members of your cast. Julie Hebert, Sister, Today Is Your Birthday
Funny Birthday Poems For Sister




No matter the age you turn, I hope your mailbox is filled to the top with all kinds of wonderful sayings to remind you of how amazing you truly are.
Age Quotes




Live your life and forget your age. Norman Vincent Peale
Quotes About Life That Are Funny




Friends are like angels sent from above - you, my friend, are truly loved. Samatha C. Ringle, Friends Are Angels
Birthday Poems For A Friend





Age is only a number, and if you don't feel your age, your number is not worth talking about.
Funny Birthday Poems




Birthdays come and go. People come and go. But you are an inspiration and I pray you are always in my life - no matter what age you are! C. A. Lynch
Poems That Inspire




Age is often overrated - don't let the candles make you dated Tom S. Gold
Birthday Greeting Poems




We send you lots of birthday love of you we are very fond of! Tom S. Gold, And Now Your Five
Birthday Poems for Kids




You are only the age at which you feel.
Birthday Wishes




They say some people change for the worst as each birthday goes by, but you just keep getting better and better with each passing birthday!
Tom S. Gold Quotes That Inspire Change





Every birthday is another chance to show your family and friends that your years passed are worth celebrating.
Happy Birthday Brother




Family and friends get together, laughter is around, no doubt! Julie Hebert, Sister Our Age
Birthday Poems For Sister




You are an example of someone who loves life. Hope you have a great birthday! Tom S. Gold
Quotes That Inspire




To our life sunshine, you bring - to us, you are a blessing. Samatha C. Ringle, Happy Birthday
Birthday Poems for Daughter




May I be as young as you at seventy-two. Edgar A. Guest, Grandma
75th Birthday Poems




Every year older adds another year of experience that will benefit you when you're older and wiser than everyone else.
Happy Birthday Messages





Celebrate your birthdays and think of them as blessings! I mean, where would you be if you had no bdays to celebrate?
Happy Birthday Blessings




Don't wish to be older my dear. It will come faster than you think! Enjoy your youth. C. A. Lynch
Quotes To Inspire Students




We think you are the best, you're better than all the rest. B. R. Clement, A Great Mother
Birthday Poems For Mom




To triumph old age, you must first work on within. If you can keep yourself happy, loving and without judgment you can succeed at keeping your age from ruling your life.
Retirement Wishes




Gotta love getting older! If it wasn't for getting wiser, I don't know if it would be all it's cracked up to be!
Funny Retirement Quotes




We are so thrilled we get to love you and know the amazing person you have become.
Love Sayings




Like all celebrations, know the people who celebrate with you are the ones who truly are excited for you.
Graduation Wishes




You can be any age you want, with the remaining years as experience!
Retirement Sayings




Don't let any bdays sayings make you feel old or as if a birthday isn't worth celebrating. Every birthday should be celebrated!
80th Birthday Poems




May all your birthday wishes come true!
Happy Birthday Brother Poems




Birthdays at any age are meant to be engaged Julie Hebert, Once In A Lifetime
Milestone Birthday Poem




Roses are red, violets are blue,
Don't go and sweat it, there's always someone older than you! Julie Hebert, Never The Oldest
Poems About Getting Older




I've been searching for the perfect sayings to put in your birthday card and the best sayings I can come up with seem to be. I wish you a wonderful birthday and I'm so glad you are older than me! Love ya!



40th Birthday Sayings
Turning 40 is not always the most exciting thing to happen to someone, but receiving 40th birthday sayings is a nice way to start the 40's off with a bang.



You've finally caught up to us, it's about time you gained some wisdom!
Funny Retirement Quotes




There are sayings that remind us of how fortunate we should feel for being able to celebrate our bdays. This one is no different. Take the time to celebrate your 40th with every ability possible; not everyone is as fortunate as you. Be Thankful!
Thanksgiving Blessing




Make turning forty be the start of your life. Take a hold of your life and live it to the fullest.
Quotes To Make You Think




Being 40 only means one thing, you're between the ages of youth and old! So make the most of it, because old is creeping up on you.




You may feel old at 40, but that's just because your next stepping stone is 50. So feel young while you have the chance.




Being middle-aged just means your coming around the bend, so take the road less traveled.




For women, being 40 means we can finally appreciate the men in their twenties!




Think of turning 40 this way: A 40-year-old wine is a wine worth drinking!
Quotes That Encourage




Being middle-aged can be tough to let sink in, but how you think of it will determine how you live the next 40 years of your life.
Quotes About Life Struggles





What a great age forty is! It's a time when you're life is exactly where it should be.




Wishing you many bdays sayings filled with heartfelt comments!




40 is a time to enjoy your birthday while also taking a break! You've been going strong for 40 years now! wow!




You're turning 40? Wow, I was sure it was 50? Oops! Have a great birthday old man!




Turning 40 is a wonderful time! But don't go partying too much, don't want you to break a hip or anything.




I can't believe you are 40! Where did the time go? Well, at least I'm still younger! No matter how old I get, you will always be older than I!




It's your 40th bday! May all your wishes come true! But just so you know, wishes can't turn back the clock! Time to look to the future!




Hey, 40 isn't that many candles on the cake, it may look like a forest fire, but its really not!




If you're worried turning 40 is getting old, think of it this way, in 10 years you'll be turning 50, and that is old!




People who turn 40 have it all wrong. It's not a time to have a pity party, it's a time to celebrate the 40 years you've been on this planet!




40 is the new 30! But if you asked me turning 30 was just as bad!




Sending bdays sayings has always been a must for me when it comes to my friends. I like to be a constant reminder that I am always thinking of them, especially when it counts. Friendships should never be forgotten; birthdays neither. Your 40th is no different! Sending birthday wishes to my newly turned 40 year old friend!



50th Birthday Sayings
If you know someone who is turning 50, it's time to celebrate. Let us help you find the perfect words to congratulate this birthday boy or girl with 50th birthday sayings to choose from



Your half a century old! What an accomplishment. Let's celebrate the last 50 years and move on to the next 50 years of your life.




When everyone turns 50, the face they are left with is that of which they deserve.




Being 50 is great, so long as all your friends are 60!




Turning 50 isn't the end. On the contrary, turning 50 is the beginning of the next half-century of your life.




You are only as old as you feel, so feel 50 years young and you will never be 50 years old.




You're not 50, you're 25 x 2! You've got twice the experience you had at 25 but with the same feeling.




50 is the new 30, think young and you will be young.




When you're 70 you will wish to be 50 again, so enjoy it while you can. 70 is less than half your years away.




Well, you made it a half a century, that's got to count for something!!




50 is a great achievement in one's life! You should be very proud.





Birthdays are so precious, and particularly your 50th! So eat some cake and celebrate!




Happy 50th birthday to someone who deserves to celebrate!




Who says bdays sayings have to be sappy. For your 50th they should all be congratulatory!




Can you believe we made it to 50? Who'd ever think!




Fifty always seemed so far away, yet it's here already. Shows how short life is. So glad you've always made the best of it and have so much to look back on and smile.




Flirty at fifty seems like the way to be! So get your flirt on and get out there and live your fifties!




Beautiful at 50! You still look as beautiful as the day we met! Happy 50th.




50 years have gone by and you've survived every one of them with great stride! You have so many wonderful memories to look back on and so many more memories to be made!




Wow, 50 has finally caught up to you. By looking at you the last 50 years, you wouldn't know it! You are just as strong and fierce as ever!




You're 50 and loving it, or at least I hope! This is a wonderful occasion and you should be living it up!




What does turning 50 mean? Well to me, it means you've lived 50 wonderful years with so many wonderful memories to look back at! And it also means you have 50 wonderful years of guidance under your belt.




I love sending you sayings all year long, but especially on your 50th birthday! This is a time I can really share how much you mean to me.



60th Birthday Sayings
Below you will find 60th birthday sayings. Scroll through these specific birthday sayings to find the perfect sayings for someone turning 60.



Just because you're birth certificate says you're 60 does not mean you have to act it. It's your life, and its time you lived it as you've always wanted.




Never count your years, only your friends, smiles and cheers!




Make turning 60 be the best bdays you've ever had.




You may be 60, but you don't act a day over 35!!! Keep on feeling young.




Life at 60 doesn't have to mean anything. You make your 60th year what you want it to be!




You will receive many sayings in a life time, but the ones you will receive on your 60th bday must be at the top of the list.




To be 60 years young means never admitting to being 60 years old.




It's about time that we stop saying we are 60 years old and start living life like we are 60 years young.




Age is only a number, and if you don't feel your age, your number is not worth talking about.




How wonderful it is that you are celebrating your 60th bday! Congratulations and may there be many more.




It's hard to believe we've hit our sixties, but not hard to believe our friendship is still intact! That was fate.





How great is it to be turning 60 and to have so many great memories to share. You've lived such a rich and full life and still have many more years to add to it! Enjoy every moment.




You're turning 60 and should be celebrating every moment of it! You deserve all of this!




Your sixties is a wonderful time in your life when you are free to do what you want when you want! Don't forget that, especially as you celebrate.




Life is a wonderful thing, and you have 60 years of wonderful under your belt! Congrats and have fun with the next years ahead.




To some 60 seems old, but you are a true example of someone who is a young 60. Your age may say 60 on your driver's license but to me and everyone else, you are young at heart.




Sixty great years have now passed and you have nothing to regret. What else can you ask for on your sixtieth bday?




Time to eat cake, be merry and maybe even have a drink or two. And seeing that you're turning 60, you have a lot of celebrating to do. Congratulations and happy bday!




You have hit another milestone to celebrate. The big 60 is a wonderful time and you deserve to celebrate the way you want. So sit back and take a load off, and let everyone wait on you hand and foot!




What is it that they say, time flies when you're having fun? Well, you've just turned 60! You must be having the time of your life!!!




At 60 years young, the bday sayings must be pouring in! So I won't bore you with another. But I will say, you may be 60, but you sure don't act like it!
Different Ways To Say Happy Birthday:
Have you ever wondered how to say happy birthday in other languages? We have compiled a few of the more common languages to allow you to say, write or even text happy birthday in a language other than English.
How Do You Say Happy Birthday in Spanish?

Feliz cumpleaños


How Do You Say Happy Birthday in French?

Bon Anniversaire


How Do You Say Happy Birthday in German?

Alles Gute zum Geburtstag


How Do You Say Happy Birthday in Italian?

Buon Compleanno


How Do You Say Happy Birthday in Hawaiian?

Hauʻoli Lā Hānau


How Do You Say Happy Birthday in Japanese?

お誕生日おめでとうございます


How Do You Say Happy Birthday in Chinese?

生日快樂


How Do You Say Happy Birthday in Russian?

с Днем рожденья


How Do You Say Happy Birthday in Portuguese?

Feliz Aniversário


How Do You Say Happy Birthday in Polish?

Wszystkiego Najlepszego
More Quotes & Sayings
Best Wishes
|
Best Wishes To You
|
Best Poems
|
All Occasions
|
Wedding Toasts, Speeches
|