About Julie Hebert
Read Julie's thoughts about why she enjoys contributing to Best Wishes. Her passion and care for helping others is seen in her writing and in her poems.
Best Wishes
|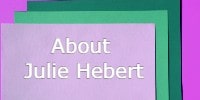 I have always had a way of expressing my thoughts and feelings on paper. Over the years for numerous occasions, I have written poems and wishes to those celebrating special occasions. But there are times when the right words are hard to come by. So I started collecting and saving best wishes, poems, and quotes that I felt were good examples.

I also have a passion for helping people by offering support and encouragement. Some of the poems and quotes on the site are ones that have encouraged me in the past, and some I have written to encourage others as they faced challenging times. I also share these positive poems with people just to brighten their day and let them know I am thinking about them.

I hope you find the best wishes, poems, and quotes on the site useful in expressing your thoughts.

I do hope you enjoy the site,

Julie Hebert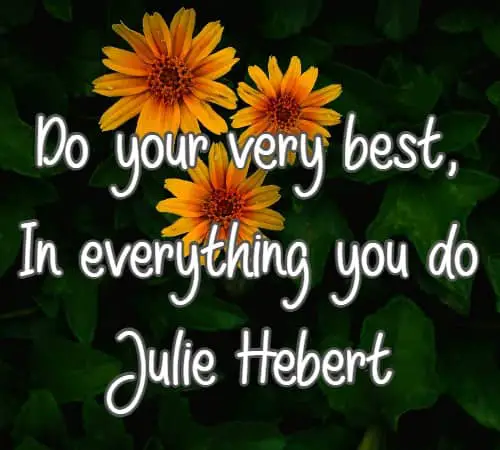 Some examples of poems I have written:




A Clean Slate
Poet: Julie Hebert


Today is a new day; a clean slate
What you do determines your fate.
What goes into this day is up to you
Your attitude will determine your view.

A positive attitude with a purpose you'll ignite
Transforming potential from ordinary to bright
For each dawn holds space for the new,
So make the most of what today has for you!

Read more Poems About Today
Happy Birthday Mother
Poet: Julie Hebert


Another year at being the perfect mother,
One I love and continue to adore.
May your days be filled with joy and happiness,
And may you have many, many more.

May this celebration be everything wanted....

Read the rest of the poem Birthday Poems For Mom
God Gives Me Hope
Poet: Julie Hebert


God gives me hope, He sets me free,
His promises mean so much to me.
His plans are good, I trust in Him
Without this faith my life would be dim.

His word written on old time scrolls....

Read the rest of the poem Christian Poems
Days Until Christmas
Poet: Julie Hebert


There are only so many days until Christmas,
Yet so much needs to get done.
The hustle and bustle will begin shortly,
And then so will the fun.

The planning and organizing and cleaning.....

Read the rest of the poem Christmas Poems
When Remembering Me
Poet: Julie Hebert


When you remember me,
Make sure a smile will arise.
Donít think about the way I left,
That's not very wise.

Think of all the happiness.....

Read the rest of the poem Funeral Poems
Simple Times
Poet: Julie Hebert


I did it it's done, the decision has been made.
Hours and hours of searching, now seem so overplayed.

But regardless it is done, the obsession can conclude.
The perfect gift has been chosen, but what else can I include?

Oh, here I go again, feeling the need to give more.....

Read the rest of the poem Poems About Giving
It's Your Time To Shine
Poet: Julie Hebert


Do your very best,
In everything you do,
So when it comes time,
You can choose whatever you want to.

This next chapter of your life...

Read the rest of the poem Graduation Poems
Re-Calibrate The World
Poet: Julie Hebert


This world can be many things,
Amazing, beautiful, and filled with light.
But darkness lives among us too,
Causing havoc, sorrow, and fright.

Many out of anger and humiliation....

Read the rest of the poem Poems That Inspire
The Day
Poet: Julie Hebert


Today is the day, I wed my best friend.
A joyous day it is.
I will stand up tall and say my vows,
A Mrs. now, no longer a Ms.

He is the one I will spend my life with....

Read the rest of the poem Wedding Poems
Best Wishes
|
About Us
|
Contact Us