73 Wedding Anniversary Wishes
Don't miss the opportunity to send wedding anniversary wishes to those celebrating years of marriage. An anniversary should be used it to strengthen a marriage, to rejoice in it and give thanks for one another.
After the engagement comes the wedding, and then after the wedding each year we get to reminisce and celebrate and send wedding anniversary wishes to our spouse or to those we know are celebrating.
Best Wishes | Best Wishes To You |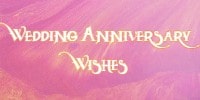 - related: Wedding Anniversary Poems
On this your wedding anniversary we wish you more happiness, more sunshine, and more love than on your wedding day. C. A. Lynch
Anniversary Quotes




A wedding is a time of rejoicing, an anniversary is a time to be thankful.
Wedding Quotes




The years youíve put into this marriage of yours, shows and are seen with envy. You were the few that did things right and never took your marriage for granted.
Wedding Messages




Hard to believe another year has passed. You will have been married for ____ years but to us, it seems as if you were never apart. Wishes for another great year.
Marriage Quotes





I love that you know so much about me, I love that you make me smile, but most of all, I love you. I will continue to love you as each year passes by.
Love Quotes




On the day of our wedding, we vowed to grow old together in sickness or in health. And through all our tribulations, this is happening. I thank God for our time together. Happy Anniversary.
Christian Poems




Continue to be good to each other and never stop showing how much you care because your wedding was only the start of your lives together.
Engagement Poems




One day you will celebrate a wedding anniversary that will remind you of your graduation because you will have worked hard at your marriage to get there just like you did with your education. You will receive even more wishes too!
Graduation Wishes




Christmas is like any good wedding anniversary, it comes around once a year and we get to celebrate and receive many wishes with all we have to make it the best day possible.
Merry Christmas Wishes





From the moment we met, I knew you had a marriage to celebrate. Keep celebrating as often as possible. Your marriage is worth the celebration and the many wishes.
Marriage Wishes




We celebrate throughout our lives, our birthdays, anniversaries more than once. But sometimes we celebrate things just once in a lifetime, like our wedding and retirement. Take the time to celebrate life every chance you get and send thoughtful wishes to those around you.
Retirement Wishes




An anniversary can be a tricky thing. Some can be easy and exciting such as a wedding anniversary, but others arenít so much fun, like the loss of someone we cherish. Both can bring great memories floating to the surface. Take the time to remember!
Condolence Message




Birthdays and an anniversary are similar. Time to celebrate another great year and an increase in time! Also, take the time to send wishes to help others do the same.
Birthday Wishes





Every year we celebrate different holidays like Christmas, Easter, and Thanksgiving, to name a few. And then there are other anniversaries we get to celebrate like birthdays and marriages. No matter the reason, celebrating these yearly things are what brings our families together several times a year and I am so very thankful for that!
Easter Wishes




Strength is such a necessity in every marriage, and each time we celebrate our anniversary, we get to remember how wonderful our combined strengthen has held our marriage together.
Marriage Poems




Our ceremony was fantastic. I will always remember how you smiled when I said my wedding vows. Thankfully, I still see that smile every day I see your face.
Wedding Vows




Life is filled with anniversaries. A wedding anniversary is probably the most popular. Birthdays are a close second. Sending wishes for your anniversary.
Happy Birthday Brother




Happy anniversary my love. May we continue to treasure all the blessings we have been given, together as we have always done before.
Thanksgiving Blessing




A marriage like yours is one in a million. For each year that passes and starts again, your love shines through stronger than the last.
New Year Wishes




Who knew when you two first met, this is where youíd end up. Well, we did and we are so very happy for you both. Congratulations on your wedding.
Wedding Card Messages




Today you celebrate a special day and this may not have been the way you wanted to. But here you are, celebrating away. Making the best out of an unfavorable situation!
Wish You Were Here




God above increases our love.
Let love and friendship reign.
I long to be made one with thee.
Time shall tell I love thee well.
Godís blessing on thee and me.
Love for love.
Marriage Poems




Many blessings on a wonderful marriage that continues to strengthen each and every year you celebrate your anniversary.
Wedding Blessings




Happy anniversary to two wonderful people whom we have come to love and respect as our truest and most loyal friends.




I love you more than words can say. Happy Anniversary Baby! There, I said it!





One day to commemorate this special day doesnít seem like enough!! We should have at least two!




An evening with you and only you is a great way to spend our anniversary, just like at our wedding.




Life constantly is trying to mess up our lives, but what I love is that we never give in to the pressures of this world.




Wishes to you for as much happiness in the coming years as you have had in the past.




It has been a delight to watch the happiness you two have had together and wishes for many more years of happiness.




They say we are like two peas in a pod, but thatís not entirely true. We are more like two peas in a box, no way we could survive each other's sleeping patterns if we were that close together. Thank goodness for king-size beds!




Wishes for you on this anniversary of happiness, passion, and joy.




If there is anything I learned from our marriage this past year, it's how much I truly adore you.




You both are the couple that everyone looks up to and wants to be. But I know you arenít just great on the outside, but on the inside too!





Happy Anniversary to the one couple I look up to. There has never been a better pair! Wishes for many more years together.




How lovely is it when you get to enjoy your anniversary in peace and quiet! I realize this isnít the case for you, but if I had one wish for you, that would be it!




Your kindness and warmth for each other are contagious. Happy Anniversary!




There is always that couple that seems so perfect it drives everyone crazy. Well, you are that couple but in this case, we feel only love when we are around you both.




This world is filled with hurt and anger. Iím so glad you have each other to bring happiness and love into the world.




For every anniversary you celebrate, may your happiness grow and your love be unbearable!




Memories are eternal and each time you create a happy memory you are filling your memory bank with wondering moments of your lives together. Wishes for you to keep making those memories!




After the wedding life can become dull and boring. May this never happen to you and may you constantly be surprising each other.





Remember it's the little things that make a difference. This is no different in a marriage. Keep things running with good intentions.




As we grow old, so does our relationship. We know each other a little better and that can be a good thing or a bad thing. It's totally how you look at it, so make it a good thing!




Sending nourishing thoughts and wishes for a fruitful marriage full of passion.




I love you more and more with each year that passes. Life may not be easy, but it sure is fun with you by my side.




Happiness is a wonderful thing to have, which is even better when you have someone to share it with. So happy you have each other and wishes for the years to treat you both well.




Is it possible for two people to grow even closer? In your case it is. Seems like each anniversary you have, you grow closer each time! Wishes for this to never end!




For every happy year that has passed and every happy year that will come, I am grateful and full of thanks!




You both have shared so many wonderful memories. Wishes for many more to come.




Our lives get so busy and we are put on the back burner. But not tonight! Tonight is about you and me baby. Just the two of us.





Our marriage has survived so much. Iím so proud and thankful that we made it and look forward to the next part of our journey together.




To my Sweetheart, the love of my life. May our tale only be in the beginning.




Sending loving wishes to a great couple on their anniversary.




Our tale has been epic and full of romance. Let us continue this tale for many more years to come.




Our marriage has been full of laughter and happiness. On this anniversary I vow to you that this will never change.




How do people go through life forgetting their anniversaries? This is my favourite day and I will never forget the most important decision I made in my entire life.




We have a love story that began the moment I met you and continues for many years later. Happy anniversary and may this anniversary be yet another day we can rejoice in our faith in each other.




We are sending loving wishes to you on your anniversary. May the love continue to flow for many many more years to come.




I count myself lucky for having you in my life. May our passion survive anything that is put in its path.




Before I met you I had hopes, dreams, and ambitions and I did not think I had room for anyone else in my life. Then there was you and I have never looked back. May this anniversary be a reminder of a choice that changed my life forever.





There is nothing unreal about you and me! Our marriage is raw, imperfect and full of trials and tribulations. Even so, I wouldnít change it for the world. Happy Anniversary!




I absolutely adore this day. I like that we get to celebrate us, nothing else, just you and me!




What can I say about our wedding day! Well, Iíd have to say I remember your beauty. I remember our desire for each other and I remember...our first kiss as husband and wife! I will never forget.




Any anniversary could be just another day, but not with us. This day is our holiday. The only day that is only about you and me!




I couldnít be prouder of the marriage you both have created. Its strength and love shine through every time I am around you.





Wedding Anniversary Wishes For Friend

There is no better way to celebrate an anniversary than to celebrate one with and for a good friend. Especially if they are one of those friends who is constantly fighting for your happiness too.


Couldn't be happier to share in your anniversary happiness. You are by far our favourite couple to hang out with!




To a wonderful couple on their anniversary. Wishing you nothing but the best, my friend!




We were there when the wedding bells rang and now get to celebrate the anniversaries that fall afterward. How lucky are we to be in each other's lives?




When life turn a turn, we were all there together. May our friendship and your anniversary always bring us together.




An anniversary to remember not just for you, but for the time we spent together sharing, loving and growing in our lives and friendship.




I'm thankful to be a part of every celebration in your life. We may not be blood, but we sure share something special. Happy Anniversary Friend!




This amazing relationship we are celebrating today is exactly what I've been looking up to, admiring and looking for in my life. Thanks for always being such great relationship role models and looking forward to celebrating many more anniversaries in your future.
Finding the best way to tell those we care about how much we feel for them but also how we are truly grateful for having them in our lives, is a fabulous thing. After someone's wedding, it sometimes helps to remind them that there are people out there rooting for them to have a successful relationship. In a day and age like today, a wedding is a normal part of like, but a successful marriage isn't necessarily the same. Send your wedding anniversary wishes to do your part in helping strengthen a marriage.
More Best Wishes To You To Share For All Occasions
Best Wishes
|
Best Poems
|
Quotes and Sayings
|
Wedding Toasts, Speeches
|