Cheers To Retirement
No matter the feeling surrounding retirement, it is a time to cheer. Let these poems give you words to cheer for the retiree. For some people, it may seem impossible and for others, it is probably a dream come true. The poems reflects both of those opinions. It is reminding retirees that this is their time to shine and congratulating them on getting to this point.
Retirement is a time to recognize and celebrate an exciting time in the new retiree's life. We offer them a cheer or a toast to thank them for all they have done and wish them well as they move into retirement.
Best Wishes | Retirement Poems | Cheers To Retirement - related: Retirement Wishes
Time To Cheer
Poet: Julie Hebert

Youíve done it, you did it,
You're finally complete.
No more alarm clocks or early mornings,
And schedules are obsolete.

Now its time to do only,
The things you love to do.
Leave everything else at the door,
It's time for your interests to pursue.

So enjoy these next few days,
Where things will feel kind of weird.
But donít worry that will fade away quickly,
And soon after all you will want to do is cheer!

You'll have thoughts jumbling around,
Instinctively you'll reject the ideas.
Then all of a sudden you'll remember,
You're free to even go to Korea.

But of course, you'll take it slow,
Test the waters a little at first.
Whatever the future holds for you,
May it conquer and quench your thirst.




Cheers To You
Poet: C. A. Lynch

Cheers to you as you retire
To all of us, you have inspired
We wish you sunny days ahead
Living on your homestead.
Plant that garden, read that book
Go for walks along the brook
Congratulations!




Hip Hip Hooray
Poet: Tom S. Gold

Working with you has been such a pleasure
In our books, you are a treasure
So we offer a retirement cheer to you
"Hip hip hooray you are finally through"




How Lucky You Are
Poet: B. R. Clement

We think of you and how lucky you are
To leave this workplace and go afar
Retirement means many things
But to your life may it bring blessings.
We offer a cheer to you this day
We love you and will miss you we must say!




In Your Honor
Poet: B. R. Clement

We raise our glasses in your honor
To celebrate a well deserved retirement
Here's to you and all you do
We are so happy for you!




Cheers To Retire
Poet: C. A. Lynch

One, two,
Congrats to you!
Today you're through.

Three, Four
Today, you work no more
You have time to explore

Five, six
No more problems to fix
Unless you run for politics.

Seven eight
We know you can't wait
Retirement will be great!

Nine, ten
Cheers to retire, then
We won't bother to give you a pen!
More Retirement Poems
Related Wishes, Poems, Quotes: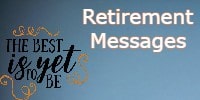 Retirement Messages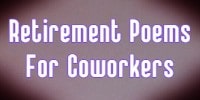 Retirement Poems For Coworkers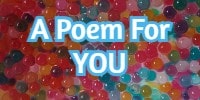 A Poem For You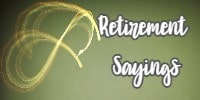 Retirement Sayings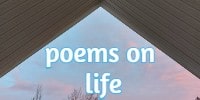 Poems On Life
Best Wishes
|
Best Wishes To You
|
Best Poems
|
Quotes & Sayings
|
All Occasions
|
Wedding Toasts, Speeches
|