Celebration Poems
It's so nice when we can celebrate those who are near and dear to our hearts. These celebration poems recognize the joyous occasion of a wedding and offer congrats to the newlyweds. It is a time for excitement and words of congratulations for the bride to be and her fiancee.
We all love a celebration and a wedding is a perfect time to celebrate the marriage of a man and woman. As they start there journey together what a better way to start is with a celebration!
Best Wishes | Poems | Bridal Shower Poems |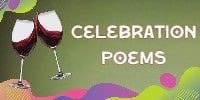 - related: Wedding Messages
We Celebrate You Both
Poet: Julie Hebert

We celebrate you,
And the bride you are about to become.
Surrounded by your family,
And your very best chums

Together we wish you,
So much joy with the one you chose.
We'd love to know your future,
But no one really knows.

May you be blessed with many children,
If that is what you want.
May you take the time to see the world,
Much further than Vermont.

May each moment you are together,
Bring both of you great joy,
And during the times you aren't feeling connected,
May it never go as far as to destroy.

May the love you feel on this day,
Be the love that will anchor your hearts,
In your committed days together,
Your wedding will be that great start.






Beginning Of A Celebration
Poet: C. A. Lynch

This bridal shower will be
The beginning of a celebration you see
After the shower we move on
Next a wedding day will dawn.

We offer congratulations to you
May all your dreams come true.
As you tie the knot
The day will not be forgot.

We wish you happiness today
And may it last until you're both gray
May your love grow stronger each year
Together you have nothing to fear.

So we celebrate this happy time
And we hope that you always find
The love you both share this day
Will never leave and go away.






Celebrate Into The Night
Poet: Tom S. Gold

So much planning, so much to do
Lots of work but who knew
When you said, "I'll marry you"
The plans began that's so true.

But now the plans are complete
Every things booked, it is concrete.
So we can't wait to celebrate with you
We'll raise our glasses for a toast on cue.

We'll celebrate into the night
At least until you catch your flight
We will dance and sing
Sharing love, oh what a feeling!

So as you journey together in life
Remember this day as husband and wife
May you always be as happy
As you are on this day!
More Bridal Shower Poems
Related Wishes, Poems & Quotes: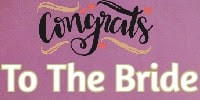 Congratulations To The Bride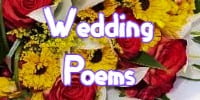 Wedding Poems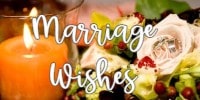 Marriage Wishes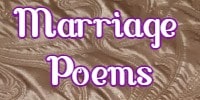 Marriage Poems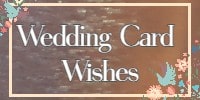 Wedding Card Wishes
Best Wishes
|
Best Poems
|
Best Wishes To You
|
Quotes & Sayings
|
Wedding Toasts, Speeches
|