60 Happy Birthday Greetings
Once you have selected the perfect card either by purchasing it or creating one on your own, birthday greetings is the next step. Selecting the proper greeting is almost as important as selecting a gift. It has to relate to the receiver and should say something celebrating the birthday individual. We have written some greetings you can use as your birthday wishes.
Best Wishes | Quotes & Sayings |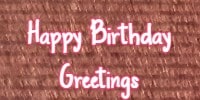 - related Birthday Poems
So celebrate the day of your birth - never doubt how much you're worth B. R. Clement, To You
Birthday Greeting Poems




Hope you get everything you deserve! Enjoy, sit back and relax. Today is your day!
Quotes That Encourage




May this day be one to remember,
But at your age you may forget.
Age Quotes





Wishing you a year of fun, laughter and great friends.
Birthday Wishes




Birthdays should be spent doing and eating all the things the honoree loves!
Happy Birthday Quotes




Becoming one year older is time for celebrating, not hiding. Embrace your age, it's given you the time to become everything you are.
75th Birthday Poems




A pain in the butt you were, and a friend you have become. To my bro on his birthday, may it be everything you deserve!
Happy Birthday Brother Quotes




On your birthday you will be spoiled,
A day that is truly yours.
Take it all in and soak up as much as you can,
For tomorrow you will have to mature.
Funny Birthday Poems





Sending you many blessings on your birthday for a wonderful year filled with love and excitement.
Happy Birthday Blessings




Wishing you a birthday like you've never seen before!
Happy Birthday Messages




To another year of laughs, fun and great experiences!
Birthday Poems for Kids




When God made you, he broke the mold, but don't worry we still love you!
Birthday Sayings




You truly are an inspiration to us all...who would believe you are 80 years old - you live your life, nothing is on hold Tom S. Gold, An Inspiration
80th Birthday Poems




Let this birthday celebrate all that makes you great. You are one of a kind -friends like you are hard to find B. R. Clement, Once A Year
Birthday Poems For A Friend





Cheers to getting older, and cheers to birthday fun, may your birthday make you smile Julie Hebert, Sister Our Age
Birthday Poems For Sister




May this celebration be everything wanted, and nothing wished away. Julie Hebert, Happy Birthday Mother
Birthday Poems For Mom




Wish I could be there to celebrate your big day. I miss you and miss sharing in the momentous events.
I Miss You Quotes




Don't celebrate just because I can't be there,
On the contrary, celebrate even more.
I miss you so and wish we were closer,
So we could celebrate like all the times before.
I Miss You Poems




The years have passed by but that's okay - celebrate and be thankful for the years you have had have been great for sure! C. A. Lynch, Another Birthday
Funny Birthday Poems For Sister





The world is a better place because of you. Your thoughtfulness and kindness is appreciated more than you know. B. R. Clement, The Impact Of You
Birthday Poems for Daughter




May this birthday be your happiest! May your life be full of open doors. You deserve the best Happy Birthday and all the rest!
Quotes About Life Happiness




Today is your day. The day everyone waits on you and you don't feel an ounce of guilt!




May this year be your best year ever.




Enjoy your special day, cause tomorrow you will just be another day older.




Today you're one year older but like wine, you grow better with the years!
Milestone Birthday Poem




Be happy and feel joy, like you birthdays are one of a kind. Julie Hebert, Once A Year
Happy Birthday Brother Poems




There is nothing that you can do to stop age from catching up with you. So keep your attitude a positive one and by living your life you will have won Tom S. Gold, Getting Old
Poems About Getting Older





Hope this birthday is filled with excitement, joy, and laughter.




On this special day, you should do all the things you wanted to do.




Wishing you a better year ahead.




May this year be filled with friends, family, laughter and love.




From today on you may be one year older, but you also one year wiser.
Quotes That Inspire




Wishing you a very happy birthday!




Hope this birthday is your best ever!




We hope your birthday is filled with all the things you love. Birthdays come and go, but the celebration lasts a full year!




Be all that you can be today, as it's your day to do whatever you want.





Cry if you want to on this birthday, but we hope you will just do a whole lot of laughing instead!




On your birthday, you get to do only the things you want. No cleaning, cooking or working, only relaxing, laughing and enjoying your family and friends.




Birthdays are always full of greetings from many different people in your life. I just hope that ours is as special as all the others. Happy Birthday to one of the great ones!
Poems That Inspire




Why not do your favourite thing today? It is your birthday after all and you should only do things that make you smile.
Quotes To Inspire Students




Celebrate, do something zany. Who cares if it's crazy, it's your day to be a little crazy!




Wear your snazziest clothes and celebrate the night away with all your family and friends nearby.




We hope you were surprised and are ready to celebrate. Today is a wonderful day, one that makes you great.




Let this birthday be the best that you have seen in a long time.




Birthdays are for fun and enjoyment and lots of big smiles.




May this birthday be better than any other birthday you've had in the past.




We hope you get all things you have dreamed of over the past year and that this year you get them all!





We have decorations, ribbons, and lots of friends to celebrate this wonderful year that is your birthday.




Eat some cake and take in all the decorations. If you want have a drink and don't forget to celebrate!




May you smile so much today that your cheeks hurt!




May all the days following today make you as happy as you are right at this moment.




Take comfort knowing that today on your birthday, you have many people thinking about you!




Birthdays should be a time of joy and fun, make sure you allow the same to happen today!




Today is the day where all your family and friends stop to wish you a happy birthday. Are you feeling special? It's because you are.




It's only once a year we get to celebrate the day we were born and the number of years we've added. So make this birthday be everything it should be.
Quotes To Make You Think




Milestones are just like every other birthday, except for the fact that you've made it to a number that is very special. It's probably because you are very special yourself.



Greetings For A Friend


Happy Birthday my friend. May this birthday be better than the last and only an inkling of what's to come.





A birthday like yours was made for a friend like you. Perfect and wonderful.




I love you my friend almost as much as I love celebrating with you at your parties!




I wish you would have a wonderful birthday filled with pleasant words and loads of laughter.
More Quotes & Sayings
Best Wishes
|
Best Wishes To You
|
Best Poems
|
All Occasions
|
Wedding Toasts, Speeches
|