Mom Poems From Son
We all know most mother-son relationships are close, there is a special relationship between Moms and their sons. These mom poems were written by sons and they speak to that type of relationship.

May these poems warmed your heart and reminded you of that sweetness inside of every boy - young and old.

Best Wishes   |   Best Poems   |   Mom Poems   |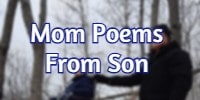 - related: Quotes About Mom
A Boy's Mother
Poet: James Whitcomb Riley

My mother she's so good to me,
If I was good as I could be,
I couldn't be as good-no, sir.-
Can't any boy be good as her.

She loves me when I'm glad er sad;
She loves me when I'm good er bad;
An', what's a funniest thing, she says
She loves me when she punishes.

I don't like her to punish me,-
That don't hurt-but it hurts to see
Her cryin'.-Nen I cry; an'nen
We both cry an' be good again.

She loves me when she cuts an' sews
My little cloak an' Sund'y clothes;
An' when my Pa comes home to tea,
She loves him most as much as me.

She laughs an' tells him all I said,
An' grabs me up an' pats my head;
An' I hug her, an' hug my Pa,
An' love him purt' nigh as much as Ma.




One In A Million
Poet: George Cooper

Here's to one in a million.
The dearest, the best;
Like the sun in the heavens.
She outshines the rest!
Don't frown when I tell you
This toast beats all others.
But here's one more toast, boys -
A toast to OUR MOTHERS!




Mother
Poet: G. Newell Lovejoy

God thought to give the sweetest thing in His almighty power
To earth; and deeply pondering what it should be - one hour
In fondest joy and love of heart outweighing every other,
He moved the gates of Heaven apart and gave to earth - a mother!




MY Mother!
Poet: George W. Bethune

I never call that gentle name,
My mother! but I am again
E'en as a child; the very same
That prattled at thy knee; and fain
Would I forget, in momentary joy.
That I no more can be thy happy boy.

I've lived through foreign lands to roam,
And gazed on many a classic scene;
But oft the thought of that dear home,
Which once was ours, would intervene,
And bid me close again my languid eye,
To think of thee and those sweet days gone by.

I've pored o'er many a yellow page
Of ancient wisdom, and have won
Perchance a scholar's name; yet sage
Or poet ne'er have taught thy son
Lessons so pure, so fraught with holy truth.
As those his mother's faith shed o'er his youth.




The Songs My Mother Sings
Poet: Thomas O'Hagan

Oh, sweet unto the heart is the song my mother sings
As eventide is brooding on its dark and noiseless wings!
Every note is charged with memory -
Every memory bright with rays
Of the golden hour of promise in the lap of childhood days.

The orchard blooms anew, and each blossom scents the way,
And I feel again the breath of eve among the new mown hay;
While through the halls of memory in happy notes there rings
All the life joys of the past in the songs my mother sings.

Read more Mom Poems
Related Wishes, Poems & Quotes: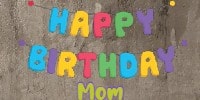 Birthday Poems For Mom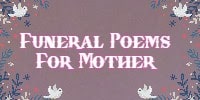 Funeral Poems For Mother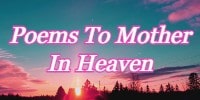 Poems To Mother In Heaven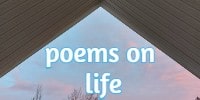 Poems On Life


Best Wishes   |   Best Wishes To You   |   Quotes and Sayings   |    Wedding Toasts, Speeches   |