Happy Marriage Recipe
In every situation, it takes a good recipe for things to turn out properly. These poems give you a happy marriage recipe that you can use for years to come and if followed will see success being baked! The right ingredients are listed with the best attributes and below that are the instructions on putting those ingredients together for a great marriage outcome.
Best Wishes | Poems | Bridal Shower Poems |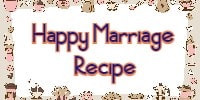 - related: Marriage Poems
Recipe For A Happy Marriage

Poet: Author Unknown

Take plenty of Patience,
Blend smoothly with Love;
Fold enough Humor
To season above.

Then sprinkle with Laughter,
And stir in some Praise;
Add Kindness and
Tact for Those difficult days.

Mix warmly together
With Trust, Faith, and Cheer;
Makes one Happy Marriage
That mellows each year.




This poem is a great poem for anyone getting married or thinking of getting married. It can easily be personalized for the receiver if you are looking at changing ingredients or directions. It could be made into a plaque or added to any card. This could be made into a puzzle as well which would make a nice personalized wedding gift or even an anniversary gift if the wedding has already taken place. This poem has so many options, so get creative!

Wedding Cake Recipe
Poet: Author Unknown

4 lb. of love.
1 lb butter of youth.
1/2 lb of good looks.
l lb sweet temper.
1 lb of blindness for faults.
1 lb of self forgetfulness.
l lb of pounded wit.
l lb of good humor.
2 tbsp of sweet argument.
1 pint of rippling laughter.
1 wine glass of common sense.
1 oz. modesty.

Put the love, good looks and sweet temper into a well furnished house.
Beat the butter of youth to a cream, and mix well together with the blindness of faults.
Stir the pounded wit and good humour into the sweet argument,
then add the rippling laughter and common sense.
Work the whole together until everything is well mixed, and bake gently forever.



While the Art of Marriage was not written as a recipe, as you read Mr. Peterson's thoughts you will see it does contain ingredients for a successful marriage!

The Art of Marriage
Poet: Wildred Peterson

Happiness in marriage is not something that just happens.
A good marriage must be created.
In the Art of Marriage, the little things are the big things…

It is never being too old to hold hands.
It is remembering to say "I love you" at least once a day.
It is never going to sleep angry.
It is at no time taking the other for granted; the courtship should not end with the honeymoon, it should continue through all the years.
It is having a mutual sense of values and common objectives.
It is standing together facing the crowd.
It is forming a circle of love that gathers in the whole family.

It is doing things for each other, not in the attitude of duty or sacrifice, but in the spirit of joy.
It is speaking words of appreciation and demonstrating gratitude in thoughtful ways.
It is not looking for perfection in each other.
It is cultivating flexibility, patience, understanding and a sense of humor.

It is having the capacity to forgive and forget.
It is giving each other an atmosphere in which each can grow.
It is finding room for the things of the spirit.
It is a common search for the good and the beautiful.
It is establishing a relationship in which the independence is equal, dependence is mutual and the obligation is reciprocal.

It is not only marrying the right partner, it is being the right partner.
It is discovering what marriage can be, at its best.
More Bridal Shower Poems
Related Wishes, Poems & Quotes: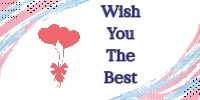 Wish You The Best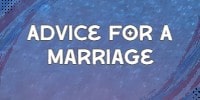 Advice For Marriage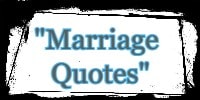 Marriage Quotes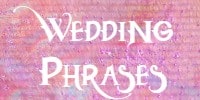 Wedding Phrases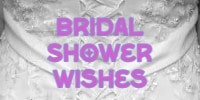 Bridal Shower Wishes
Best Wishes
|
Best Poems
|
Best Wishes To You
|
Quotes & Sayings
|
Wedding Toasts, Speeches
|