7 Wisdom Poems
Be inspired by these wisdom poems which are full of wise words to inspire us. What is wisdom, how do we acquire it? Let these poems give you thoughts to think about. You may also find answers in our collection of
wisdom quotes
.
Best Poems |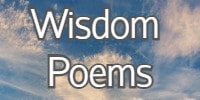 Darkness and Daylight
Poet: Kate Louise Wheeler

When shadows fall, and earth is gray,
Life seems less grand, the heart less gay;
The things that vexed in morning light,
Have grown to sorrows in the night.

When morning dawns, and earth is bright,
Life seems so grand, the heart so gay,
That Sorrows, nursed all thro' the night,
Wakened by Wisdom, fly away.




Poems On Life



A Well Spent Day
Poet: Unknown

Take a dash of water cold
And a little leaven of prayer,
A little bit of sunshine gold
Dissolved in the morning air;

Add to your meal some merriment
And a thought for kith and kin;
And then, as a prime ingredient
A plenty of work thrown in:

But spice it all with the essence of love
And a little whiff of play:
Let a wise old book and a glance above
Complete a well spent day.





Poems about Today



Affluence
Poet: Kate Louise Wheeler

If you want both fame and money
You will do just as you can;
If you do not care for either
You can do just as you will;
And, among the moving masses,
He will be the wisest man
Who adopts these words of counsel
That shall help him up life's hill.

If you wish to be to-morrow
What you cannot be to-day,
You must make the most of moments
While to-day is passing by;
If you would do in the future
What you really wish and pray,
Do at present what you can do
And be happy while you try.

Should you lose both fame and money
You will prosper all the more,
For you'll have an education
That shall loose you from your chains
And enable you to master
What you could not learn before,
How to utilize resources
And rely upon your brains.




Christian Quotes



Life's Lesson
Poet: O. T. Deever

I learn as the years roll onward
And leave the past behind
That much I counted sorrow
But proves that God is kind;
That many a flower I had longed for
Had hidden a thorn of pain,
And many a rugged by-path
Led to fields of ripened grain.

The clouds that cover the sunshine
They can not banish the sun,
And the earth shines out the brighter
When the weary rain is done.
We must stand in the deepest shadow
To see the clearest light,
And often through wrong's own darkness
Comes the weary strength of light.

The sweetest rest is at even
After a wearisome day,
When the heavy burden of labor
Has been borne from our hearts away;
And those who have never known sorrow
Can not know the infinite peace
That falls upon the troubled spirit
When it sees at last release.

We must live through the dreary winter
If we would value the spring,
And the woods must be cold and silent
Before the robins sing.
The flowers must be buried in darkness
Before they can bud and bloom,
And the sweetest, warmest sunshine
Comes after the storm and the gloom.




Poems That Inspire



A Preference
Poet: Edgar A. Guest

I'd rather be considered dull
Than use my brain denouncing things;
I'd rather not be critical
And utter words that carry stings.
I'd rather never speak at all
Than speak as one who seems to feel
That other's faults, howe'er so small,
It proves him clever to reveal.

I have no wish to pose on earth
As bom to judge my fellow men;
I'd rather praise them for their worth;
If failures, bid them try again.
If faulty effort I behold.
In silence, let me pass it by,
If I must leave it unextolled.
At least the toiler shall not sigh.

No reputation would I gain
For wisdom, if in gaining it
I cause some humble worker pain
And wound him by my flash of wit.
There is no cleverness in sneers,
A fool can scoff in manner pert;
Great wisdom by this test appears
In never saying things that hurt.




Becoming A Man
Poet: Strickland Gillilan

I used to think, when I was small, that all I need to do
To be a man, was just grow up. That was before I knew
So much of grown-up males who lack as much that manhood needs
As when they were but juveniles and dreamed of manly deeds.
So I have learned this much, at least, since when my life began:
It takes much more than growing up to be a real man.

"When I grow up and be a man," you hear the small boys say,
As if by merely growing large they should be men some day.
But, knowing manhood's requisites in larger sense, they'll learn
There's much besides their body growth for which they ought to yearn.
The stately St. Bernard is more than just a larger pup
It takes much more to be a man, than just a-growing up!

Fine breadth of vision, self-control, a boundless charity,
A gentler tongue, a stronger faith, more perfect clarity
In spirit-vision; patience vast more patience still, and more;
Wisdom to know and to forget all that has gone before;
Courage to smile though sorrow fill unto its brim your cup
More is required, to make a man, than merely growing up!




Poems About Getting Older



Trust Is Best
Poet: Adelaide A. Procter

And yet thou canst not know,
And yet thou canst not see:
Wisdom and signs are slow
In poor humanity.

If thou couldst trust, poor soul!
In Him who rules the whole,
Thou wouldst find peace and rest.
Wisdom and sight are well, but trust is best.
Find more poems at Best Poems
Related Best Wishes plus Poems and Quotes: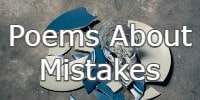 Poems about Mistakes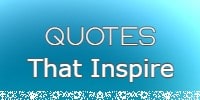 Quotes That Inspire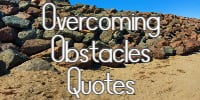 Overcoming Obstacles Quotes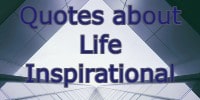 Quotes about Life Inspirational
Quotes to Make You Think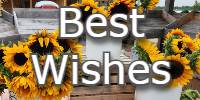 Best Wishes To You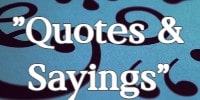 Quotes & Sayings