A Christmas Carol Poem
Find a Christmas Carol poem to share with others to spread the goodwill of the season. These poems are ones that celebrate Christmas.

Best Poems     -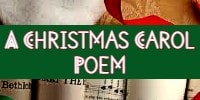 A Christmas Carol
Poet: Christina Rossetti

In the bleak mid-winter
Frosty wind made moan,
Earth stood hard as.iron.
Water like a stone;
Snow had fallen, snow on snow,
Snow on snow,
In the bleak mid-winter
Long ago.

Our God, heaven cannot hold him.
Nor earth sustain;
Heaven and earth shall flee away
When he comes to reign:
In the bleak mid-winter
A stable-place sufficed
The Lord God Almighty,
Jesus Christ.

Enough for him whom cherubim
Worship night and day,
A breastful of milk
And a manger full of hay;
Enough for him whom angels
Fall down before,
The ox and ass and camel
Which adore.

Angels and archangels
May have gathered there,
Cherubim and seraphim
Thronged the air;
But only his mother,
In her maiden bliss,
Worshipped the Beloved
With a kiss.

What can I give him.
Poor as I am?
If I were a shepherd
I would bring a lamb,
If I were a wise man
I would do my part, -
Yet what I can I give him,
Give my heart.




Christmas Poems



Be Of Good Cheer
Poet: Geoffrey Smilth

You merry folk, be of good cheer,
For Christmas comes but once a year.
From open door you'll take no harm
By winter if your hearts are warm.
So open the door, and hear us carol
The burthen of our Christmas moral.
"Be ye merry and make good cheer.
For Christmas comes but once a year;
Scrape the fiddle and beat the drum.
And bury the night ere morning come."




Christmas Sayings



Your Christmas
Poet: John Runcie

Your Christmas comes with holly leaves
And snow about your doors and eaves;
Our lighted windows, open wide.
Let in our summer Christmas tide;
And where the drifting moths may go -
Behold our tiny flakes of snow;

But carol, carol in the cold;
And carol, carol as ye may, -
We sing the merry songs of old
As merrily on Christmas Day.




Merry Christmas Wishes



Carol, Carol, Tenderly
Poet: Lady Lindsay

Carol, carol, tenderly and sweetly,
Over the mountain, over the wold;
Let the jubilant message fleetly
Now in castle and cot be told:
Christ the Lord is born, and He
Dons our poor humanity.

Hark! the tidings of Christmas ringing
East and west, and from land to land;
While we villager lads go singing,
Under the starlight, hand in hand:
Christ the Lord is horny and He
Dons our poor humanity.

Angels sang of the coming glory
Years ago, in far Bethlehem;
Kings and shepherds retold the story -
We would echo it back to them:
Christ the Lord is born, and He
Dons our poor humanity.




The Golden Carol
Poet: Unknown

We saw the light shine out afar,
On Christmas in the morning,
And straight we knew Christ's Star it was,
Bright beaming in the morning.

Then did we fall on bended knee,
On Christmas in the morning.
And praised the Lord, who'd let us see
His glory at its dawning.

Oh! ever thought be of His Name,
On Christmas in the morning.
Who bore for us both grief and shame.
Affection's sharpest scorning.

And may we die (when death shall come).
On Christmas in the morning,
And see in heaven, our glorious home.
The Star of Christmas morning.




A Christmas Carol For Children
Poet: Martin Luther

Good news from heaven the angels bring,
Glad tidings to the earth they sing:
To us this day a child is given,
To crown us with the joy of heaven.

This is the Christ, our God and Lord,
Who in all need shall aid afford;
He will Himself our Saviour be,
From sin and sorrow set us free.

To us that blessedness He brings,
Which from the Father's bounty springs:
That in the heavenly realm we may
With Him enjoy eternal day.

All hail. Thou noble Guest, this morn,
Whose love did not the sinner scorn!
In my distress Thou cam'st to me:
What thanks shall I return to Thee?

Were earth a thousand times as fair.
Beset with gold and jewels rare,
She yet were far too poor to be
A narrow cradle, Lord, for Thee.

Ah, dearest Jesus, Holy Child!
Make Thee a bed, soft, undefiied,
Within my heart, that it may be
A quiet chamber kept for Thee.

Praise God upon His heavenly throne.
Who gave to us His only Son:
For this His hosts, on joyful wing,
A blest New Year of mercy sing.




Christmas Poems About Jesus



A Christmas Carol
Poet: Christina Georgina Rossetti

The Shepherds had an Angel,
The Wise Men had a star,
But what have I, a little child,
To guide me home from far,
Where glad stars sing together
And singing angels are?

Those Shepherds through the lonely night
Sat watching by their sheep,
Until they saw the heavenly host
Who neither tire nor sleep,
All singing "Glory, glory,"
In festival they keep.

The Wise Men left their country
To journey morn by morn,
With gold and frankincense and myrrh,
Because the Lord was born:
God sent a star to guide them
And sent a dream to warn.

My life is like their journey,
Their star is like God's book;
I must be like those good Wise Men
With heavenward heart and look:
But shall I give no gifts to God?
What precious gifts they took!




Christian Poems



Punch's Christmas Carol
Poet: George G. Harrap

Here comes Christmas ancient, jolly,
Crown'd with mistletoe and holly.

Oh! the pleasure, Oh! the treat,
To behold the joints of meat.

With a concourse whilst we stop,
Gazing at each butcher's shop.

And the turkey-laden coaches,
Thickly thronging Town's approaches.

But a crowd, too numerous,
Answers, "What is that to us!"

In each grocer's window, see
What a heap of spicery!

Citron, cloves, and cinnamon
What a sight to look upon!

Candied orange-peel, and plums,
Nutmegs, raisins, figs in drums;

What delicious visions rise,
Of plum-puddings and mince-pies!

Ah! but thousands answer thus:
"Well-a-day! what's that to us?"

Some, alas! there are, to whom
Christmas brings but cold and gloom,

No warm fire, and no good cheer,
Though it comes but once a year;

Gentlefolks, suppose we try
If we cannot change their cry,

And provide them with a reason
Thus to hail the jovial season:

"Christmas though necessitous
Thou art something still to us!"
More Christmas Poems
Related Best Wishes plus Poems and Quotes: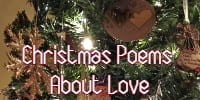 Christmas Poems About Love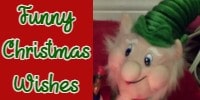 Funny Christmas Wishes
Santa Claus Poems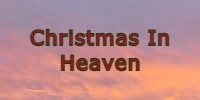 Christmas In Heaven Poems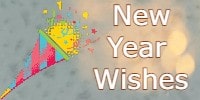 New Year Wishes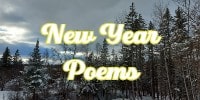 New Year Poems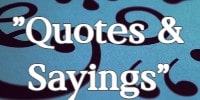 Quotes & Sayings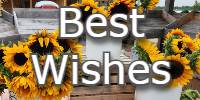 Best Wishes To You