Wish You The Best
Poems to wish you the best for an upcoming wedding. Typically poems like this would be read at a bridal shower, but also could be used in a wedding card. Wishes of happiness and dreams coming true for the bride and groom!
Best Wishes | Poems | Bridal Shower Poems |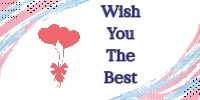 - related: Wedding Messages
This poem does well to wish the bride bridal shower wishes and to advise the soon to be newlyweds of how much stronger they are together all in one beautifully written poem.

Bestow Upon You
Poet: Julie Hebert

So many wishes,
To bestow upon you,
A bride to be,
So loving and true.

To him, you are the one,
True love of his life.
He knows you will be,
One amazing wife.

Your family and friends,
Know who you are.
And wish you the best,
Where ever you are.

Together you'll be much,
Stronger than one,
We wish you the best
And love you a ton.


A poem written to be given at a bridal shower, but one which wishes happiness for the journey ahead as a married couple.

Wishes and Blessings
Poet: C. A. Lynch

This shower is just for you
To wish you the best for your wedding due
We hope your day is all you wish
We send with you a hug and a kiss.

And as you start your life together
May together the storms you weather
May the happy days outweigh the bad
May you have feelings of gladness not of sad.

We just want to say
We love you in every way
And we wish you all the best
May you both, always be blessed


A poem filled with good wishes and blessings for the bride.

The Young Bride
Poet: J. T. Fields

She stood like an angel just wandered from heaven,
A pilgrim benighted away from the skies,
And little we deemed that to mortals were given
Such visions of beauty as came from her eyes.

She looked up and smiled on the many glad faces,
The fiends of her childhood, who stood by her side,
But she shone o'er them all, like a queen of the Graces,
When, blushing, she whispered the oath of a bride.

We sang an old song, as with garlands we crowned her,
And each left a kiss on her beautiful brow,
And we prayed that a blessing might ever surround her.
And the future of life be unclouded as now.
More Bridal Shower Poems
Related Wishes, Poems & Quotes: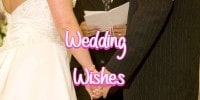 Wedding Wishes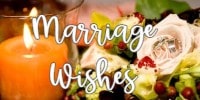 Marriage Wishes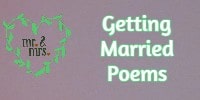 Getting Married Poems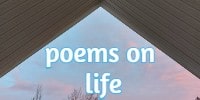 Poems On Life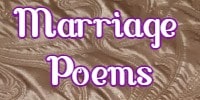 Marriage Poems
Best Wishes
|
Best Poems
|
Best Wishes To You
|
Quotes & Sayings
|
Wedding Toasts, Speeches
|