5 Anniversary Poems To My Husband
Use these anniversary poems for a husband to express how much you love him and how much you love being married to him.

Best Wishes   |   Best Poems   |   Anniversary Poems   |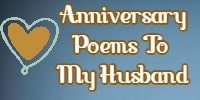 - related: Wedding Anniversary Quotes
On Looking Back
Poet: Mrs. C. K. Smith

On looking back o'er the years
How very brief the time appears!

The hours but moments seem to me;
That Time has wings I plainly see.

The fact that figures don't deceive,
Is all that makes me now believe

That half a hundred years have fled
Since in the church we two were wed.

If years give wisdom, as they say,
How wise we ought to be today.




How Do I Love Thee?
Poet: Elizabeth Barrett Browning

How do I love thee? Let me count the ways.
I love thee to the depth and breadth and height
My soul can reach, when feeling out of sight
For the ends of being and ideal grace.
I love thee to the level of every day's
Most quiet need, by sun and candle-light.
I love thee freely, as men strive for right.
I love thee purely, as they turn from praise.
I love thee with the passion put to use
In my old griefs, and with my childhood's faith.
I love thee with a love I seemed to lose
With my lost saints. I love thee with the breath.
Smiles, tears, of all my life; and, if God choose,
I shall but love thee better after death.




The Years Go By
Poet: Samatha C. Ringle

The years have not changed how I feel
If anything has made my love stronger for you
Happy Anniversary my dear
Thank you for all you do.

It is hard to believe another year has passed
But life is grand with you
My best friend in all the world
I am so in love with you.

We have faced challenging times
But together we have pulled through
I couldn't have asked for a better husband
I love you and all you do!




I Never Imagined
Poet: C. A. Lynch

I never imagined a marriage like ours
When we were married many years ago
I knew we would be good together
Because you're a great fellow.

But life with you has been so great
You are thoughtful, caring and so kind
I love you more each year
You are one of a kind, an amazing find!

Happy Anniversary my dear
I love you so much it's hard to express
Thank you for who you are
I love you, you're the best!




Rhapsody
Poet: Florence Earle Coates

As the mother bird to the waiting nest,
As the regnant moon to the sea.
As joy to the heart that hath first been blest -
So is my love to me.

Sweet as the song of the lark that soars
From the net of the fowler free,
Sweet as the morning that song adores -
So is my love to me!

As the rose that blossoms in matchless grace
Where the canker may not be,
As the well that springs in a desert place -
So is my love to me.
More Anniversary Poems
Related Wishes, Poems & Quotes: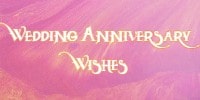 Wedding Anniversary Wishes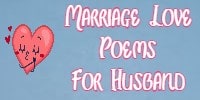 Marriage Love Poems For Husband
I Love You So Much Quotes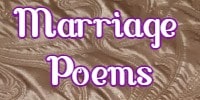 Marriage Poems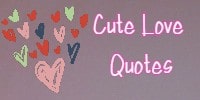 Cute Love Quotes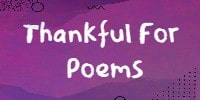 Thankful For Poems


 
Best Wishes   |   Best Poems   |   All Occasions    |   Best Wishes To You   |   Quotes and Sayings   |    Wedding Toasts, Speeches   |